The last time I attended Oldham's Grange Arts Centre, it was snowing! This time it was wet but slightly better weather. The first and previous time I attended a youth showcase. Tonight I witnessed some very talented performers in the recently licensed Broadway hit American Idiot, by North West Theatre Arts Company!
If this had been a showcase for agents, I would have snapped them all up instantly. The standard of these young performers is second to none and their passion for their art is so obvious that they will stop at nothing to entertain a paying audience, no matter how many an empty seat.
Set in post 9/11 America, the show is described as "a sung-through stage adaptation of punk rock band Green Day's rock opera". It is in fact another jukebox musical with their songs strung together to a story of three friends - Johnny (Cameron Hall), Will (Jonny Molyneux) and Tunny (Jordan Pendleton) - who are unhappily living in Jingletown, USA. Will's girlfriend, Heather (Katie Damer), is pregnant and doesn't know what to do. Johnny borrows money and buys bus tickets to the city for the three young men, eager to escape suburbia. Before the boys are able to leave, Heather tells Will of her pregnancy and, with no other choice, he stays home whilst the others depart to the city seeking adventure. Whilst there Johnny sees a woman in an apartment window (Whatshername played by Emiley Vlarke) and pursues her. The song that leads to his discovery is one of my favourites from the band and is a stand out in the show because of the wonderful harmonies and great choreography (Katie Gough) - 'Boulevard of Broken Dreams'. Another great song and highlight comes later on, with 'Wake Me Up When September Ends', featuring many of the main characters as we see each of their lives portrayed on stage at the same time.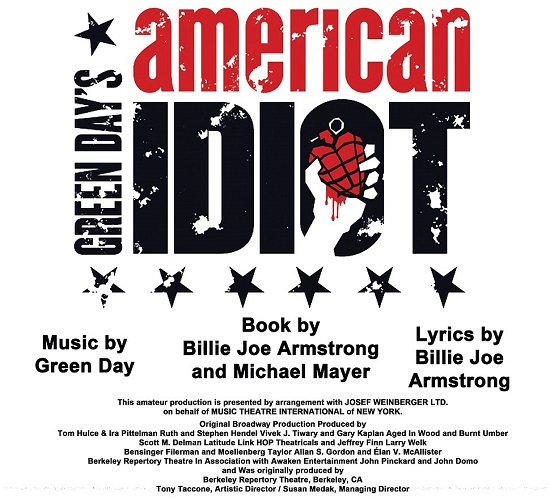 Tunny joins the army and doesn't end up in the best shape at all but he meets Extraordinary Girl who is an attractive nurse treating him. Will indulges in a life of pot-and-alcohol-fuelled frustration as Johnny manifests a rebellious drug-dealing alter ego called St. Jimmy - "the figment of your father's rage and your mother's love", and injects heroin for the first time. I commend Erin Laffan her for her bravery, commitment to the character and well-acted performance of the drug-riddled St Jimmy, whilst not all of her speech was clear.
'21 Guns' is by far the best song in the show and this certainly stands as the best song in this version too. As we, again, see the lives of the characters unfold after all of their struggles, we are touched by the emotion of the song, which was just like the album and musical soundtrack.
So, how do you gauge such a young performer's talent? Well, when a performer can go from playing an iconic role like the lead in Phantom of the Opera or Les Misérables, to playing a lead in a raw rocky rebellious rumble, you know that they are ones to watch. In this vain, each member of the cast is brilliant and embodied their own characters but special mentions should go to Cameron Hall and Jordan Pendleton who have indeed played such roles and progressed to their parts in this, I guess because they are more relatable. Their vocals, accents, acting and characterisation, although appearing simple, are perfect, as is that of Jonny Molyneux, Emily Clarke, Natasha Holt and Will and Heather's friends Miguel (Joel Pendleton) and Alysha (Ellie McLoughlin) respectively.
Yet another highlight is the ballet sequence featuring Adam Whitmore and Holly Norbury (who play Joshua and Leslie) which was very well choreographed and beautifully executed, without detracting.
With slick scene changes and seamless transitions with the impressive dual levelled set, there were a few technical aspects that need work like the odd use of a blinding spotlight that also masked the upper level due to the haze and the odd microphone problem or mistuned guitar. The backing tracks worked though which was thankful.
The bugbear of this show is not the performers or the technical side even. It is the fact that the cast are actually directed to bow and sing to empty seats, even after the well-deserved standing ovation! This is not acceptable and something that we are passionate about preventing. If a three-sided auditorium can be full or people paying to view the future of the great art of theatre, then why stop it? I was so engrossed in the show that, until the cast turned to face the two empty stands of seats either side of the performance area, I had forgotten there were seats there but boy will I remember that it wasn't full. It is a real shame that this is the case as these young performers deserve every minute in the limelight and should get the maximum exposure they deserve in this venue that, unless you've been before, you wouldn't find of visit regularly.
IF you are free and have a spare £11 in your pocket, invest in these young lives and you won't regret it, for a thoroughly enjoyable night's entertainment and a lifetime of admiring this breath-taking bunch.

Reviewer: Simon Weaver
Reviewed: 28th July 2016
North West End Rating: ★★★★
Thsi review was submitted by a North West End reader.