Families come in all shapes and sizes...and you don't get a family more mysterious and spooky (so the song goes) than the Addams family.
The audience were raring to go right from the start as the familiar Addams Family theme tune was played in the overture and everybody click clicked in the right place.
This musical version of the familiar television show follows Wednesday's romance with Lucas, the visit of his parents to the Addams family home and Wednesday's desperation for them to have a 'normal' night and Morticia's discovery that Gomez has lied to her which threatens to tear the family apart. Oh and Uncle Fester falls in love...but more of that later.
The show begins with the annual Addams gathering in a graveyard to honour all members of their family – living and dead. Look out for various dead relatives making their way down the auditorium steps to the stage...a nice touch. The make-up and costumes are very good too.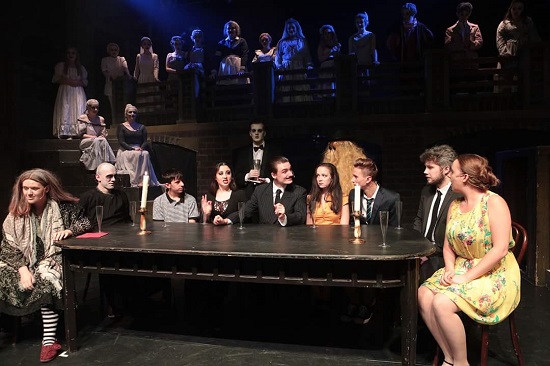 Some special mentions should go to the following cast members:
Sam Cain as Gomez is outstanding. He is suave, charming, a little bit risqué and also hilarious. He plays the part with a nonchalant ease and consummate professionalism. I loved his version of the character and found him to be captivating in this role. I also loved his Tango with Morticia...he danced it as it should be danced: with drama and passion – it made me want to put a rose between my teeth!
Lara Hancox as Wednesday was excellently cast – she encompassed all Wednesday's trademark sullenness and gloom, alternating with angry petulance. Her expression in the opening chorus is wonderfully deadpan.
Chris Wagstaff as Uncle Fester is inspired casting. He almost steals the show. Uncle Fester is the link between the audience and the show, he keeps us updated with what's happening in a narrator type fashion. He is all knowing and wise...and in love with the moon. When he sings "When The Moon Says I Love You", this is done with a gentle coyness which is really endearing...whilst being ever so slightly insane. Brilliant! Chris's portrayal of the character is wonderfully quirky and totally hilarious. I believe he shaved his head especially for the role...well, Chris, it was well worth it, you totally made this part your own.
Grandma is played by Niamh Mullvihill...and what a spirited performance she gives, it's uninhibited and brilliantly done.
Cousin It is played by David Beeby. Not many people could give a floor length wig character and personality but David managed it. I particularly liked his quivering!
Part of the story involves Lucas's mother, Alice, drinking a potion which brings out her dark side. Jessica Heaps plays this role and she changes from a simpering, downtrodden little housewife into a full-on, bitter and resentful yet feisty woman, simply in the space of one song. I thought it was quite an amazing transformation and extremely well played. Jessica managed to pour so much world-weary disillusionment and pent-up rage into this song, it was quite remarkable.
One of the highlights was the song "Death Is Just Around The Corner" sung by Morticia (Sasha Carrillo de Albornoz) and the ensemble. It was funny and very well performed. Sasha possesses the sinister elegance and poise that the role of Morticia demands and she carried this right through the song. It was delivered slickly and perfectly.
I very much liked the song sung by Gomez about Wednesday – it was about her growing up and finding her own life and his sadness about this but happiness for her in her new life...very touching and full of pathos and something I'm sure most parents would identify with. I believe Sam Cain really understood the emotions needed for this song and it really worked, it was very moving. There were some really heart-warming moments relating to Gomez as a father and Sam hit the mark every time.
There are some hilarious lines in this production: "you're wearing yellow...you look like a crime scene!" "Wednesday's growing up...she'll soon be Thursday". There's a smidgeon of adult humour here and there which is well placed and delivered with good comic timing and intonation.
I would have liked to see a little more gothicness in the set – there were gravestones and ivy at the front of the stage but sadly I couldn't see these very well from my seat. The set was a little bare for my taste and I think possibly a few strategically placed cobwebs and maybe some other little creepy nick-nacks would have just given it a little more Addams flavour.
This show has it all: family drama, a distant cousin twice removed, an oversized rat and a heretic torture device. Oh and look out for the shameless plug for the show towards the end – cheeky but effective!
What more could you ask for? Get down to Sale Waterside and enjoy this dysfunctional family who have set up home there until Saturday 6th August. To book click https://watersideartscentre.co.uk/whats-on/1791-the-addams-family-a-new-musical/ or telephone 0161 912 5616. There is also a £10 ticket offer for the Saturday (6th) matinee. This is available to telephone and personal callers only and all you have to do is quote UNCLE FESTER!
Click click.
Reviewer: Nicky Lambert
Reviewed: 4th August 2016
Photo: Martin Ogden