In 1948, Jerome Robbins had an idea to stage an updated version of Shakespeare's 'Romeo and Juliet.' It took 9 years before that idea came to fruition and 'West Side Story' opened on Broadway in September 1957. The heavy work schedules of Robbins and his collaborators Leonard Bernstein and Arthur Laurents was partly to blame for the delay in getting the show off the ground, alongside a degree of suspicion each of the men felt towards each other following their first meeting.
Since then 'West Side Story' has entertained millions of fans worldwide and last night the Liverpool Empire Creative Learning Project staged their version of the show, directed by David McNeill. The Liverpool Empire Creative Learning Project offers young performers from across the country the opportunity to work under the stewardship of industry professionals and create a production in a supportive environment.
The show opens with the Jet Song, led by Jacob Bailey. Jacob, who is a student of the Arts Educational Theatre School in London, oozed stage presence throughout and had the necessary swagger to convincingly pull off the role of Riff.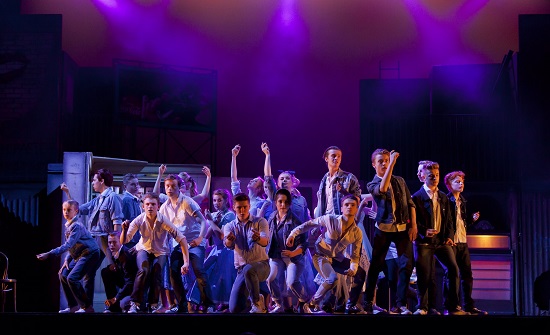 Kerry Hughes (Anita), Kaitlin Beecham (Rosalia) and the rest of The Shark Girls entertained in abundance during the performance of 'America.'
West Side Story is a tale of love, racial segregation and social injustice and the cast are to be commended for the delicacy in which they switched between humour and tragedy throughout the performance.
Isaac Hesketh and Chloe O'Gorman deserve a special mention for their portrayals of Tony and Maria. Both performers showing maturity beyond their years and conjured up a delightful on-stage chemistry to bring the love story of the opposing gang members to life. Their performance of 'Somewhere' was a highlight as was the scene where they met at The Dance.
Choreographers Lauren Taylor, Laura Meeson and Ainsley Brolly worked wonders with the entire cast and the stand out routine was without doubt for 'Gee Officer Krupke.' The Jets provided much comedy moments during the night, particularly William Callan (A-Rab) and Jordan Hayward (Baby John).
Given that the show has taken a matter of weeks to produce, enormous credit must go to the Director David McNeill, the choreographers, creative team and the fantastic band led by Musical Director Paul Lawton, who provided exquisite backing for the show's young performers. This was a magnificent adaptation of a well known production and the young performers involved were a joy to observe. The opportunity of performing at such a reputable theatre and in front of a well sized audience is an experience they should treasure. All the cast should be proud of their efforts in staging a show worthy of its environment. It'd take a brave person to bet against some of these young stars finding themselves in professional performances in the not too distant future.
Reviewer: Matt Houghton
Reviewed: 18th August 2016
Picture: Jo Forrest Photography