Great Afternoon of Fun and Laughter in Iconic Venue
On a glorious sunny Sunday afternoon, The Palm House at Sefton Park was transformed into the pastoral England of yesteryear as Woolton Drama Group played out this glorious tale. Opening in its first guise as the 'for sale' Toad Hall, with the Chief Weasel (Zoran Blackie) as the estate agent, we are taken back in time to see the good natured Mole (Colin Rice) losing patience with his spring cleaning and going to explore the riverbank, where he has never been, and where he chances upon Ratty (James Stephenson) who deigns to take him to meet the infamous Toad (Michael Sanders) at Toad Hall.
In the first of many dual roles in this production, Pauline Morris and Linda Gregson combine perfectly as a Horse to lead our three explorers on a gentle 'road to nowhere' until they are overtaken by that newfangled machine called a car and Toad....well Toad is smitten and it is not too long until he has got his very own and by the autumn much trouble has ensued as a consequence of his driving as Ratty and Mole soon discover from Mrs Otter (Judith Cain) and so they take it upon themselves to help their friend and make the perilous journey through the dangerous and weasel-infested Wild Woods to enlist the support of a suitably angry Badger (John Gregson)who assures them he will help them in the spring after he has finished his hibernation and we are duly taken into the interval.
Suitably refreshed we 'spring' in to the second half and our three 'heroes' set out to rescue their 'friend', Toad, who is by now most certainly enamoured with all things mechanical and has spent all his money and possessions on yet another new car along with all the apparel necessary for the modern driver don't you know. Resolute as all good friends are, they lock him up in his own house and take turns to guard him but it is not too long before the ever-resourceful Toad has hopped away and it is now that his moral descent really begins as he lurches from stealing cars to being imprisoned to dramatically escaping, with various attempts at ducking and diving to get himself home. But is home still there or have others moved in? Can he rely on his friends to help him out one more time despite his previous behaviour and bad form? But more importantly can he discover on his travels what is truly important in life with the help of these three very different but trusty friends? Well, you will have to come and find out!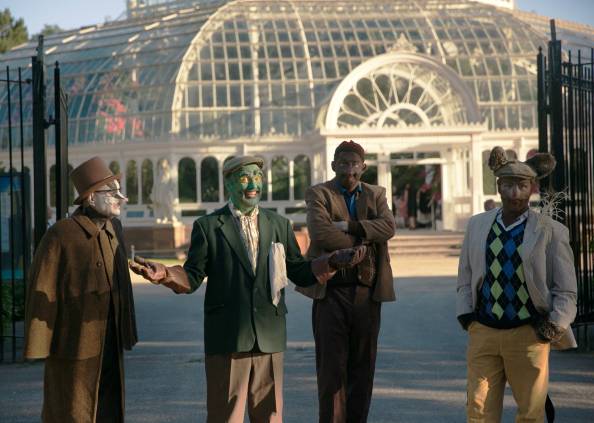 There were strong performances from all of the lead cast although Sanders, with his clipped 1920's accent and all, really stood out. There was admirable support in multiple roles from David Jeffery, Amy McDowell, Gemma Hurst, Clare Ellis and the very memorable Washerwoman better known to many as Geraldine Moloney Judge. It was also good to see the dancers from Topaz Dancentre who delighted with their two performances.
Jointly directed by Paul Arends and Gemma Hurst, the set was perfectly constructed with the centre of the Palm House providing the perfect backdrop and with interchangeable set pieces we slipped seamlessly from Toad Hall to a car to a train and back again along with boats, barges and caravans as well as an occasional dip or two in the river as the adventures unravelled. Costumes (Angela Levin) and make-up made for an easy suspension of disbelief as we entered the magical world of the riverbank.
I am not a great fan of face microphones and it was interesting that not all of the cast chose to wear them; given the intimacy of the venue I don't think they were necessary and sometimes interfered with the clever supporting songs chosen to suit particular scenes. It was enjoyable when the cast entered the audience as part of their adventure - I would have liked to have seen a bit more of it to be honest as it's a great opportunity to delight and fright the younger members in equal measure!
All in all a wonderful afternoon and it was great to see such an eclectic audience ranging from 8 months to 80 years old being superbly entertained by this talented cast in such a delightful venue.
The Wind in the Willows is a children's novel written by Kenneth Grahame in 1908 and very much still worth a read for its mixture of mysticism, adventure, morality and camaraderie of its animal friends and with some foresight, a nod towards the greener issues of today. It has been adapted by Mike Kenny for the purposes of performance.
Woolton Drama Group has been putting on shows, plays and pantomimes for over fifty years. They meet on Monday nights at St. Mary's Church Hall, on St. Mary's Road/ Aigburth Road, just up the road from Cressington Station and are open to anyone who may be interested in getting involved with drama, whether a complete beginner or an experienced thespian. More information available via their website www.wooltondramagroup.co.uk/
Sefton Park Palm House is an octagonal, 3 tiered, Grade II* listed Victorian glasshouse displaying plants from around the world. Open to the public 7 days a week with varied events programme for all the family. Also available for private and corporate hire, it really is a unique venue. Further details http://palmhouse.org.uk/
The Wind in the Willows is performing at Sefton Park Palm House on Sunday 21st August at 1pm, 4pm and 7pm. It then transfers to St James Church Hall in Woolton on Saturday 3rd September at 11am and 3pm. Tickets are priced at £6 (£5 concession) and are available at www.wooltondramagroup.co.uk/ or www.wegottickets.com/f/10231
Reviewer: Mark Davoren
Reviewed: 21st August 2016