Delightful, Poignant, Funny and Magical
As we descend into the subterranean theatre at The Black-E, the audience are greeted by a dark, smoky, atmosphere including mystical aromas reminiscent of Arabia, the illusion completed by the accompaniment of Middle Eastern music as we await the Dominic Cooke adaptation of these ancient tales. We quickly learn from the Royal Vizier (Joey Jennings) as he discusses with his daughters, Shaharazad (Charlotte Atherton) and Dinarzad (Anna Di Ventura), that all is not well at the court of King Shahrayar (Kristian Dudley) who has been betrayed by his wife.
No longer trusting women, he vows to take a new bride each day but to behead her the next morning. Longing to free her town and the King from the vengeful demons that haunt him, Shaharazad marries him and using all her feminine guile, she spins an elaborate array of strange tales that take us to wonderful worlds inhabited by strange characters as she endeavours to break his terrible curse.
And so we begin our first tale, all of which are presented by an interchanging ensemble, as we meet Ali Baba (Bill Chambers) and his brother Kasim (John Purcell) and their respective wives (Linette Nash and Jen Morrow)and learn the tale of the Forty Thieves through a mix of mime, narration, and straight acting. Maid Marjanah (Jenny Coutts) helps to resolve Ali's initial problem with the assistance of a Druggist (Caitlin Bannon) and Cobbler Baba Mustapha (Gill Lewis) whilst all involved must remember: he who is silent is safe.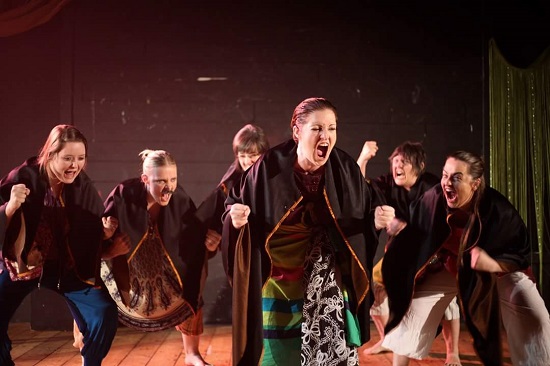 Returning to the palace, and as morning beckons, King Shahrayar is suitably intrigued to allow his mischievous young Queen to continue her tale for another day and so we return to Ali Baba who has by now been rumbled and the Captain of the Thieves (Gemma Doyle) is keen for revenge. But the feminine wiles and ways of Marjanah save the day and earns her the hand of Ali's son (Shaun Greatbanks).
The King wants another tale and so we progress to that of the Little Beggar (Sheddie Broddle) and his escapades with the Tailor (Coutts) and his wife (Maggie Hammond); the Doctor (Lewis) and his wife (Bannon); Steward (Doyle); Merchant (Greatbanks) and Watchman (Sophie Coyne) before the Chief of Police (Nash), a King (Purcell) and a Hangman (Jennings) put matters straight. Or do they?
King Shahrayar is not completely impressed at this one but intrigued enough to allow Shaharazad to weave another tale and so we move to learn of the wealthy Abu Hassan (Lewis) and his young bride (Morrow)and the shame he brings upon himself. Played out to full effect, King Shahrayar, and the audience, are in fits of laughter as we enter the interval.
Another night, another day, a new story and so to the tale of Sidi Nu'maan and his young wife Amina (Morrow). Throw in some real magic and with the ensemble on full form, we are duly entertained with a moral or two on how to treat your horse. Or should that be...?
By now we are apparently 817 days post-wedding but it seems like only yesterday as we launch into the penultimate tale of King Shah (Chambers) and where all of the ensemble cast really come into their own as Lewis and Coutts' older sisters conspire against younger sibling Broddle and with the able assistance of Doyle's Vizier, Coyne's Steward and Morrow's Steward's Wife, we see the tale of Purcell's Prince Bahman, Greenbanks' delightful Princess Parizade as well as the one-off step-in from Director John Garfield-Roberts as Prince Perviz played out. Throw in Hammond's Dervish, Broddle's Talking Bird, Morrow's Singing Tree (including metamorphosis to golden water), a cucumber sandwich (with pearls) from Bannon's Head Cook and some expert Dionysian wailing from everyone and the audience, in fits of laughter, are well and truly blown away.
And so it is to the final tale, the story itself, as Shaharazad brings matters to a conclusion. Does she finally wrestle those demons from King Shahrayar? Or does he simply revert to type? Will feminine guile overcome all obstructions? You'll have to come and see!
This was a delightful production and whilst some elements may edge on the side of grisly, there is nothing here to cause major alarm and it is all wonderfully offset with great humour throughout - the child and the inner-child will equally enjoy. The stagecraft is impressive and inventive as the ensemble impersonate dogs, horses, rivers and cliff-faces as well as delivering their own character roles. The costumes were perfect and the simplicity of Sean Gibbons set design allowed the tales to be presented with ease.
So often today we reflect with sadness on events in the Middle East and yet the stories in Arabian Nights, some of which predate Islam itself, serve to highlight the bright and wonderful culture that once existed as well as the irony that the women are often more resourceful than the men. Let's hope we don't have to wait too long to see its re-emergence and this production certainly does it full justice.
With such accomplished performances from all of the cast I'm reluctant to single out but I thought Atherton's Shaharazad was wonderfully composed and complete; Morrow brought real presence to all of her roles; Greatbanks' Parizade was played to full comic effect and enjoyed by the audience accordingly; Sheddie Broddle showed great potential.
Arabian Nights performs at The Black-E on Saturday 3rd September at 3pm and 7pm. Tickets are available via https://www.ticketquarter.co.uk/Online/arabian-nights
Further information on M.A.D Theatre Company may be found at http://merseysidedrama.com/
The Black-E is considered the UK's first community arts project and a centre where all the arts (performing and making, experimental and traditional) engage with all the people who choose to come through its doors (young and old, disadvantaged and privileged). Further details http://www.theblack-e.co.uk/
Reviewer: Mark Davoren
Reviewed: 2nd September 2016
North West End Rating: ★★★★
Photo: Paul Dallyson