Having lived and worked in mainland Europe for many years, the so-called European style of theatre has always held a fascination for me, and never really understood why the UK has been and still is really quite resistant to it. Perhaps we think our theatre superior, and who knows, maybe it is, but there is certainly room for both to co-exist and as we see more and more mainland Europeans come to live here (putting the politics aside for once) surely we should also be embracing these countries' artistic cultures too.
Manchester's HOME Theatre has been built specifically for that purpose, and is building a loyal following. When it comes to the amateur circuit to try and produce a contemporary European play, then this I see as a very brave move indeed; but if any local amateur theatre company is going to be able to carry it off, then it is going to be Oldham's Lyceum; who have a long and proud history of producing some of the best plays within Greater Manchester.
Le Dieu Du Carnage, or The God Of Carnage, was written by French actress-turned-novelist-and-playwright Yasmina Reza, and she is known for her starkness, her abstraction, and for her sharp tongue! Her writings often depict modern middle-class issues and are often semi-autobiographical, and she believes that accessibility is the key to success for any playwright.
Armed with this aforementioned knowledge, although without knowing the play itself, I was really looking forward to seeing what The God Of Carnage had to offer.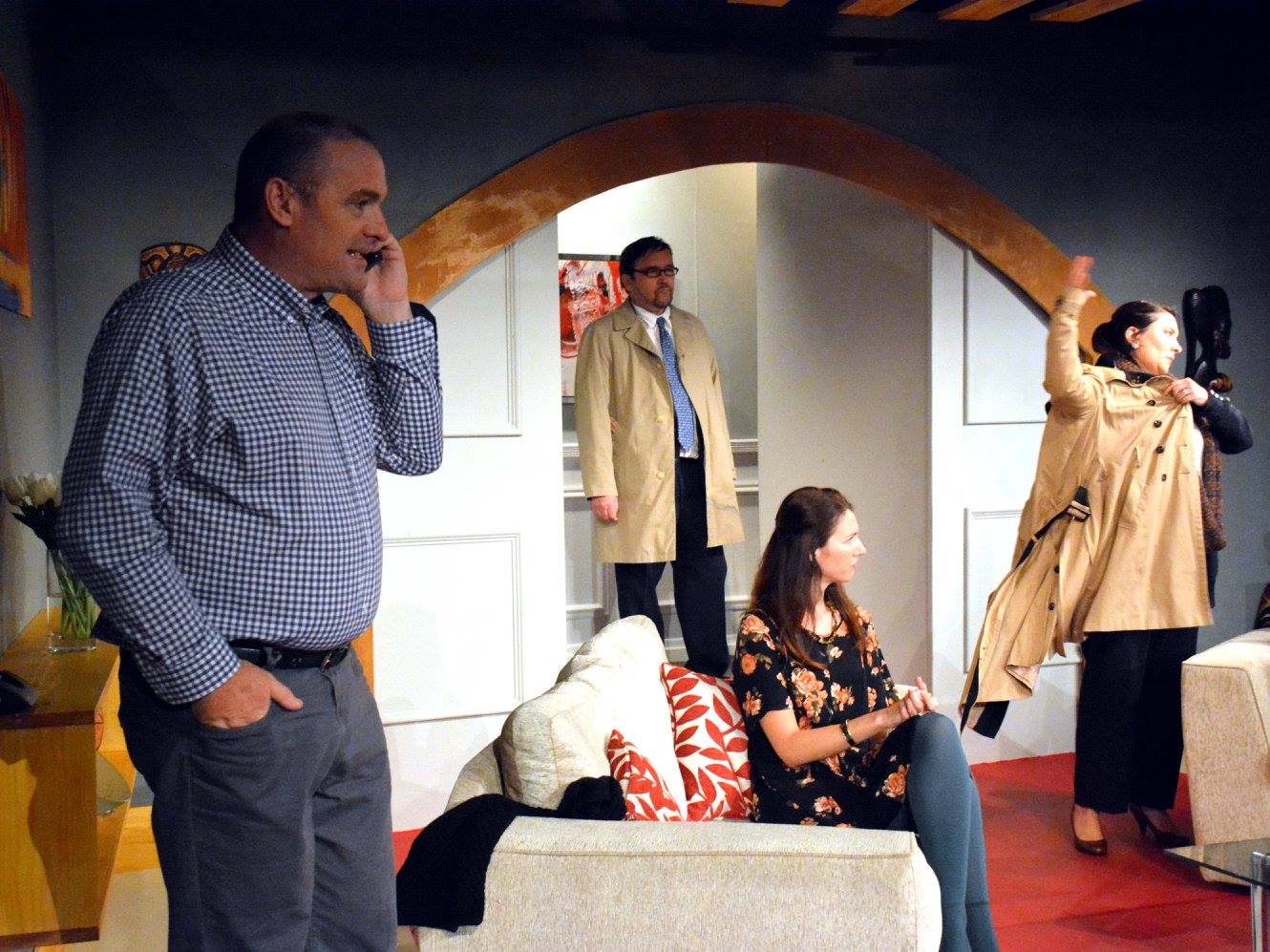 Oldham's Lyceum Theatre is a small and intimate venue and the small stage is almost as large as the auditorium! This intimacy was absolutely ideal for tonight's offering. The setting is the living room of a middle-aged, middle-class couple in Paris, and the clever use of angles on the two side walls meant that we really felt we were sitting in that living room with them.
The set was good but it was a compromise between what the Lyceum's audience base would find acceptable and what it ideally called for. We were given a very realistic and naturalistic living room. It could have been the set for a contemporary version of a Coward play. However, a far more non-naturalistic and abstract style is much more usual and even Reza herself asks that the set be abstract and uses only those things which are absolutely necessary for the play. Personally then I found the set far too busy and real, but nevertheless it worked and worked well, and in fact was perhaps the correct way to go.
The story tells of two professional couples meeting at one of their houses to discuss the inappropriate behaviour of one of their sons who has taken a bamboo cane and bashed two teeth out of the other's face in a childish tantrum. As the play progresses, we see the veneer stripped away from the adults who by the end are acting more like children than children. It is a social satire, and one that needs playing with the foot firmly placed on the gas pedal at all times.
Again, for me, I found the first act dragged a little. It was a very slow and unassuming start and didn't grab my attention; however, once the 'God of Carnage' did decide to enter the play and start wreaking havoc, it became highly entertaining and not only myself but those around me relaxed a lot more and started to enjoy the play more. If that heightened level of performance had been achieved at the start, and then moved up even further when the adults ran amok, it would have been stunning and almost perfect; although again, I doubt that it would have been acceptable to the Lyceum's audience base, who are unaccustomed to non-naturalistic performance styles, and so once again, a compromise had been struck, and we were left with a rather flat and uninspiring first act because of it. The most obvious problem with the lack of pace being that the audience did not know what kind of a play God Of Carnage is, and with such a title, it could just as easily have been a murder mystery or thriller. And so when Annette is very realistically sick just after eating the homemade cake; unless you are aware this is a farcical red-herring; you could be forgiven for thinking this is a serious drama and expect poisoning and death, and the audience in general didn't know whether or not they ought to laugh until the more obvious physical comedy of the second act.
However, a better cast could not have been found. The four were equally superb with fully-rounded characters and mannerisms which were totally consistent throughout and gave highly enjoyable performances. Ean Burgon and Ruth Blaszczok were the home owners Michel and Veronique, and their reluctant guests Alain and Annette, played by Colin Smith and Alison Shaw were the perfect foil. Four extremely strong performers who worked excellently together. I especially enjoyed the pauses and the sideways glances which helped to create tension and consolidate the childishness and hypocrisy of their behaviours.
Sound and lighting were absolutely on point every time; and I even enjoyed the irony of Jaques Brel's Les Bourgeois as the play's intro. However, if the pace had been picked up in the first act, my personal feeling is that since the action is continuous and neither act very long it could easily have been performed straight through without a break.
Director Vince Bowers chose to take this fast-moving and very sharp-witted satirical French farce and quite sensibly mould it into a piece of theatre which would sit comfortably in the Lyceum's season of plays but, in my opinion, lost so much of the essence of the play in so doing. That being said, it is still a very enjoyable and accessible production and an excellent start to their new season.
The Lyceum Theatre continues to be one of my favourite venues Front Of House too. Everyone there is always so welcoming and friendly and despite its lack of space still manages to provide a well-stocked bar, hot drinks in the interval and a surprisingly large seating area.
Reviewer: Mark Dee
Reviewed: 13th September 2016