I suppose that one must come to accept that modern adaptations, reworkings and updatings of Shakespeare are not only acceptable but preferable to both modern actors and audiences. My personal feeling towards this is that if the work is to be changed to bring it more 'up-to-date', then don't just change the setting and the costumes, but the language also needs to change too... in other words, do as Shakespeare himself did with most of his plays... find a good story already in existence, and then write your own version. West Side Story is a classic example. A contemporary Musical set in New York using original dialogue and song. All too often do I see a modern interpretation of a Shakespeare play to find that the spoken word is at odds with action and costume. And so whilst the themes of Shakespeare's plays way well be timeless, the setting and language certainly are not.
I am very happy to report then that despite my misgivings, Joseph Meighan's reworking and adapting of possibly Shakespeare's most famous play, and certainly his most universal, works really quite well indeed. And in a year that marks the 400th anniversary of the death of the great man himself, and with countless Shakespeare productions happening throughout the year, productions of his work this year especially need to have something different about them to make them stand out. This did, and did.
I feel certain that I do not need to tell anyone the storyline, do I? However tonight's setting was Fair Verona, a nightclub, a short while before the 2000 Millennium chimes, and we could be very 'artsy' and say that perhaps the chimes of the new year were also the tragic death knells for our ill-fated protagonists. Although once the prologue had been spoken and the action moved away from the rather BGT-style opening, the Fair Verona sign should have been moved since we never returned to this nightclub again.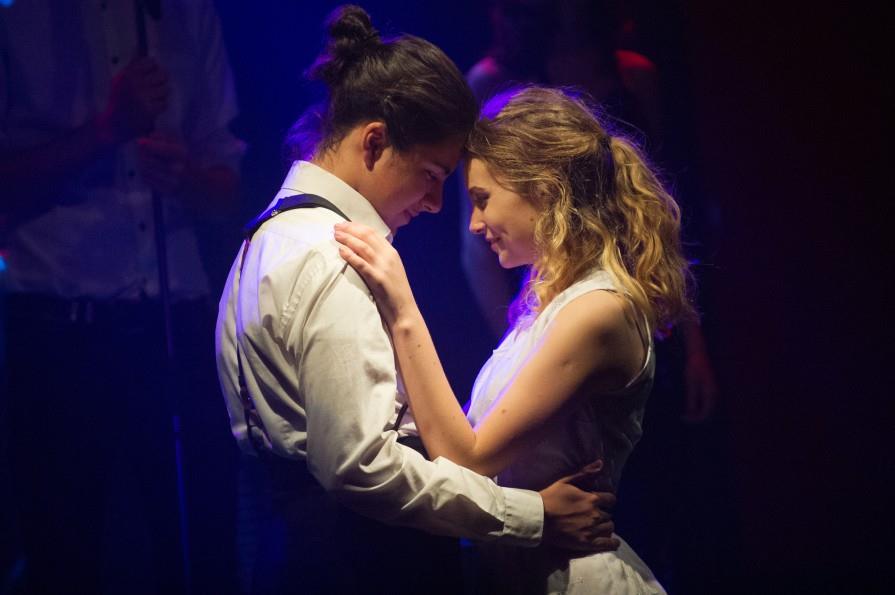 The set was both excellent and constrictive at one and the same time. Consisting of a raised triangular dais centre stage upon which majority of the acting for each scene took place and two walls angled outwards either side at the same angle as the lengths of the triangle and lit with magentas and reds with occasional green light tubes appearing it was non-naturalistic and ultra-modern. Doors, windows, cabinets etc all were cleverly 'hidden' within these two wall flats and were operated seamlessly and quietly every time. The problem with Shakespeare's plays in general is that there are many scenes, often very short scenes, and this can be a director's and designer's nightmare. Here. however, director Joseph Meighan had chosen to incorporate into his cast a 'chorus' of young actors and actresses to sing some songs at opportune moments throughout the play, and it was these performers who also acted very much like background artists on a film set, filling out the scenes as necessary, and also bringing on and taking off the items of set and design for each scene. The scene changes were swift, but after a while became very predictable and I suppose more obvious too because of this.
Before I turn to the main acting, I have mentioned the singing chorus so let me stay with them for a while. What a fantastic idea, and despite my conservatism and traditionalist values when it comes to The Bard, I have to admit to really enjoying this aspect of the adaptation. Starting with a Boy Band wowing the partygoers, to singing some beautiful complimentary songs (all from the chosen period of 1999 / 2000) throughout. The candlelit sung vigil at the tomb of Juliet was simply breathtaking.
In general, the acting was of a high standard, and Meighan used a mostly young cast. It was a high-energy production and really quite 'raw'. There was lots of shouting and fighting....yes, lots of fighting, and the fight scenes were extremely well directed.
For me there were certainly some stand-out performances in this very large and well chosen cast. Not only that but some highly original interpretations too.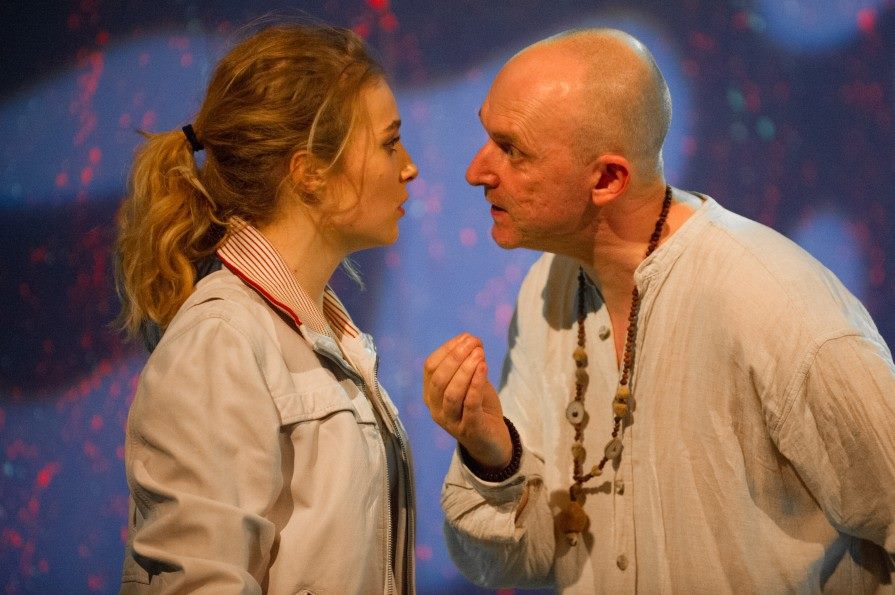 In the order they appear in the programme..... Mark Butt's Friar Lawrence was as original an interpretation as I have seen. A weed-smoking Buddhist! However, I think he made the right choices in playing this character very seriously and angst-ridden and I enjoyed the candidness and simplicity of this character who can all too often be seen as a comedy role. The programme next credits Beverley Stuart-Cole as the Nurse. Although in this reworking perhaps calling her a governess might have been more appropriate). Again, a unique interpretation, full of fun, sincerity, love, and indeed humanity. Stuart-Cole found both humour and gravitas in her role and it was one of the most enjoyable interpretations of Nurse I have ever seen. Next comes Rebecca Myers, playing a young teenage girl in love to a Tee. Her Juliet was giddy, naive, bouncy and immature when it should have been, and mature, tragic-heroic, and serene when it should have been; and goodness knows how many emotions she had to portray in between. A notoriously difficult role for any actress, since the part requires a maturity of acting prowess not normally available in the age of the character, and within the space of only 2 hours has to go through every emotion known to man. Shakespeare didn't write many truly great female roles, but when he did, boy, oh boy, he made them extremely difficult for the actress! Again, a most sensible and enjoyable interpretation.
Juliet's love rivals were played by a love-sick and tormented but at times rather phlegmatic Harroun Al Jeddal (Romeo) and Harry Jackson (Paris), with a rather enigmatic and brazen interpretation of Mercutio by Tom Oliver.
There were also a couple of odd choices too. I was uncertain as to why Lady Capulet (Sarah Roberts) was the only one with a southern accent when all the rest of the cast were most obviously northern. The part of Chorus (Barry Purves) also needed some highlighting. From an excellent beginning using his 'power' to freeze the action and for him to speak and explain the story, to him wandering about the set, lurking and silent. This 'presence' as not just a commentator but manipulator [in a smaller but similar way as the Emcee is in the Musical Cabaret] was a nice idea but underdeveloped and perhaps went unnoticed or uncomprehended by most. Perhaps a more obvious way of doing this might be to morph this role with Prince Escalus? (Just a thought..!)
Joseph Meighan's directing was consistent and tight, and although I found a couple of his choices a little odd, they worked in context and with his utilisation of such a large and majority youthful cast did a wonderful job of making this story relevant and enjoyable, appealing greatly this evening to a capacity audience filled in the main with a whole group of A-level students from a local high school who are studying this text for their A levels.
Modernising Shakespeare I guess is a little like Marmite - you either love it or you hate it - and as a traditionalist at heart I always find it very difficult to appraise modern interpretations. However this evening's offering was accessible to all - mostly! Maybe it was just first night nerves, but the beginning dialogues were rushed and quiet, and this naturalistic way of speaking Shakespeare is at odds with the declamatory and poetic writing style.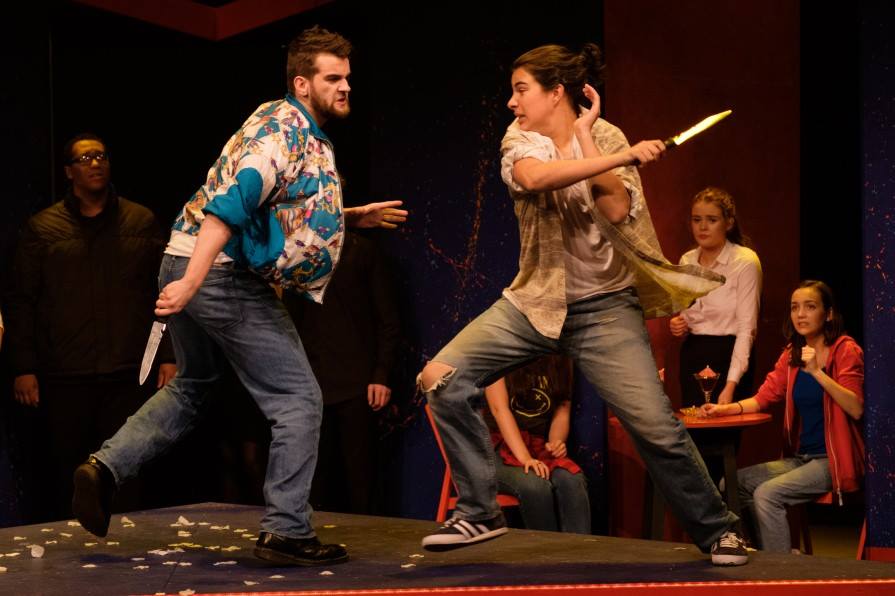 With some simple but effective lighting, and a 'rough-diamond' feel to the whole show, this is one of the best modern reworkings I have seen in a long while, and although the older generation of audience members may not find much in this 'Godfather'-esque modernisation, it certainly appealed greatly to the younger generations, and, since it is a very long time since the Garrick's season included any Shakespeare (GAPA notwithstanding), it was a very welcome addition to their season and will undoubtedly prove to be a huge success.
Reviewer: Mark Dee
Reviewed: 19th September 2016