Let me start by saying that BOS Musical Theatre Company's Annie would have been impressive even for a professional show - the fact that it is an amateur company, featuring nine children, is nothing short of breathtaking.
Directed by Liz Clarke, the classical musical follows orphan Annie as she desperately tried to find her parents and, along the way, ends up finding an unlikely friendship with billionaire Oliver Warbucks.
I cannot praise this cast enough. 12-year-old Faye Colebourn was electric as Annie, with a spot-on voice, and incredible stage presence. Her chemistry with Oliver Warbucks (who, by the way, has an incredible voice!), played by Ian Lawson and Grace Farrell, played by Lucie Clarke will pull at the heartstrings - everyone who is supposed to be likeable is completely loveable and those that are supposed to be hated, do an excellent job.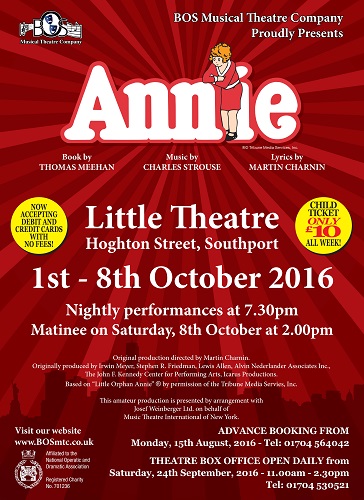 For example, Mark Thomas' portrayal of Miss Hannigan is one of the best I've ever seen. From his mannerisms to his voice, everything was fantastic and I loathed Miss Hannigan! Another stand out star is Dom Tolley as Rooster Hannigan who was the perfect villain, alongside his equally evil girlfriend, Lily St Regis, played by Lauren Millan.
The children were so talented and professional - there was not a single moment in which there was hesitation or lack of confidence. They were complete stars, every one of them!
The sets were fantastic and very elaborate; however, some of the transitions could be smoother. The scene in which we first meet Warbucks nails the perfect stage transition, with some of the bigger items being set in a blackout and things such as the columns were brought on in character by some of the Warbucks staff in a dance. That said, the White House set was amazing!
The costumes were fantastic and perfectly chosen for each character and the period the show is set in. You could tell the amount of effort that had gone into each one, and not one was skimped on.
The choreography, by Steve Chesters, was wonderful and executed flawlessly by the cast. Particularly the numbers with the children, such as Hard Knock Life, which were incredible to watch and really captured the energy of the kids.
One thing that really let the show down were the audio levels. At times the dialogue couldn't be heard or understood which led to some of the context being lost, which was a shame. The cast remained professional however which should be commended. Having a live orchestra really brought an extra layer to the show, and they were brilliant.
The show was fantastic and completely deserving of the standing ovation it received. I look forward to seeing what this company do in the future!
Reviewer: Codie Louise
Reviewed: 1st October 2016