"Show Stoppers" an evening of songs from popular musicals, promises to be "something for everyone", and it certainly did not disappoint on that level. Sheffield based theatre company - Ellesmere Theatre Company, who recently brought us the Dolly Parton musical 9 to 5 in Spring this year, are currently performing "Show Stoppers" for just four performances (including a Saturday matinee).
The concept of Show Stoppers came in 1948, despite increasingly popular shows, the seating capacity at Ellesmere Community Centre was reduced to just one hundred seats. In order to recuperate costs from loss of ticket sales, various fund raising concerts were produced. "A Night with Ellesmere", "Memories of Drury Lane" and "Thank You for the Music" were all concerts that eventually evolved into the now popular "Show Stoppers".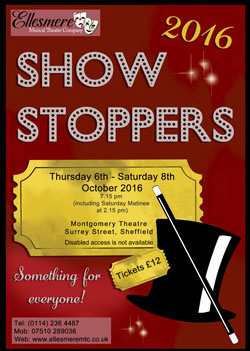 Jamie Cooke and David Jefferson got the audience warmed up with their comical introduction leading into the full company performing "A Musical" from the 2015 musical "Something Rotten" - a musical set in 1595, following brothers Nick and Nigel Bottom, who struggle to find success in the theatrical world, as they compete with the wild popularity of their contemporary, William Shakespeare. The company then went straight into "76 Trombones" from "Music Man". Matthew Walker, whom provided the audience with various musical interludes through Act One, then gave us a fabulous rendition of "Oh What a Beautiful Morning", the opening number from the 1943 musical Oklahoma! Matthew oozes charm and comedy, and as his interludes were not highlighted in the programme as such, it was always a pleasure when he entered the stage and I eagerly awaited his next surprise number.
The show featured a variety of songs from different musicals, with some musicals having more than one song featured, including Beautiful: The Carole King Musical (2014), Bullets over Broadway (2014), Chess (1986) and Finding Neverland (2012), plus bonus numbers from television programmes Smash and Glee.
The talent varied from weak to "wow!" with notable performances coming from Christina Rice and her purrfect rendition of "Memory" from the 1981 musical Cats. However the two performances that really made me sit right up in my seat and lean forward in awe, came from Luke Harriott and his loveable quirkiness and personality really shining through in his rendition of "Mr. Cellophane" from the musical Chicago, which earned him a well deserved response from the audience; the ultimate highlight of the evening for me came from Jamie Cooke singing a flawless rendition of "Not My Father's Son" from Kinky Boots. I was simply blown away!
Carol Wibberley and Joanne Thornewell brought laughs a plenty with their hilarious duet "I'm So Over Men" from Soho Cinders. One cast member really stood out vocally - for all the right reasons of course - and that cast member was Alice Goldsbrough - she really does have the voice of an Angel!
Overall the evening was an all-singing all-dancing success of a night, my only real disappoint was that we were not given a sneak preview of their upcoming 2017 performance of "Betty Blue Eyes" - I was half expecting the evening to end on preview of what is to come next year, so now I will just have to sit patiently and wait for April 2017 to come round.
At only £12 a ticket, the evening is a fabulous night out for all ages and the variety of songs and talent make for an enjoyable evening. Tickets can be purchased by calling 0114 236 4487 or 07510 289036, or alternatively online at www.ellesmeremtc.co.uk
Reviewer: Lottie Davis-Browne
Reviewed: 6th October 2016