Celebrating the 30th anniversary of Little Shop of Horrors, Acton Operatic Society return, bringing their production of the sci-fi horror musical to Crewe Lyceums stage.
Seymour Krelborn, who is a dejected but loveable assistant at Mr Mushnik's Flower shop, finds a plant which he lovingly names after his crush, Audrey. As the story develops, he frightfully becomes aware that this "plant" is more than he bargained for. When Seymour's blood quite literally becomes void to the plants 'Audrey II' hunger, he finds himself in a deadly position to satisfy its demands.
Upon entering the theatre, the stage and actors were set and in place. Immediately this set the scene and gave it such an atmosphere that helped you to feel a part of it rather than being just a spectator. Also including a sense of immersive theatre and breaking the fourth wall by having ensemble members enter from the seating area and burst onto the stage in the musical number "Skid Row". This had such an effect for me as it is a small and intimate theatre; it gave it that extra touch and added to the energy of the scene. Another credit to the set, it has to be said it was brilliant and had a real professionalism to it with not only its visual look but its versatility. It was often moved round by cast and crew, and was done in such a way that didn't distract – especially having such a big force to tend to, such being 'Audrey II' and its ever changing size.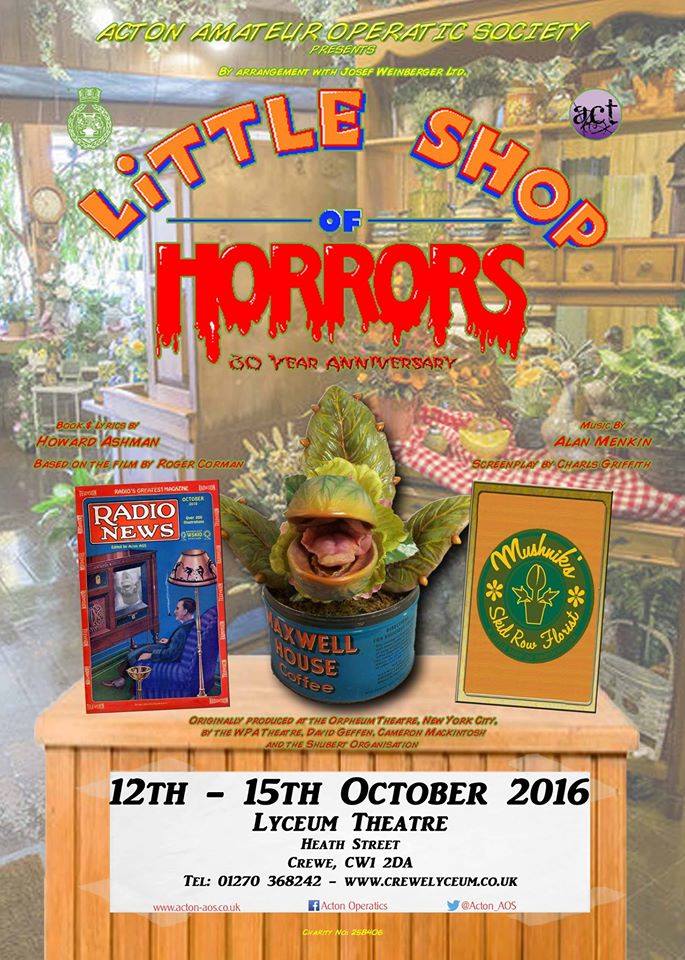 The trio of girls Crystal, Ronette and Chiffon, who are also heavily involved in the ensemble, were sassy and fabulous, each possesing a variety of tone to their voices that had opportunities to be shown off at different points throughout. My only criticism is that at some points I feel they didn't quite complement each other as a trio, and where more appreciated in their solo sections rather than in harmonies.
At times, I did feel that the music overpowered the vocals and made it hard to hear and fully appreciate each and every voice, but allowing the fact it was opening night I'd imagine this is something that would be fixed for the next few performances.
A stand out performance of Orin Scrivello portrayed by the fantastic Todd Bennett. Playing Seymour's enemy, due to being Audrey's boyfriend, the bad guy dentist, he had the audience gripped from his first entrance with his humour and presence which just seemed to be second nature to him. Knowing that he was the bad guy, and already having built such a connection to Sean Clark-Wilkinson's portrayal of Seymour before being made aware of Orin, I felt that I shouldn't love him as much as I did, but Bennett made that such a hard task that by the end you kind of just embraced the idea of being able to love them both. The highlight of all musical numbers in this production for me was definitely his version of "Dentist" as it's the one I found myself leaving the theatre singing and will continue to remember it for a long while.
Heather Taylor also gave a stunning performance as Audrey. The comical and dramatic hopeless romantic pulled on the heart strings of many during her performances of "Somewhere that's green" and "Suddenly Seymour" whilst still being able to rake in the laughs during her final moments. One thing I didn't do whilst watching this performance, was find myself thinking about who could have played the role better, because Taylor smashed it in every aspect and I fully appreciate her interpretations to the character.
AOS's production was a shining example and a beautiful way to remember such an iconic musical on its 30th Anniversary. Take my advice, go and have "Some fun now" and witness the excellence that is the whole cast and crew of AOS and their production of Little Shop of Horrors. Starting every night at 7.30pm until its final show on the 15th of October with a 2pm matinee. You won't regret it!
Reviewer: Amanda Woods
Reviewed: 12th October 2016