Ok, I'll say it... I'm crazy for you!! Stockport Operatic Society (Amateur) have produced an absolutely first class show from start to finish and, with the Plaza's narrow stage notwithstanding, was a huge undertaking to fit so much set (and two cars!) on their stage leaving room (just!) for the wonderful choreography and story to flow.
I was really looking forward to seeing this show; I adore Gershwin, but so rarely does one get the opportunity to watch an entire evening of one of his Broadway classics. The songs will pop up now and then in showcases and gala evenings, but more modern style Musicals have taken over from the all-singing, all-dancing, boy-meets-girl-and-all-ends-happily-ever-after formula that this show glorifies and typifies.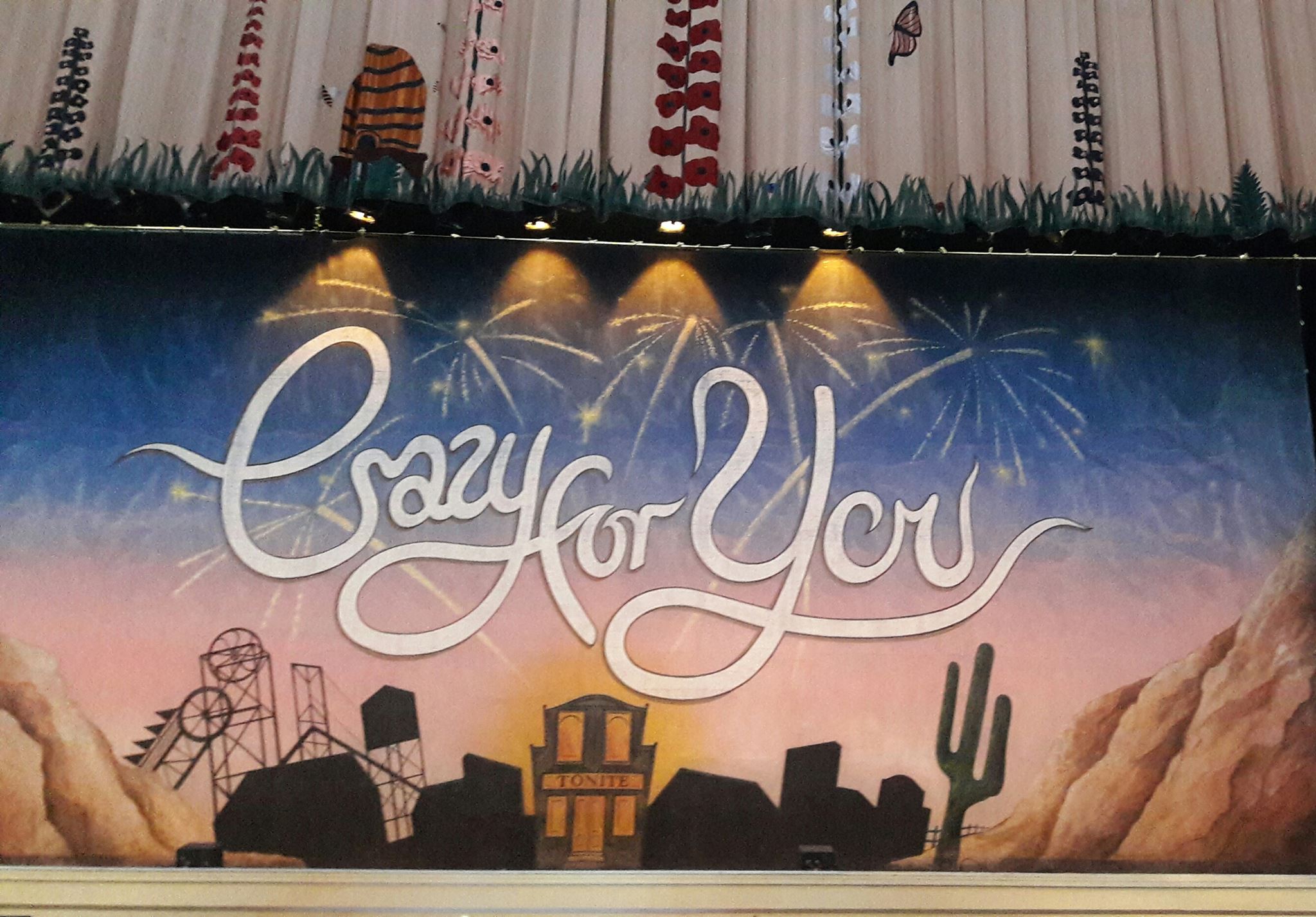 First I must mention the dancing. Wow! I have seen hundreds (and yes, I really do mean hundreds) of Amateur Musicals over the years, and this show has provided me with the best adult dancing and choreography to date! Choreographer Gary Jones-McCaw had some wonderful ideas (the rope for double bass instruments to name just one), and utilised each cast member to the very best of their individual abilities with some glorious picture endings. The tap routines were outstanding.
The singing was of a very high quality indeed, and the Musical Direction (Claire Sweeney) in general was excellently paced and conceived. [if I have to be negative in any way then sadly the band were off key a couple of times - especially in the wind section.]
The directing, (Michael Jones-McCaw), was solid and sensible, with some lovely characterisations brought to life. The humour being a part of the naturalness rather than forcing it as some directors would have. There was a genuine rapport between leading man and lady, and the 'identicalness' between Bobby and Bela uncanny! I liked and appreciated the idea that each scene flowed almost seamlessly from one to the next; but watching actors move stage flats around killed this for me. I understand there are difficulties which are down to the theatre / stage restrictions; but it did rather spoil it for me somewhat.
Gary Jones-McCaw played the leading man, Bobby, with a Gene Kelly-like air and grace. We accept of course that characters in Musicals such as these are at best 2-dimensional, but somehow McCaw brought a realness to this role which we all could empathise and identify with. Not only that but his singing and dancing were stunning!
Polly Baker, the object of Bobby's affection, was played here with great style by Kimberley Edmonds. Her Annie Oakley-esque nature crumbling away little by little until she falls completely under the romantic spell of Bobby / Zangler / Bobby. A powerful voice matched her powerful performance, and a wholly enjoyable performance it was too.
Surrounding, aiding and complementing these two were an array of talented actors and actresses playing supporting parts. Christopher Fox played Bela Zangler, a Broadway producer, undoubtedly a 'Mickey Take' of Ziegfeld, but most of the audience will be too young to understand that comment. A great character actor and very believable. His 'mirror image' scene in the saloon with Bobby was simply amazing! My only real niggle here is that Zangler was supposed to be Hungarian, and yet Fox played him with a mock German accent! [a minor point I know, but Hungarians don't even sound remotely like Germans when speaking English. It's a different language with different vowel and consonant sounds.]
Deserving a special mention too are the Cowboy trio of Moose (John O'Brien), Mingo (Dominic Dunne) and Sam (Ben Drane), who provide much of the comedy whilst proving to be excellent all rounders themselves too. Playing musical instruments on stage, singing and dancing and acting their way through this joyous show with accustomed ease and presence. Their three-part harmony singing was lovely, and they worked excellently together and individually.
This is most definitely a wonderful toe-tapping, feel-good Musical which has been lovingly recreated and performed with zeal and aplomb by a highly talented group of performers and creatives. It will absolutely guarantee to delight and it is certainly one of my 2016 Musical highlights. I am already looking forward to next October, when this society will present Oklahoma! OK?!
Reviewer: Mark Dee
Reviewed: 26th October 2016