A trip to the Lyceum Theatre this week will transport you down south to Essex in 1968, where life is set to soon change forever for the girls in the stitching room of Ford's Dagenham car plant. When the female factory workers have their pay grade dropped as they are deemed to be "unskilled workers" by their male managers, it falls on Rita O'Grady (Kate Parkin) to lead the girls in a battle for equal pay against American car giant Ford and their Union that is failing them. First opening in the West End in 2014, this musical never really took off in London, which is perhaps surprising when you consider its catchy 60s inspired songs, strong female lead narrative and its balance of humour, wit and poignancy through a significant moment in British history.
The staging of this production has been well considered by STOS Theatre Company and director Mark Feakis keeps the action of this long performance generally moving on at a good pace with excellent use of a minimal set with simple projection to mark the various locations and give continual nods to the 1960s setting. The harsh combination of steel furnishings with the crisp, bleak lighting design do well in bringing the harsh reality of the times to life, but offer little contrast in some of the wittier and more upbeat moments in the production. This would probably be my main criticism of the show in that whilst it deals superbly with the poignancy and seriousness of what these women were fighting for, it lacked the balance of bringing out the humour and energy at points, leaving some moments rather flat.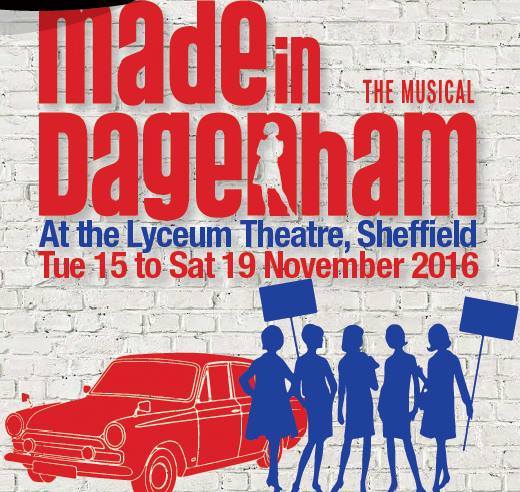 That said, the cast were strong throughout the production and sounded excellent in ensemble numbers – particularly the woman, who were at times in Act One let down a little by their male counterparts who needed to keep the pace of scenes up in the delivery of dialogue. Essex accents were well sustained, but occasionally diction let the principals down with some of the humour being lost in the delivery of lines. Jill Beckett as Beryl provided most of the best comic moments with her natural comic timing and well developed role – she also had a belter of a voice! Fiona Hannon as Union Rep Connie Riley was excellent, seeming to grow in confidence as the evening went on and some of the best scenes were with her and Rita in the driving seat as it were. Phil Brownhill was superb as former Prime Minister Harold Wilson, as was Marie Mason as MP Barbara Castle who played this role perfectly and "Ideal World" was one of the best numbers in the show. Husband and Wife, Rita and Phil, were played almost flawlessly by Kate Parkin and Phill Probert respectively, they had believable chemistry and some of the more strained moments in their relationship were well directed and performed by the two actors. Parkin's Rita showed both strength and vulnerability throughout and she did a good job to sing through her solos maintaining her Essex accent, but it was Probert who stole the show for me tonight with his excellent performance of "The Letter" which was superbly sang and acted with what felt like genuine emotion and connection with the lyrics.
As I mentioned earlier I do feel there were some missed opportunities to address the balance in humour and poignancy. The ensemble numbers needed a little more gusto at times, with "Pay Day" in particular needing an injection of energy into the Choreography. The pace of delivery in the lines at times dragged tonight, particularly in what began to feel like a very long Act Two. Adding to this was possibly the fact that the band were also too quiet and, as I so often write about Amateur theatre, the mix of sound needed to be addressed to ensure we could hear the full orchestration and balance this with the performers vocals. During the finale, when the backdrop raised to reveal the band suddenly an explosion of sound and energy from the cast– lets have this the whole way through please because wow what a sound they produced! This was a far way off the almost lack lustre dip there seemed to be in Act Two this evening and I am sure this is something that can be addressed as the run continues.
It must also be said that I found the final curtain call, with MD front and centre a very odd end to the production – it was slightly lost on me I am afraid as to the reason – unless to point out that the MD was female… However it was the most energetic performance I have seen from an MD in a long while … but not sure I would have had her, seemingly, steal the focus from what was a terrific cast in the final moments before curtain, but that is only my opinion, of course.
Overall STOS have a performance here to be proud of and any criticism highlighted is reflective of an already very high performance standard established by this excellent Sheffield group. Having seen their last few performances it is clear this group is going from strength to strength, setting a very high bar for other local groups. I am sure that as the week goes on this show will also gather in momentum and continue to impress its audience, as it did tonight.
This production continues until Saturday 19th November 2016.
Reviewer: Ashley Price
Reviewed: 15th November 2016