Legally Blonde has taken to the Mitchell Memorial Theatre Stage this week, Stoke Youth Musical Theatre Company have taken on this very pink challenge. I'll be honest the group had a lot to live up to with me, Legally Blonde happens to be my favourite book, film and musical. So I went in knowing the show inside out. Did they live up to my very high expectations for the show then? Yes! The show didn't come without a few first night hiccups. But like I said it was the first night.
The overture is this the first thing we hear of the show from the band which was musically directed by Matthew Davis and I must say this band was nothing but professional throughout. They were absolutely amazing and performed the score wonderfully. The music was also paired with some incredible choreography by Olivia Birkin. The dances were absolutely were polished and perfected, she has stayed pretty closely to the dances within the original show but added a few of her own twists. They worked brilliantly, a definite highlight dance wise was 'What You Want.' A massive well done is needed to everyone involved in this routine as it bounced off the stage and was lively, fun and full of energy. The costumes in this scene were absolutely fantastic, especially Elle's even if Elle did have a few hat issues.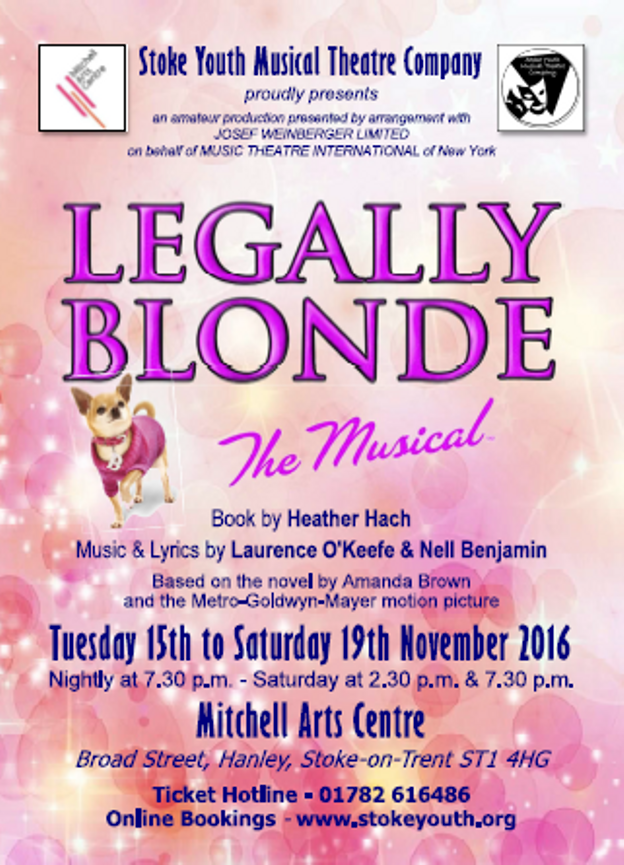 Ian Birkin directed this show, he has done a stand up job. I think the casting of this show was close to perfect. It was an honour to see such a talented youth group from my local area. Birkin managed to catch the comedy moments within the show.
About the cast, Nikki Biddington took on the title role of bubbly Harvard girl Elle Woods. Biddington captured Elle perfectly, she found the comedy side of Elle but also managed to break your heart with her rendition of 'Legally Blonde' she commanded the stage and wouldn't look out of place in the actual tour of the show next year! Her vocals were close to flawless. The other actor in the show that could go straight into the tour is Josh Edwards, this was the most adorable performance of Emmet. He captured the caring side of Emmet wonderfully and had lovely sweet sounding vocals to go along with this. My only gripe with the character of Emmet you didn't make him look scruffy enough before his Elle transformation! His 'scruffy vibe' was way too polished. But that is my Legally Blonde nut coming out. The chemistry between these two came across well and I think it will only get better through the run.
Emma Yates, who played Paulette was a favourite performance of mine last night. She embodied Paulette's quirks and comedy moments. She was exceptional and her version of Ireland is stunning. She and Liam Brookes who played Kyle had brilliant chemistry.
Will Henshall, took on the scary slimy Callahan. This was a solid performance he owned the stage whenever he was on. He sang 'Blood on the Water' pretty perfectly. Ben Durham who played Warner gave another solid performance he caught the sleezy side of Warner but added a depth to the character. Making Warner almost slightly likeable even though technically he is one of the villains of the story. He was partnered by Mollie Angus who took on the role of Vivienne this was a faultless performance of this character she caught her nasty side but also caught the more gentle side as well.
Other brilliant performances came from, Louisa Kelly as Brooke. A massive well done to you as in my eyes 'Whipped into Shape.' Is one of the hardest songs in musical theatre as it is paired with skipping throughout. The three Delta Nu sisters played by Sally Clarke, Lois Attwood and Isabella Dawson all caught the American sorority girls wonderfully. Holly Smith as Enid was also a great comedy performance.
Overall, this was a strong solid show. That can only get better over its run! There is a few bits to tidy like scene changes as there at a point was a mannequin in the salon but this was resolved. There were a few sound issues as well but again these will be sorted. I'll put this down to first night nerves. Keep doing what you're all doing it's an absolutely wonderful job. Good luck with the rest of the run. Oh, and I loved the dogs! They were adorable.
Reviewer: Leanne Ashworth
Reviewed: 15th November 2016