Enchanting Evening of Action, Dance, Laughter and Song
With a woodland backdrop and to the sound of the Big Fish Theme, our Narrator (Amy Balfour) danced her way through the audience to the stage, in the first of her many routines of the evening, as we learnt how the cruel Prince Adam had been punished many years earlier so he would learn that true beauty comes from within, before a whole cast rendition of 'Uptown Funk' led by Belle (Katie Reeves) got the audience well and truly tapping. Bully boy Gaston (Mikey Rowan) arrives on the scene with the intention of securing Belle's hand by fair means or foul and with his trusty sidekick Lefou (Lilljana Spencer) in tow, they launched in to a truly good rendition of 'Bad' with Balfour leading the dance routine of the supporting chorus (Millie Riley; Jessica McDevitt; Grace Spencer-Storey; Isabella Parsonage-Howard; Olivia Parsonage-Howard; Holly Spencer-Storey).
We meet Belle and her Papa (Patrick Reeves) who is planning to make his fortune with his latest invention, but after getting lost he arrives at a strange castle where he is imprisoned. Learning of his disappearance, Belle sets off to rescue him and on arrival meets the Beast (Rihanna McEwan) and his magical and mysterious assistants: the ever-French Lumière (Joseph McDevitt); the clockwork Cogsworth (Daniel Hitchen) and the teapot Mrs Potts (Paige Quilliam), as we launch into the Lumière-led 'Fireball' with the audience picking up the beat and clapping along almost instantly. I must note these three played off each other perfectly all evening to great effect.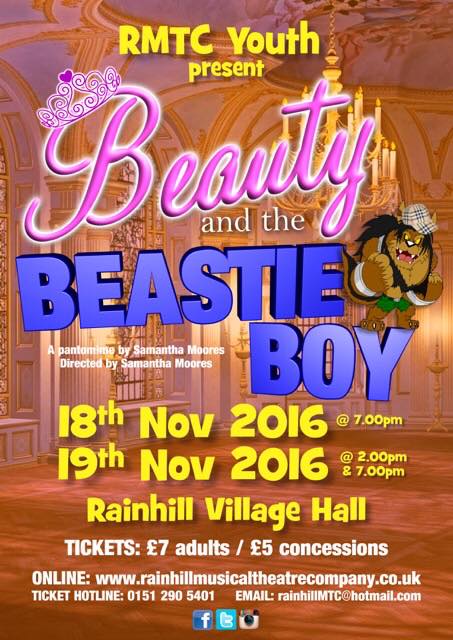 Belle offers to take her father's place with her beautifully sung 'When I See You Again' whilst Lumière, Cogsworth and Mrs Potts are entrusted to mind her before the whole cast launched into 'Best Song Ever' with some superb choreography as the Beast begins to learn the importance of being himself. Not learning any such lesson however are Gaston and Lefou who, with one of their many superb comic routines, have kidnapped Papa and, accompanied again by some great choreography, launch into 'Rotten to the Core' - as if there was any doubt.
Cogsworth, Lumière and Mrs Potts launch the second half with 'When We're Human' before an interlude for a very funny and interactive take on 'The Twelve Days of Christmas' leads us into Quilliams's Mrs Potts' beautifully sung lament to be 'Part Of This World'. Belle and the Beast's emotions come to the fore in 'Secret Love Song' until Belle discovers her father's imprisonment and goes off to find him. The Beast's 'More Than Words' with an accompanying solo routine by Balfour's solo routine lets us know he's smitten before he sets off to find her with Lumière, Cogsworth and Mrs Potts, with her son Chip (Maisie Riley), in tow. Belle soon catches up with Gaston and Lefou as they are revealed for who they are in 'Gaston's Song'. Belle rejects Gaston's pleas in 'You Don't Own Me' before he and the Beast fight and fall and…
Belle is distraught: has the man she has come to love survived? Will he be the same? Our returned Narrator's 'Black Magic' suggests there is more to this than meets the eye before our Beauty and Beast are reunited with 'I Thought I Lost You'. McEwan's rousing 'Dig A Little Deeper' stirred the audience up one final time before the concluding echoes of 'Fight For Your Right To Party' mixed with well-deserved applause.
There were a couple of technical glitches which is to be expected on an opening night but the professionalism of this talented young cast in response was beyond words: their great acting, dancing, singing and comic delivery throughout made for a cracking evening for which they are to be truly commended – the future is bright, the future is RMTC Youth. Much credit also to Producer and Director Samantha Moores and Choreographer Nicola Lyon, as well as the many members of RMTC who supported throughout the evening as well providing some wonderful costumes and sets.
Rainhill Musical Theatre Company was originally founded as Rainhill Amateur Operatic Society in 1951 - the name change is relatively recent - and is affiliated to the National Operatic and Dramatic Association (NODA). They produce two shows/revues/concerts per year, typically in January and June. The Youth Group perform a show or concert in April and October/November.
Beauty and the Beastie Boy plays at Rainhill Village Hall on Saturday 19th November 2016 at 2.00pm and 7.00pm. Tickets are available via their telephone hotline 0151 290 5401.
For further information visit their website http://www.rainhillmusicaltheatrecompany.co.uk/
Reviewer: Mark Davoren
Reviewed: 18th November 2016