Perhaps somewhat wrongly advertised as the University Of Manchester Drama Society's Autumn Showcase, this was a one act play lasting just shy of 50 minutes, by student Marina Jenkins, who also directed.
Van tells the story of an aging couple selling burgers from a 'van' on a lay-by on a main road (the A63 actually). What starts out as a gentle comedy in the TV sit-com vein, soon starts to turn quite dark, as one 'customer' to the van turns out to be a lady claiming to have had a sexual relationship with the man when she was only 15 and now blackmails him into paying her money for essential medical treatment for her 4 year old son. This scenario raises more questions than it answers, and indeed, the question marks are still there at the end when we see his wife sitting alone drinking wine with a confused and worried expression on her face.
The protagonist, Eddie Worthing, despite the shortness of the play really has quite an emotional rollercoaster to fulfil. Played here by Vincent Lawrence I immediately took to his personable and realistic portrayal. The further into the play we went however, the less likely his interpretation became. I did not believe he was an accountant and had his own office, and some of the reactions to his situation were anticipated.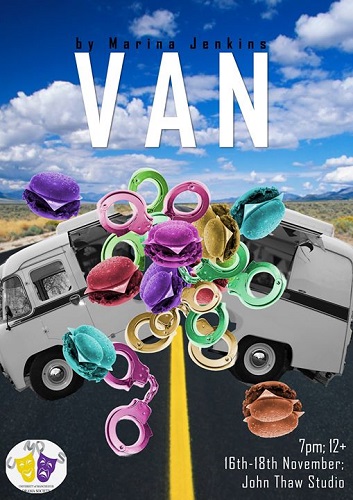 With more secure and mature directing however, I feel sure he would have been able to bring his performance up a notch or two and therefore we would be able to engage in him and his situation much more keenly. The absolute reverse of this applied to his wife Celia, played by Catherine Cranfield. I found her opening interpretation very mono-dimensional and rather stiff; however, the further into the plot we went her portrayal became far more real and empathetic.
The role of Laura Denton, the woman who blackmails Eddie, was for me, the weakest link. Played here by Sophie Pitches, there was absolutely no hint of anything out of the ordinary with her. I feel sure (although obviously, I do not know the play or the author's intentions) that this character should have been much more 'on the edge'; even giving the audience a hint that all is not as it appears on the surface. She appeared far too calm and unemotional - but maybe that was the intention.
I loved Charlie White's little cameo of Joe. Excellently paced and considered. Other roles in the play were played by both White and Lucy Ogelsby.
The scene changes didn't work for me. The 'noise' and strobe which accompanied them added nothing to the play nor to the tension of the situation. It would have worked much better either with a composite set, or total blackouts. And I never understood why the 'van' (which in reality was a shed) remained on stage the whole time either.
It was an interesting story which held my attention for the 50 minutes and it is certainly a story that could be taken into R+D and with the help perhaps of a dramaturge made into a rather compelling and dark thriller. The acting on the whole was of a high standard and their characterisations consistent throughout, but it lacked a certain pace and energy, which should have been picked up by the director; not the actors' fault. Well done to all involved and I look forward to seeing what UMDS has in store in the future.
Reviewer: Mark Dee
Reviewed: 18th November 2016