A Comedy Of Manners Turns Murder Mystery In This Brilliant Adaptation
You have a feeling it's going to be a great evening when you are greeted with a smile and a 'welcome back' at the entrance foyer and this proved to be particularly true of this Carlton Players production, ably directed by Elaine Louise Stewart.
This classic drama opens with Louise Gerard (Susan Reeve) discussing her niece, Cecily Harrington (Lydia Jones), whose fiancé Nigel Lawrence (Emmett Meehan) has been working in the Sudan, winning a big prize in a sweepstake with her friend Mavis Wilson (Samantha Walton). What starts out as a real comedy of manners and rightful behaviours hinges on Cecily meeting with a suave American, Bruce Lovell (Rory Kelly), who is interested in leasing her flat. Within the day, she has rebuffed the interests of newly returned Nigel and accepted the proposal of Bruce whilst her aunt dithers madly over what people will think whilst availing herself of any available handout or bargain on the way.
We resume after the interval with Bruce and Cecily having bought a remote country cottage where they inherit bumpkin gardener Hodgson (Mark Prescott) who gets his niece Ethel (Rebecca Williams) taken on as a maid. But Bruce has not taken too well to this country air and a concerned Cecily arranges for the local Dr Gribble (Michael Hunter) to pop in which doesn't go down too well. As clue after clue appears and the behaviour of Bruce takes more irrational downward spirals when old friends pop in to see the couple, you suddenly begin to worry for poor Cecily. What will be the final straw…well other than to say I was transfixed on the edge of my seat, with many an occasional jump thrown in, as the comedy became increasingly darker, and…well, the rest you'll have to come and find out for yourself – all is certainly not as it seems…
Stewart was keen to evoke a sense of the 1930's period through the set design and construction based on the black and white imagery we are familiar with from old news reels and with red interspersed through clothing or props to highlight the mood and atmosphere in key scenes. Much credit to stage managers Pam Buckle and Brian Shortall in pulling this off, ably supported by Brian Williamson's lighting and Nick Fawdry's sound for overall effect.
All the cast performed strongly and a special mention must be made to Jones who was originally playing Mavis but took on the lead role of Cecily with just one week to go, and to Walton who stepped into the role of Mavis with no prior involvement in the play, and both rose to the challenge and performed admirably. Prescott captured the wily Hodgson perfectly; Reeves delighted the audience with wonderfully performed dialogue; Kelly captured Bruce's descent with scary realism.
The Little Theatre in Birkenhead is a delightful venue complete with bar and seating almost 300 including full disabled access. There is free parking to the rear of the theatre from 6.30pm.
The Carlton Players are the resident company and produce 7 plays a year including a pantomime, comedies, and serious plays. They are always looking for new members so why not get in touch?
Further details for both and their forthcoming productions can be found at http://www.carltonlittletheatre.co.uk/
The production of 'Love From A Stranger' runs Tuesday 24th January through to Saturday 28th January with performances starting at 7.30pm. Tickets are priced at £8 (£6 concessions) and are available via https://www.ticketswirral.com/LoveFromAStranger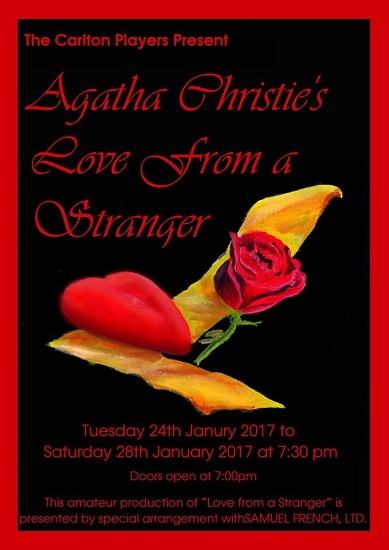 Reviewer: Mark Davoren
Reviewed: 24th January 2017