Two of the most powerful women of British history are undoubtedly Queen Elizabeth II and the former prime minister; Margret Thatcher, with both women being very opinionated, strong characters; I could only imagine what their weekly meetings were like during Thatcher's term as prime minister. Imagine that is until I attended the latest production at the Altrincham Garrick Playhouse; Handbagged by Moira Buffini.
Handbagged speculates on what really went on behind the closed doors of the palace between two of the most powerful women in British History; during their weekly meetings, the Queen and Margaret Thatcher clashed on many occasions and were notorious for not always getting along or as we were told in the press anyway.
The play which first premiered in 2014, cleverly interweaves the older monarch and Thatcher with their younger selves on stage at the same time which provides lots of off the cuff remarks and dry humour while maintaining an interesting plot throughout.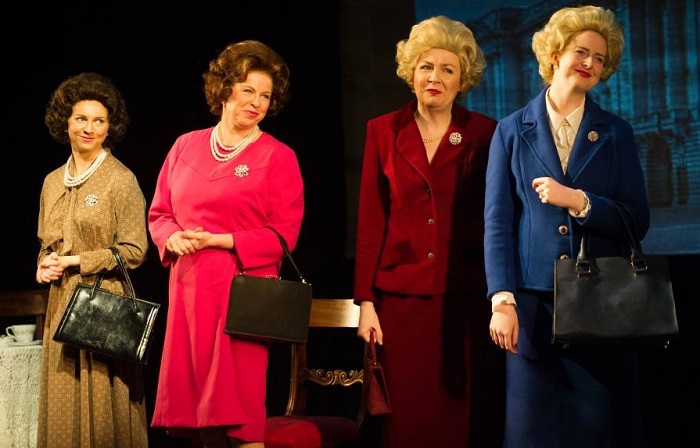 The older Queen is played by Dawn Flint, while the older Thatcher is played by Caroline Knight, both actors play the roles so convincingly with humorous exchanges a plenty.
I was extremely impressed also with the young Queen played by Rachel Horobin and young Prime minister played by Fiona Primrose, they both had the mannerisms and expressions of their characters to a tee; the accent, the facial expressions, the speeches; at times it was like watching a documentary, but while also adding new depths to the characters, which is surely the highest achievement an actor can do, to bring more to a character, bringing it off the page.
I also cannot forget to mention the other two very hard working actors in this production who both took on a magnitude of roles, Jamie Sloan and Mark Edgar took on the guise of a wealth of historical political figures including Kenneth Kaunda, Neil Kinnock, Geoffrey Howe, Dennis Thatcher and not forgetting their fantastic takes on Ron & Nancy Reagan.
As the show took us through the highs and lows of Margret Thatcher's 11 years at Number 10 through her weekly meetings with the Queen, we saw a fascinating insight into what might have been going on, two icons both with different views. The play used actual video footage of Thatcher and was used to maximum effect as the video wall showed footage of IRA bombs and fierce Commons exchanges, leaving you with insights into a women/character which hasn't really been delved into before; Thatcher as a character, not just a political figure.
The cast were magnificent, the staging was simple yet effective and it was a truly insightful thought provoking piece of theatre.
Verdict: A thought provoking, humorous piece of theatre which Thatcher lovers or haters will enjoy.
Reviewer: Max Eden
Reviewed: 31st January 2017