I am not sure why, but the Gods certainly have it in for me. Every time I visit Oldham's boutique Lyceum Theatre, the weather is somewhat tempestuous. Most would undoubtedly see this as a bad omen; on the other hand I have now come to regard it as just the opposite, since once inside this underground treasure-house, one is always assured of a warm and friendly welcome, and the quality of the plays they produce never disappoints.
Once again, this tiny stage had been transformed beautifully. Ean Burgon's design had transported us not only back in time to the 1980s but halfway across the world too, to Louisiana, USA, and to the hairdressing salon of a certain Truvy Jones. It never ceases to amaze me the attention to detail given to the sets here, especially when the stage is so small, and there is no backstage or wing space either. Although I did happen to notice that for this production that the vast majority of shampoo bottles, sprays, lotions and goodness knows what else were all contemporary and English. Mind you, finding such paraphernalia from the correct place and time would have been almost nigh impossible I guess, and so that's both understandable and forgivable.
So, yes, we are in 1980s small town Louisiana and the action takes place in Truvy's Salon. Truvy is, by all accounts, the biggest gossip in the town, but has a heart of gold, and knows how to ensure her customers keep on coming back. She tells them "there is no such thing as natural beauty". It is a bitter sweet comedy set over a two year period as we follow the lives of primarily two of the town's residents; one Shelby Eatenton, who is getting married the day the play opens, and Annelle, a new girl in town and starts working at the salon again the day the play opens.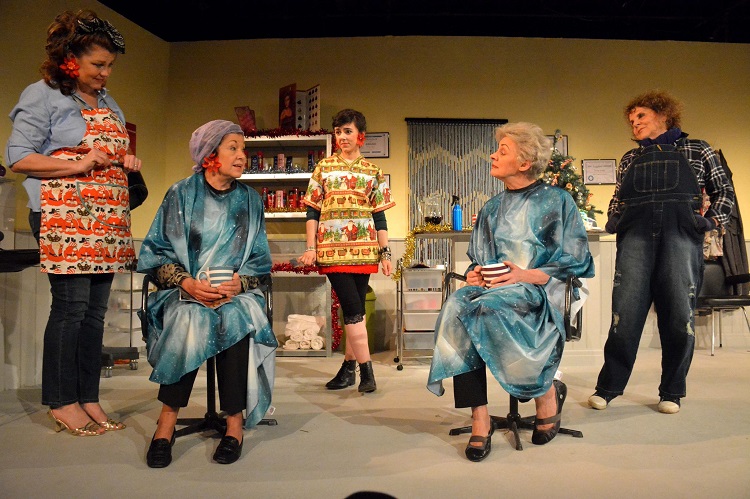 There is plenty of humour and bonhomie in this play, and some truly sparkling and acerbic lines:
"he doesn't know whether to wind his butt or to scratch his watch"
And the humour is excellently placed in Eon Burgon's directing. Thus making the tragedy that follows all the more heartbreaking. And yes, I confess, I too was welling up when it happened; and that is a rare bird indeed!
This is a play with an all female cast, and is certainly the kind of plot that will appeal more to females than males. And in the current climate where actresses are bemoaning the lack of plays and casting opportunities for them, this is indeed an excellent vehicle for them to parade their talents.
Lois A. Kelly brings Truvy very much to life, and I really enjoyed her interpretation of the kind-hearted, gossiping business lady. Rosemary Terry gave us a very enjoyable and indefinable Annelle. Her weird and mysterious ways and her reluctance to speak about herself, through her artistic transformation into finding God was excellently measured and I was captivated by her facial expressions. Shelby was played here by Lyceum regular Ruth Blaszczok, and again, gave a very solid and rooted performance, and the three protagonists were more than ably assisted in their journey by three other actresses' lovely performances. Sue Radcliffe as Clairee Belcher, June Holmes as Shelby's mother, M'Lynn; and Pauline Walsh as Ouiser Boudreaux; who, incidentally, had the best line in the whole play:
"I'm not crazy, I've just been in a bad mood for the last forty years".
All six cast worked excellently together as an ensemble, each with their own individual characteristics, and brought to life what could have become a rather stagnant piece of writing, without becoming caricatures. They would have benefited from a dialect coach though as the accents were a little off and not constant; but hey, the play was nevertheless very enjoyable and tightly directed, and consistent with the high quality of productions I have now come to expect from Oldham's Lyceum Theatre Company.
The play runs until 11th February, and so even if it isn't raining, you can be assured of a warm atmosphere and some fine entertainment.
Reviewer: Mark Dee
Reviewed: 6th February 2017