Superb Production of a Sharply Observant Comedy
Oliver Goldsmith's enduring social comedy from 1773 displays a strangely modern relevance with its sharp observations on money, class, and sexual hypocrisy, as well as exploring the insecurities of the male psyche. Whilst Goldsmith's own life was plagued by debt, deadlines, and disaster, this play, apparently based on an actual event, is one of great pleasure where affection, good humour, and romance prevail. It is one of my favourite plays.
When Mr Hardcastle (Les Ebbrell) tells his daughter Kate (Katy Ashton) that he has found her a potential suitor, the son of his close friend Sir Charles Marlow (Brian Dickson), she vows to make him hers and they await his arrival. Unbeknown to them, Kate's wily half-brother, Tony Lumpkin (Lee Crosbie), has happened upon young Marlow (Mark Latham) and his friend, George Hastings (Joe Platt), in the local inn where they have retired having become lost. Fancying himself as a mischievous trickster, he sends them on their way to stop overnight at the finest inn in the county but which is in fact the Hardcastle residence.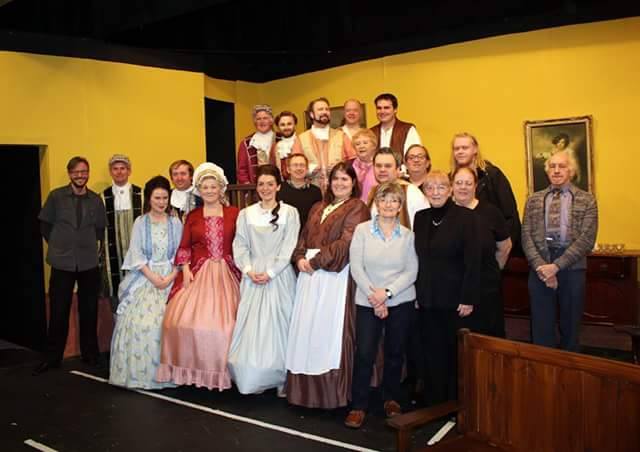 The theme of trickery continues when, after a disastrous first meeting between Kate and Marlow, she, despising his timidity, decides to disguise herself as a housemaid to see if he is indeed all she has been told by bringing him out of himself – she 'stoops to conquer'. Meanwhile Mrs Hardcastle (Vivienne Sebastian) is preventing her ward Constance (Holly Skelton) from escaping the family home by withholding the jewellery that is rightfully hers in the hope that she will marry her son Tony. Tony is not interested however but his mother's assertion that he is not yet 'of age' is preventing him from claiming his inheritance and marrying whom he pleases. So, whilst he is left to pass the time finding ways to amuse himself, Constance is unable to marry her beau, Hastings, and begins to consider eloping with him on the grounds that love is greater than any fortune.
Directors Graham Breckon and Julie Nicholas have excelled themselves with this production and their clever breaking of the fourth wall throughout the play got the best from Goldsmith's character monologues and ensured perfect engagement with the audience who were laughing throughout. The set was well constructed and facilitated quick scene changes, and the costumes were rich in detail and captured the period perfectly. With support from Paul Cartlidge (Landlord/Jeremy), Stephen Higgins (Muggins/Roger), Gareth Griffiths (Elgin/Diggory), and Stephanie Clark (Pimple), there were strong performances from all the cast. In particular, Sebastian revelled as the vain Mrs Hardcastle, Ashton delighted as the highly astute and assured Kate, whilst Skelton beautifully captured the lovelorn Constance who wisely weighs up that her fortune might be worth counting after all.
The Little Theatre in Birkenhead is a delightful venue complete with bar and seating almost 300 including full disabled access. There is free parking to the rear of the theatre from 6.30pm.
The Carlton Players are the resident company and produce 7 plays a year including a pantomime, comedies, and serious plays. They are always looking for new members so why not get involved?
This was the last night of She Stoops To Conquer but forthcoming productions include Rising Damp, the play of the popular TV sitcom, which runs 18th – 22nd April, and Charley's Aunt, a comedy by Brandon Thomas, which runs 30th May – 3rd June. On 16th June, the theatre will be hosting a 'Memories Night' showcasing old films of Birkenhead along with guest speakers. Further details for this and their forthcoming productions can be found at http://www.carltonlittletheatre.co.uk/
Reviewer: Mark Davoren
Reviewed: 18th March 2017