This was my first trip to the Oldham Coliseum and we were very well looked after by members of Ashton Operatic Society, in a very nice quaint theatre.
I could tell this was going to be a fun staging of this musical from the very start, energetic, bouncy and perfectly blonde.
Lead role, Elle Woods, was played well by Ellie Birtles with her 'pink'' attitude and vocal abilities, you couldn't help but want her to succeed in her quest.
Her ex-boyfriend, Warner Huntington III, was portrayed by Samuel Maurice who sang very well and acted the pompous, arrogant charmer with flare. However, for me, the stand out was most definitely, Dominic Dunne who played Elle's 'friend' and guardian angel and who helped her achieve her goal. Dunne's performance was superb with some excellent vocals. I love an underdog. And speaking of which, being a dog lover, seeing the two dogs do so well on stage, was great. Both so cute.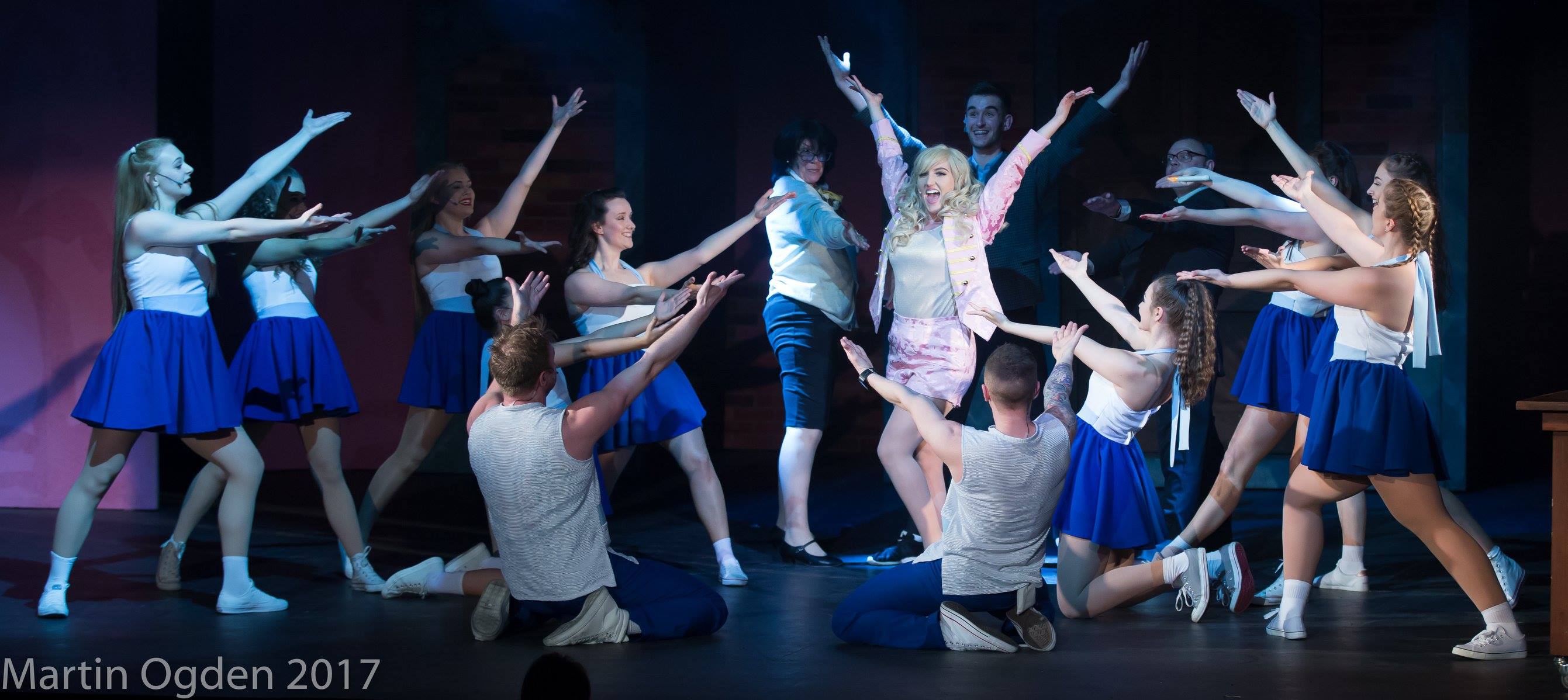 There was no-one on the stage that didn't deserve to be there with some wonderful performances by Rachel Wareing (Paulette Buonofonte), Laura Meredith-Hoyle (Vivienne Kensington) and our three main Delta Nu girls (Katherine Farrow, Katie McCoy and Keavy Smith) but I have to single out two of the male roles: Firstly, to Professor Callahan (Paul Allison) superb performance and vocally great and secondly, Gary Jones-McCaw whose talent shone through in EVERY role he undertook in this production. His comic timing as Carlos and Kyle was brilliant but it was the latter character that really brought the entertainment to the stage. His Irish dancing, a sight to behold.
He leads me, quite nicely, to my next massive 'well done'. The choreography was sublime, just brilliant. Choreographer Stacey Maurice had taken a cast who could move very well and exploited their talents tenfold. My two favourite numbers being the afore-mentioned Irish routine and 'Whipped into Shape'. Well done to all who took part in that, as I was out of breath watching you – some of the tricks with the ropes were brilliant. Really well done, Stacey.



The orchestra worked well under the guidance of MD Paul Firth, but I did feel, as sometimes is the case, they can overpower and drown out the performers – I did feel this occasionally with Elle but as this was first night, hopefully this will be sorted.
The set was great and very 'pink'. It worked well and the changes were seamlessly done, worked by cast and crew alike under stage manager David Bright. Sound & lighting did well for a first night, with only a couple of late or on (when shouldn't be) microphone hiccups and a misplaced spotlight or two.
Costumes were super with the Delta Nu girls providing the light to the dark side of the classroom and courtroom. However, I do feel that some of the wigs used may need a bit of tweaking.

All in all, this was a fun evening's entertainment and praise to director Lee Brennan for a great production, although I do feel that Bruiser and Rufus should have got a bow at the end.
Enjoy the rest of your run guys, you certainly deserve the praise #snaps
Reviewer: Hazel Bumby
Reviewed: 28th March 2017