After the success of their recent productions of Legally Blonde and Ghost, York Stage Musicals are back at York's Grand Opera House (from 7th April – 15th April) with 80's rock themed musical – Rock of Ages.
Having been blown away by their previous two shows (Legally Blonde/Ghost), I was sceptical as to how they could possibly exceed previous shows. As a self-confessed ROAdie – that's Rock of Ages roadie – following the West End production on tour up and down the country!) I went in prepared to "get my face melted" – I certainly was not disappointed!
In the mid to late 80's we meet aspiring young rocker Drew (Conor Mellor), working as a toilet cleaner/barman in the trademark Hollywood bar, "The Bourbon Room". Small town girl Sherrie arrives from Kansas full of ambition and hoping to make it big in acting. When the pair meets, it is love at first sight. Dennis (Mikhail Lim), the owner of the 'Bourbon Room' hires Sherrie to work for him and during her first shift she accepts Drew's invitation to have a picnic overlooking LA. There, in a typical male panic, he mistakenly suggests that the two of them are 'just friends'.
Meanwhile, German city developers Hertz and his son Franz Kilneman, convince the city's mayor to abandon the "sex, drugs and rock-n-roll" lifestyle of the Sunset Strip to bring in "Clean efficient living" into the area. They reveal their plans to tear down The Bourbon Room as part of their "Economical Redevelopment", much to the anger of the Mayor's city planner, Regina.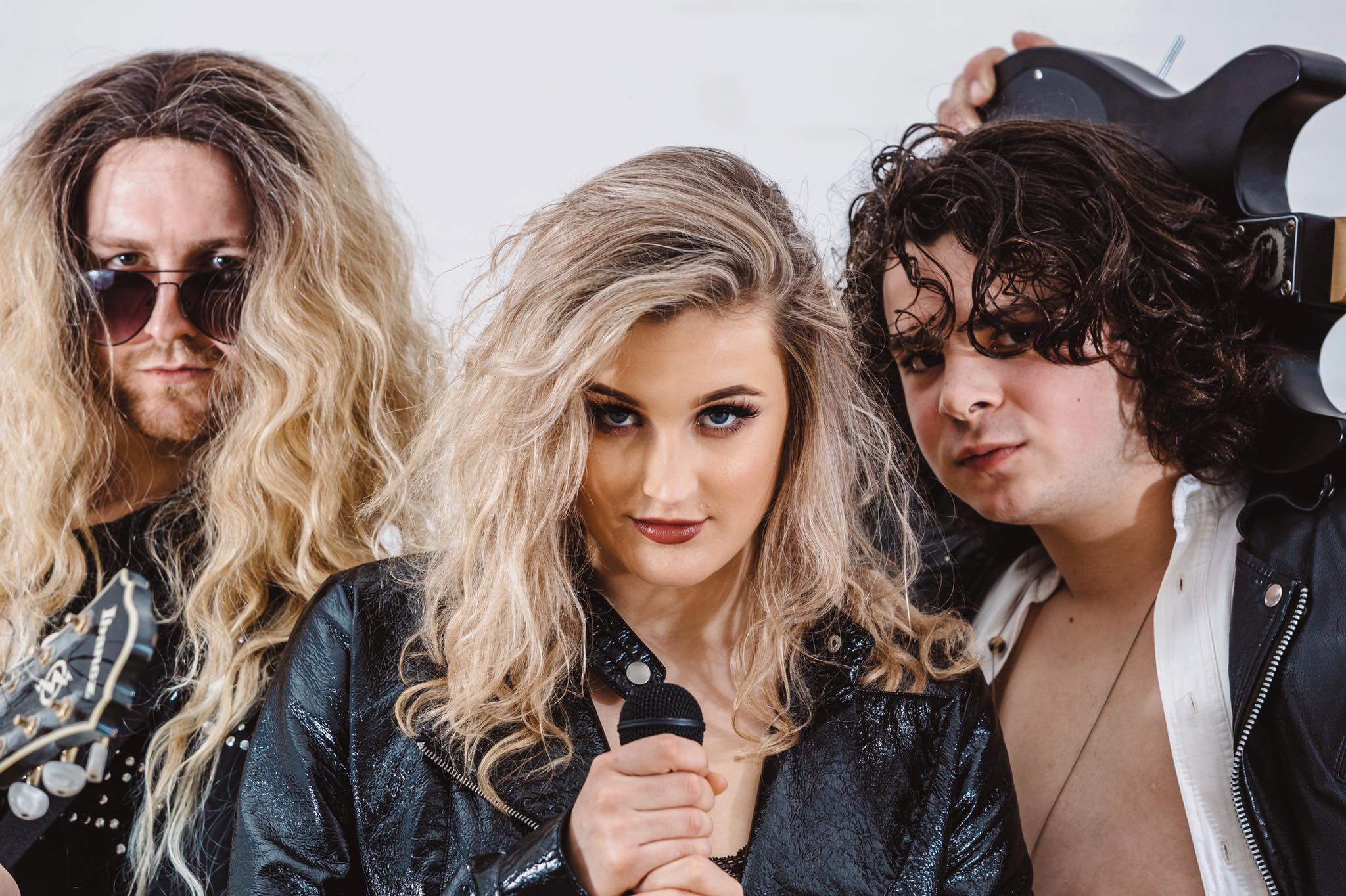 Regina rallies the locals together to petition to save the Sunset Strip. Meanwhile, lead singer of successful rock group 'Arsenal' Stacee Jaxx returns to the Bourbon Room (the place that started his career) and is headlining that evenings' entertainment. During a Press interview he meets Sherrie and the two share a passionate moment in the men's washroom. When Drew finds out him and Sherrie both quit their jobs at the Bourbon and go their separate ways. Will it be a happy ending for them, or like Whitesnakes' musical career, will it be all over?!
As with previous shows the cast and ensemble each give outstanding performances and the large auditorium of York's Grand Theatre – even on a Saturday matinee, the day after opening night – is always well filled out with each performance from York Stage Musicals, and given the amount of talent within each performance it is easy to see just why each show is always a huge success. As always, this production once again totally exceeded all expectations.
Conor Mellor blew me away in another York based theatre company's production of Les Misérables (as Javert), a couple of years ago, but this afternoon I got to see the softer side of Conor, as the loveable Drew. Equally it was great to see Lauren Sheriston in the role of wannabe actress Sherrie, a role which after playing Molly in the Company's production of Ghost, enabled us to see Lauren in a more physically demanding role, belting out classic 80s tunes whilst dancing along to high energy dance routines! The pair worked perfectly together.
My favourite duo of the show however, and actually not the usual favourites in ROA, was real life father and son duo Benedict Tomlinson (as Franz Klinemann) and Adam Tomlinson (as Hertz Klinemann). The pair had the comedy element perfected and proved a huge hit with audience. I particularly loved Franz's big reveal!
Guaranteed to have you singing along and dancing in your seats, this production simply HAS to be seen, it really "Don't Get Better Than This".
http://www.atgtickets.com/shows/rock-of-ages/grand-opera-house-york/
Reviewer: Lottie Davis-Browne
Reviewed: 8th April 2017