RNCM Youth Perform - part of RNCM Engage - is a group of talented youths between the ages of 13 and 18 who meet once a week and learn from industry professionals, and this evening was the opening night of this year's production, Singin' In The Rain.
This is possibly, with the exception of White Christmas, the world's most known and best-loved film Musical, and so it seems strange that it had to wait until 1983 before someone adapted it for the stage. With music by Nacio Herb Brown and Arthur Freed, and a story by Betty Comden and Adolph Green, it was a winning collaboration which ensured the show's longevity and popularity.
It tells the story of a successful movie studio in the 1920s and the studio's two stars, Don Lockwood and Lina Lamont. Matinee Idols of the silent movies, but as the new 'fashion-that-will never-last' talking pictures start to garner interest and popularity, the studio is failing and realises it needs to start making talkies too in order to survive. There is one problem with this however - Lamont's voice! What a stroke of luck then that Lockwood just happens to find and fall madly in love with a young actress with the voice of an angel! Of course nothing runs smoothly, but love and virtue win the day and all ends happily ever after.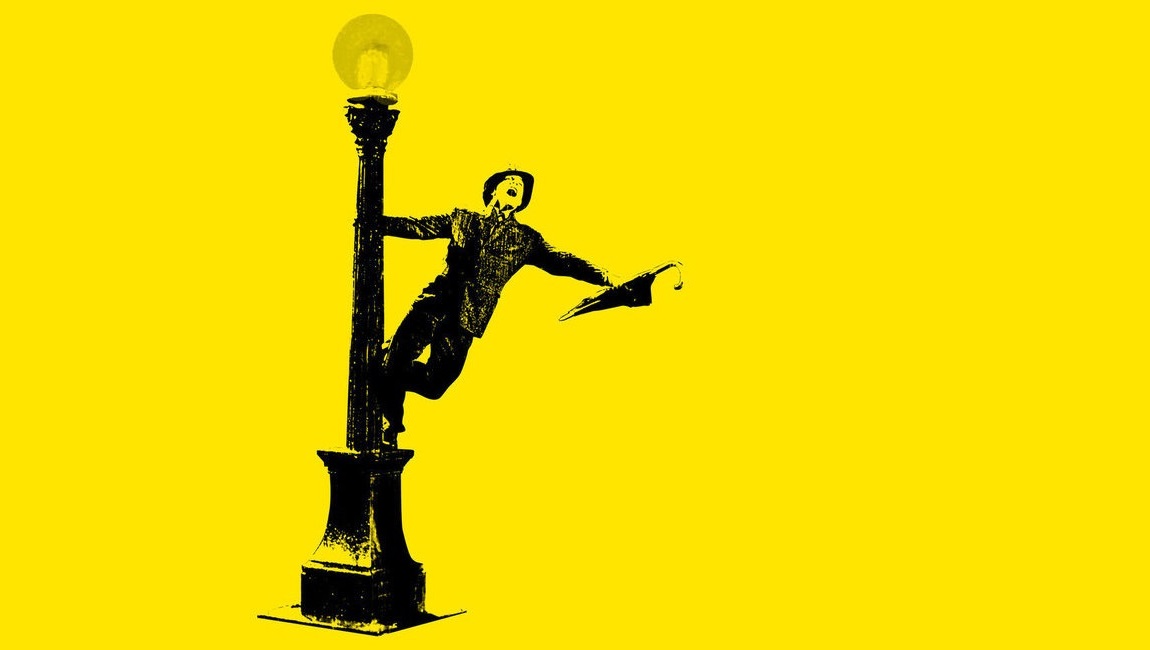 In this production, the main role of Don Lockwood was taken by a young actor, Lucca Chadwick-Patel, whom I have never seen perform better. He looked perfectly at home with this role and absolutely nailed it! Nina Lamont, Lockwood's on-screen love interest but with a horrid high-pitched voice was played with aplomb by Niamh Mulvihill. Cosmo, Lockwood's childhood friend and double-act partner, now working as the studio pianist / composer was played with zest and relish by Matthew Allen. Allen had a real gift for comic timing and his acrobatic and physical skills seemed to know no bounds. Wonderful! Finally, Kathy Selden, played here with centred sincerity and a lovely voice by Annie Stedman.
The four were supported by a talented and able cast, who provided some nice cameos and some lovely chorus singing. The set and costumes in the main were very good, and the music, a 23-piece orchestra of RNCM students under the leadership of Alex Robinson was superb. The choreography, by Mariyka Bolubasz was actually very good indeed and allowed those who were more able to 'show-off' a little whilst still keeping the routines firmly fixed in the era of the piece.
A couple of things, sadly, didn't quite gel for me. Directed by Caroline Clegg, the pace of the Musical was very haphazard and the audience only really started to focus and become interested when the two tiny children bounced on stage. I could hear and feel the audience's interest perk at this point. I also found it very strange that majority of the spoken scenes were directed straight to the audience. It was very unnatural and odd. It's also a long walk from centre-stage into the wings, and the cast had been asked to do this on many occasion taking time and looked contrived. There were instances too which just made me querulous. For example, why did a policeman on his beat simply walk up to Lockwood in the rain, turn round and walk back the same way as he came? Why was Lamont's solo song behind the mirror obscured by the mirror and her face in partial darkness for its shadow? and many other things, which sadly spoilt the overall professionalism of the product.
Congratulations to all. A thoroughly enjoyable sugar-coated Musical romp, with 'Make 'Em Laugh' a sure-fire showstopper!
Reviewer: Mark Dee
Reviewed: 27th April 2017