UMMTS (The University Of Manchester Musical Theatre Society) present their final Musical this term, A Little Night Music. With a book by Hugh Wheeler based on a truly hauntingly beautiful film by Ingmar Bergman, 'Smiles Of A Summer Night', and music by the wonderful Stephen Sondheim, it is enchanting, clever, quirky, and a true gem which sadly rarely gets performed.
On entering the Council Chambers, I have to admit to being somewhat surprised. They had created a completely bare stage-in-the-round. Those of you who know me will know that I am a fan of minimalism and Brechtian principals; however, how on earth could anyone hope to perform a Musical such as this with no set, no props, and such a small and intimate circular space.
Of course, I really needn't have been too concerned. From the moment the orchestra struck the first chord and the cast started to sing and enter, my concerns had been blown to oblivion. The staging was inspired and worked wonderfully, and the single central tree - obviously far too thin - was just perfect. The one thing I can, and sadly must, be negative about though was that the two 'sofa seats' on wheels were very noisy and so distracted and disrupted. That was such a shame. Could there not have been a way of deadening that noise?
The singing from all was exemplary. I especially enjoyed Zagid Siddiqui's lyrical tenor voice as part of a most excellent cast quintet of all-knowing all-seeing servants. All five gave stunning vocal performances and although not much acting was required, this too was first class. The other four were Eleanor Austin, Sam Saunders, Molly Toolan-Kerr and Zoe Jackson.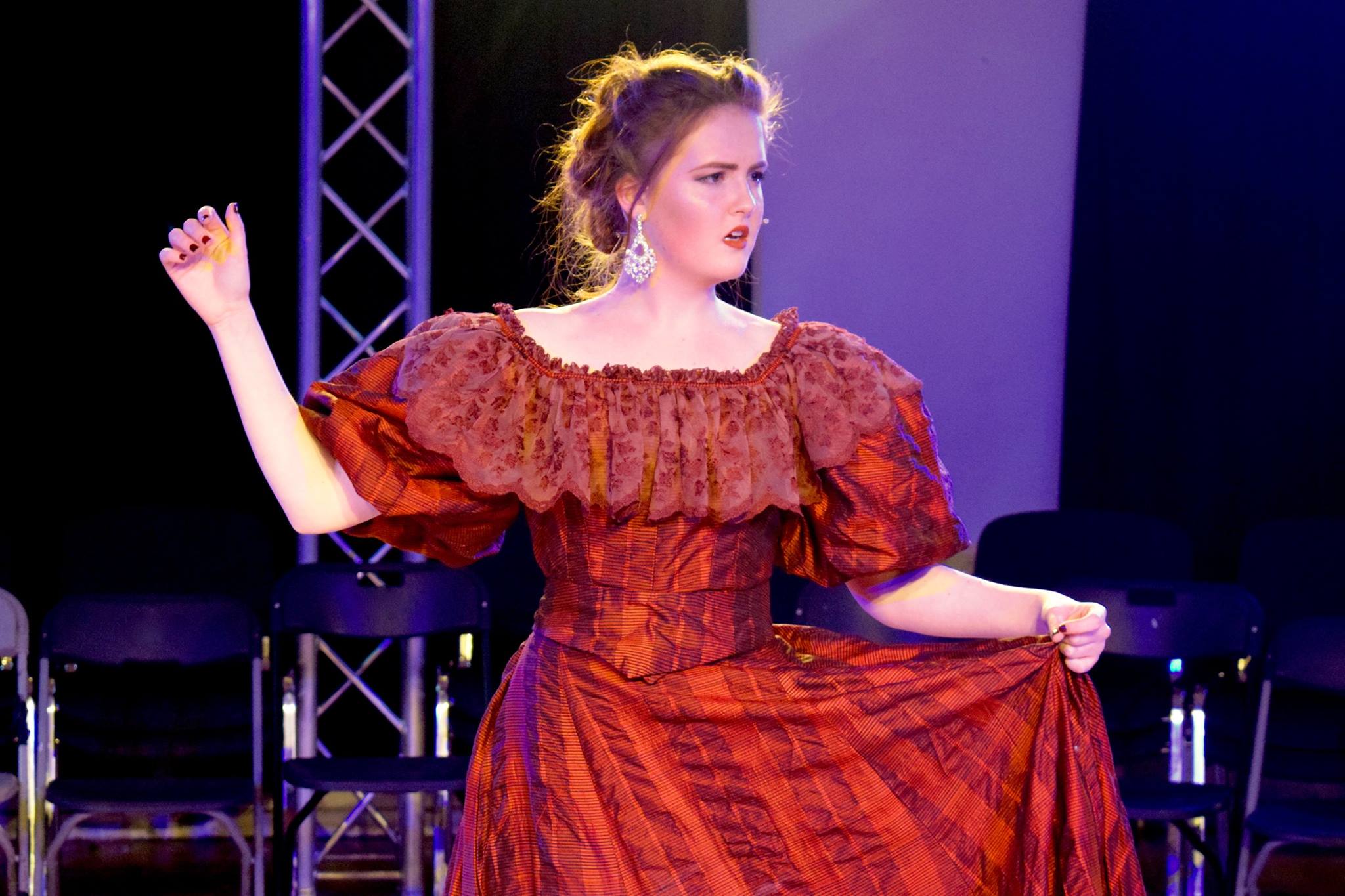 In precis, the story concerns the loves and lives of three families. The three generations of female Armfeldt; the Egermans, and the Malcolms. Touring actress Desiree has a long-standing love with Frederik Egerman, who has just recently married a lady just passed the first flush of youth, but is having an affair with a married soldier, Carl-Magnus Malcolm. It is a comedy primarily, and of course, things get out of hand; but as in all good comedies, everything works out for the best in the end, and sees Carl-Magnus reaffirm his love and devotion to his wife; Frederik reaffirm his love and devotion to Desiree, and Frederik's wife Anne, elopes with Frederik's son, Henrik!
Excellently measured and beautifully portrayed characters abounded throughout. My only criticism that I found Jack Hawkins' interpretation of the Count just a tad too mono-dimensional and over-the-top in comparison with the well-grounded performances of the rest of the cast.
Jess Adams gave a surprisingly elderly-sounding vocal interpretation of the elderly Madame Arnfeldt. ( I loved the wheelchair!). Phoebe Raynor was the sexually nefarious actress, Desiree Arnfeldt, whose facial expressions in 'You Must Meet My Wife' were (almost) upstaging the song; whilst the young Frederika, a role that is highly underdeveloped, was played with accomplished ease by Helena Stanway. Aine Mallon was the young, giddy, and silly pretty-little-thing wife of Frederick Arnfeldt, who was, I believe something of a last minute replacement; but Richard Mellion gave no indication of that being the case and his character was secure and his easy stage presence made him eminently watchable. Henrik, Egerman's religious and nervous son, was played with sincerity by Alastair McNamara. Charlotte Malcolm was superbly played by Eimear Crealy, and servant Hebe Church.
The small set items were period and effective, as were the lovely costumes. I do think Musical Director Matt Mitchell could have found more changes of dynamics, especially pace, in the music though; as good as it was it all seemed rather samey this evening.
Sensibly directed by Chris Pope, this was, despite my niggles, a wonderfully rich, vibrant and enjoyably comic interpretation of one of Sondheim's less-performed but more mature Musicals.
Reviewer: Mark Dee
Reviewed: 11th May 2017