It is three years now since I first witnessed a Manor Operatic production in the splendour of Sheffield's City Hall. Each and every time since I have marvelled at the transformation this amateur company makes to the hall and leave the venue knowing I have just witnessed something very special indeed. Across the UK now the line is getting ever blurred between amateur and professional theatre, and this was never demonstrated more tonight as Singin' in The Rain graced the stage.
Manor have gained a reputation for doing things 'BIG', they produced the biggest ever amateur production of Ghost to date in 2015 and astounded audiences last year with spectacular circus skills in Barnum. So how could they beat that this year? Simple, drop 50 gallons of water onto the stage at the culmination of act 1!
Adapted from the 1952 movie of the same name, Singin' in The Rain closely adheres to the original. Set in Hollywood in the waning days of the silent screen era, it focuses on romantic lead Don Lockwood, his sidekick Cosmo Brown, aspiring actress Kathy Selden, and Lockwood's leading lady Lina Lamont, whose less-than-dulcet vocal tones make her an unlikely candidate for stardom in talking pictures.
But, no matter how spectacular the staging is, and it was using 3 huge video walls to transform the stage into the multitude of locations this show visits, it is the cast who perform upon it that ultimately decide if a show is a hit or a miss.
For the third year (I have seen Manor's shows) James Smith takes on the lead role, this time Don Lockwood. Last year Smith learnt an incredible number of circus skills including tight-rope walking for his role as PT Barnum. Equally as challenging this year he has had to learn to tap dance! I can pay him no greater compliment than to say he was faultless and once again demonstrated what an accomplished all-round performer he is.
Isabelle Sykes plays Lockwood's love interest Kathy Selden and makes a superb and assured job of it. From her naivety when they first meet to her confident self at the end of the show Sykes shines throughout and has a stunning voice to boot.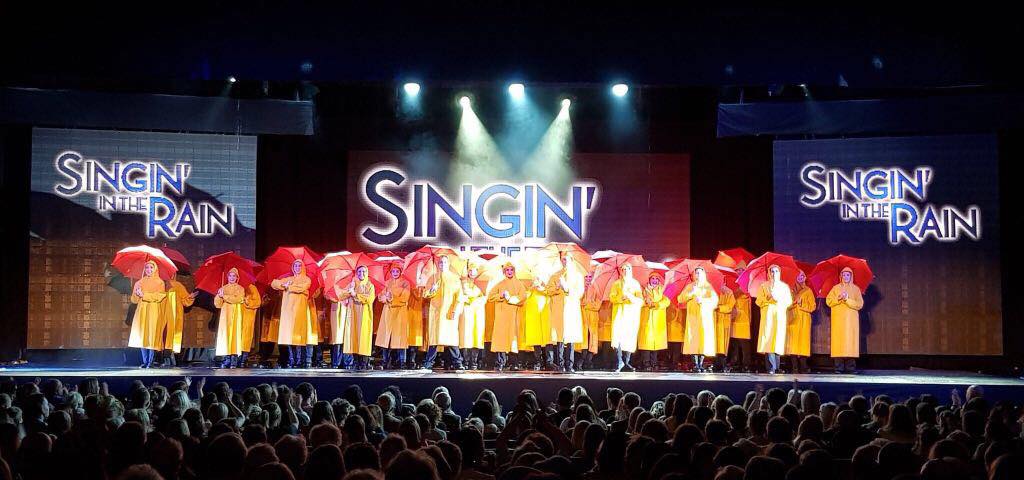 I have to single out two specific performers over and above everyone else tonight. The first was Emma Holmes as silent movie star Lina Lamont. Holmes was just perfect, and anything but silent! When a performer just gets a role right the audience warm to them immediately and this was the case tonight from the first moment she opened her mouth. Quite where that accent and pitch came from I will never know, however to maintain it for the whole show, even in song was a remarkable achievement.
Secondly, new to Manor Operatic is Jack Skelton who played Cosmo Brown. Already a national tap dancing champion until this show he had never appeared on stage in a musical, let alone shared the lead. It goes without saying his tap was mesmerising, but so was his acting and vocals. His performance during Make 'em Laugh was one of the highlights of the whole show complete with running up the wall and back flipping. All the above is even more astounding when you realise he is only 16 years old! Make a note of Jack's name as I am certain it won't be long before you see him in professional shows and possibly the West End.
The entire company performed with passion throughout this performance under the tight direction and choreography of Linda Kelly and Richard Bradford and accompanied by the usual stunning orchestra led by Andy Collis. The entire production team behind this spectacle deserve as much praise as those on stage.
Manor return to City Hall this December with their annual festive offering which this year is Sleeping Beauty playing from the 27th December to 7th January 2018. For more details and to book when tickets go on sale from the 1st August visit www.sheffieldcityhall.co.uk