Established in 1950 The Blackpool and Fylde Light Opera Company have years of experience behind them in producing quality shows with excellent performances and tonight 9 to 5, The Musical, under the direction of Howard Raw, is no exception.
Set in the 1970's our three leading ladies are Violet Newstead (Lisa Beardsall) a widower and mother of a teenage son and career driven, Doralee Rhodes, (Amy Atkinson) married, attractive and ostracised by her work colleagues and Judy Bernly (Nikita Coulon) newly divorced and apprehensive at her first working day having never been in employment before. Throughout the show all three give strong performances as their different characters demand, displaying wonderful vocals individually and harmonising.
The musical opens with most of the cast on stage preparing for the day's activities to the iconic Dolly Parton song,'9 to 5' and set the standard for the rest of the show with excellent choreography and vocals. Each and every member put all their effort into their performance, I particularly checked on the ones at the back of stage and they were all absorbed in their part.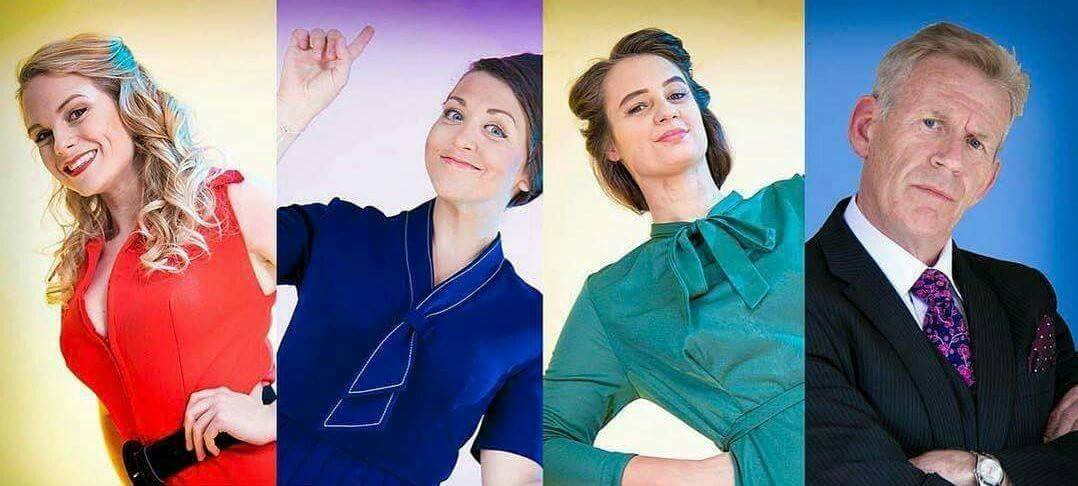 When Judy joins the company of Consolidated Industries, Violet takes her under her wing having worked at the office for many a year but is undervalued by her loathsome boss Franklyn Hart Jr (Roger LLoyd Jones) and has yet again been passed over for promotion, the job given to a male colleague who she trained. Doralee is unaware of the unfounded rumours that she and Hart are having an affair giving reason to her unpopularity, but when she discovers this from Judy the three women begin to form a bond, strengthened on a 'girls night in' where they enjoy a drink or two and share a marijuana joint which Violet has confiscated from her son. High on booze and pot they fantasise on how they could get rid of their hateful boss. There follows three scenes where each of their fantasies are acted out with song and dance routines and a touch of comedy with Coulon as a convincing Femme Fatale in 'Dance of Death', Atkinson the rip-roaring rodeo star with 'Cowgirls Revenge' and Beardsall as a deranged Snow White and 'Potion Notion'.
As a new day begins at the office there is shock for Violet as she discovers her fantasy has almost become a reality as she accidentally poisons Hart and as she confesses to the other two they are unaware that Roz, (Amy Lewise Spurgeon) an employee totally smitten with Hart has overheard everything and goes running off to tell him. As Hart threatens the women with the police they over power him, tie him up and imprison him in his own home whilst his wife is away. Hart is quite frankly a despicable, lecherous, chauvinistic excuse of a man and I hope LLoyd Jones won't be too offended when I mention how well he is suited to the part! He portrays the character perfectly bringing humour too, as he meets his comeuppance. Special mention to Spurgeon for her portrayal as Roz in a comedy role which had the audience in stitches and to Daltrey Wrigley as the lovestruck Joe who gave a touching duet with Violet.
Supporting the musical is a wonderful orchestra under the direction of Dave Thomas with choreography by Amy Appleton. There were a few glitches with props, sets and lighting but this being first night it would be nitpicking to say they detracted from the overall excellent standard of the production.
The musical continues until 3rd June 2017 and to see how it all ends book tickets at https://www.blackpoolgrand.co.uk/events/
Reviewer: Lorna Weekes
Reviewed: 31st May 2017