It may have been the hottest Summer Solstice on record but tonight at Barnsley's Lamproom Theatre Joseph still wore his "coat of many colours" in the Lamproom Lytes Theatre Company Youth production of the much loved Andrew Lloyd Webber musical "Joseph and the Amazing Technicolored Dreamcoat".
However, on this occasion Joseph wore a coat mainly consisting of a royal blue bath robe with some primary colored ribbons sparingly attached in just a couple of the many colours listed in the accompanying song.
With an impressively large in size cast I was hoping for something memorable from this evening's performance, particularly as this was my first favourite musical as a child - although admittedly due to my then idol Jason Donovan being cast in the leading role at the time! The story and songs are well known and loved so I eagerly awaited what I hoped was going to be a real feast of a performance but sadly was left hungrier than Joseph's brothers during the famine.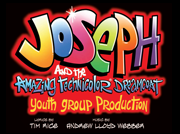 Although only a short performance (just under ninety minutes including an interval) there were times when I wished for the show to be over. At times the lyrics sounded rushed, and the majority of the time the singing was uncomfortably off key and shouted rather than sung. Chorus members often forgot what they should be doing next including three male chorus members during "Benjamin Calypso" when instead of doing the generic hand swaying type movements were seen to be in a daze before realising several lines in where they were and what they needed to be doing.
At various points the lyrics and actions or costumes didn't match up, for example; "Those Canaan Days" the lyric "raise your beret, to those Canaan Days" yet not one of them wore a beret. As Josephs' brothers return to him and the choir sings "Joseph handed them sack loads of food" - it was in fact a girl from the choir that went to retrieve "bags of food" and handed them directly to the brothers. Only minor things but I found they irritated me too much not to mention!
For me the real wow factor came from Olivia Sephton's spectacular solo dance during "Close Every Door" - now THAT was talent! I'd happily pay four times the £8 ticket price to see a full performance of her dancing as she was absolutely phenomenal, so much so I shed several tears.
The thing that I do really love about Lytes Theatre Company is that is inclusive to all abilities and backgrounds, unlike some other youth production companies which are only accessible to those that can afford the high tuition fees as well as passing an audition. Although on this occasion the performance felt sloppy and off key, it was obvious to see that most of the young cast were still really giving it their all and putting their heart and soul into their performance, supported by their enthusiastic family and friends in the audience.
Having loved the Lamproom adults past performances and assuming they too stemmed from the youth company, I was expecting something spectacular or should that be "I was expecting something amazing (like Joseph's so called 'Amazing' coat") but left feeling somewhat deflated. Yes, the children were cute, and yes the majority gave it their all and I know their parents were proud, but unless the right training is provided then I doubt very much I'll be seeing any of these youths in bigger productions in the near future. However, if Olivia Sephton continues her dance training with her current teacher, I do feel she has a successful career in dance/theatre ahead of her, and I most certainly would love to see any future dance performances Olivia is a part of, as the sheer talent displayed in her short solo dance was ovation worthy. Well done Olivia, you stole the show!
Reviewer: Charlotte Browne
Reviewed: 21st June 2017