It is safe to say I was a little nervous about reviewing this school edition after seeing Les Misérables bank busting performance on Broadway last year to now be faced with a zero budget production.
Directed by the extremely talented drama teacher Mrs Johanna Hassouna-Smith I was inquisitive to see if this talented lady could pull it off. Amateur theatre is important and youth theatre is even more so. It's the place where young people can learn, grow in confidence, explore their potential, meet other like-minded individuals and create memories they can treasure for life. The students performing ranged from 11 to 16 years old - I was uncertain how I'd feel about seeing such a young cast tackle one of my favourite musicals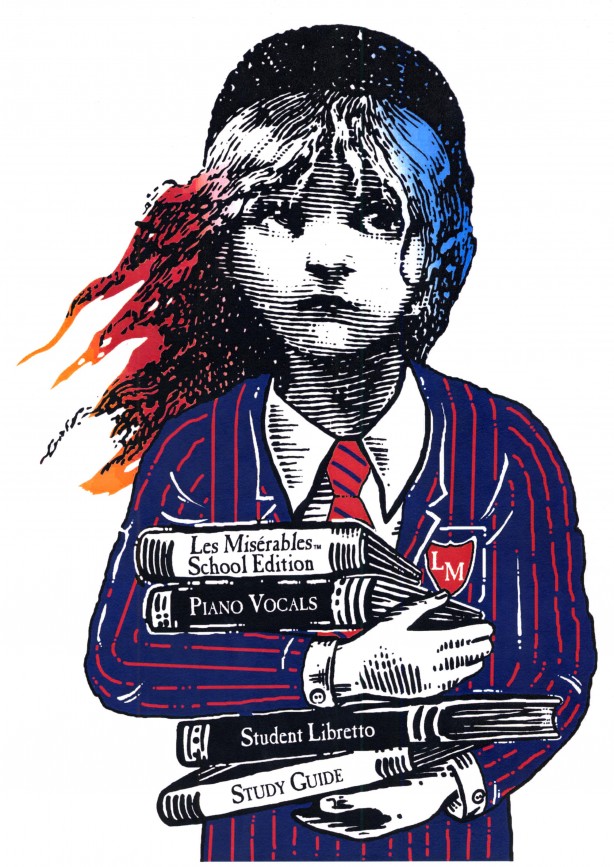 Les Misérables: School Edition is based on Victor Hugo's humongous historical novel of 1862 that covers the twists, turns and tales of French Revolution. Despite its inherent theme of adversity and misfortune along with the weight of the title, Les Mis is not all misery and no-joy-show rather it beautifully brings to stage the profound realities of our deep dark history. Set in early 19th-century France in the air of rebel and revolt, the musical is a strong and smart depiction of the transition of a society going through the several stringent stages of revolution.
The well-known epic story follows Jean Valjean as he is relentlessly pursued by police inspector Javert, who refuses to believe Valjean can change his ways. Valjean tries to help a poor factory worker, Fantine, by saving her daughter, Cosette, from the evil innkeepers. Marius, during the battles of post-French Revolution, falls for Cosette, joins a band of revolutionaries at the barricades in Paris....
Unlike the West End production, which has a lavish turn table, this production is kept incredibly simple but effective with the extremely talented orchestra below the stage and minimal furniture brought on by the excellent stage crew when needed, with the use of a projector at the side of the stage helped set the time and place of each scene. The sparse stage works really well, drawing attention to the singing and raw emotion of the show and allowing more room for the large company numbers, choreographed by Johanna Hassouna-Smith – I particularly enjoyed 'At the End of the Day' and 'One More Day'.
Kenyon Garrish as Marius and Olivia Finley as Cosette bring real emotion to the roles - They have a genuine connection and perfectly portray the nervous, tender, first love of their characters. Garrish's 'Empty Chairs at Empty Tables' was a highlight and I found myself amazed by this young talent. Emily Griffiths as the doomed Eponine is feisty yet vulnerable and her portrayal of this character was second to none. Alessandro Mancini does an admirable job of Valjean's show-stopper 'Bring Him Home' where his vocals would stand alongside any professional production I've seen. Another show stopping moment was Charlotte Jones as Fantine with her spine tingling version of 'I dreamed a dream'. The performance really comes alive when the full ensemble took to the stage. Harmonies were tight and the supporting cast all shone as individuals whilst never drawing too much attention from the leads. The Thénardier's bring much needed light heartedness in this production was performed by the extremely talented Josh Stringer and Amber Burns, this dynamic duo pulled their roles of perfectly with their timely humour and vocals.
I was prepared to see some of these kids' crash and burn; but that just wasn't the case the show was incredibly strong, mature, and professional and I wouldn't be surprised to one day see many of these talented young performers on the professional stage.
Reviewer: Katie Leicester
Reviewed: 6th July 2017