Well – Manchester Musical Youth have only gone and done it again...
'The Pirate Queen' is a little known musical written by Claude-Michel Schonberg and Alain Boublil, whose previous works include 'Les Misérables' and 'Miss Saigon'.
It has only been performed once before in the UK. It therefore struck me as a slightly unusual choice for MMY but I had no doubt that they would tackle it head on and produce something amazing. They didn't let me down (they never do).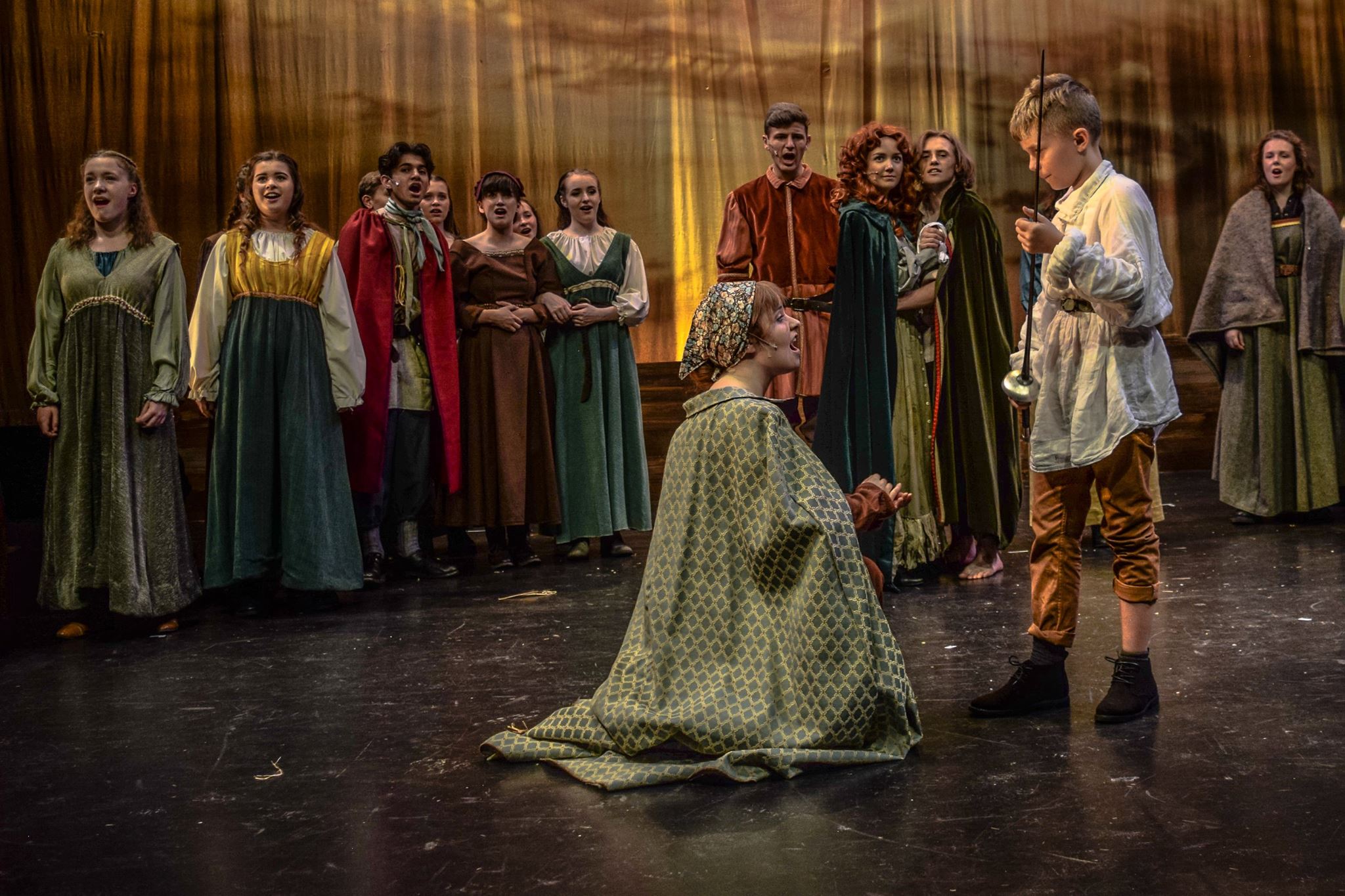 The story charts the life of Grace O'Malley, legendary Irish Chieftain and feminist of her time who fought against the English and their efforts to reclaim the Irish land. She proves herself worthy of any man and is eventually accepted by those around her as a formidable leader. She eventually confronts Queen Elizabeth I and convinces her to agree to a truce. There is also a love story between Grace and her true love, Tiernan, with much heartbreak involved.
The themes of feminism and equality are constant. It is amazing to think that even in the 16th century, there were women who fought against repression and wanted to live their own lives and not be condemned to existence simply as 'Wife'.
It was clear to me from the outset that this must have been an extremely challenging production to take on. There is a lot of Irish dancing, plenty of sword fighting and the subject matter itself is heavyweight and intimidating. MMY handled it with consummate ease and slick professionalism.
From the moment Grace (Tara Kitson) appeared on the stage, she owned the role of Grace O'Malley. Feisty, unphased and determined, she was totally convincing and her desperation to be accepted as an equal was palpable.
Grace's true love, Tiernan is played by Sam Bate. The chemistry between him and Grace was believable and very touching.
Emily Clarke plays Queen Elizabeth I and she absolutely excelled herself tonight. I was completely mesmerised by her performance which she deserves the highest recognition for. What a talent. Her facial expressions and delivery are absolutely faultless - who would think that so much could be conveyed by the simple flaring of one nostril? I absolutely loved her scenes which were occasionally tinged with comedy which was timed and executed perfectly. She also has the most beautiful and powerful voice which is a joy to hear.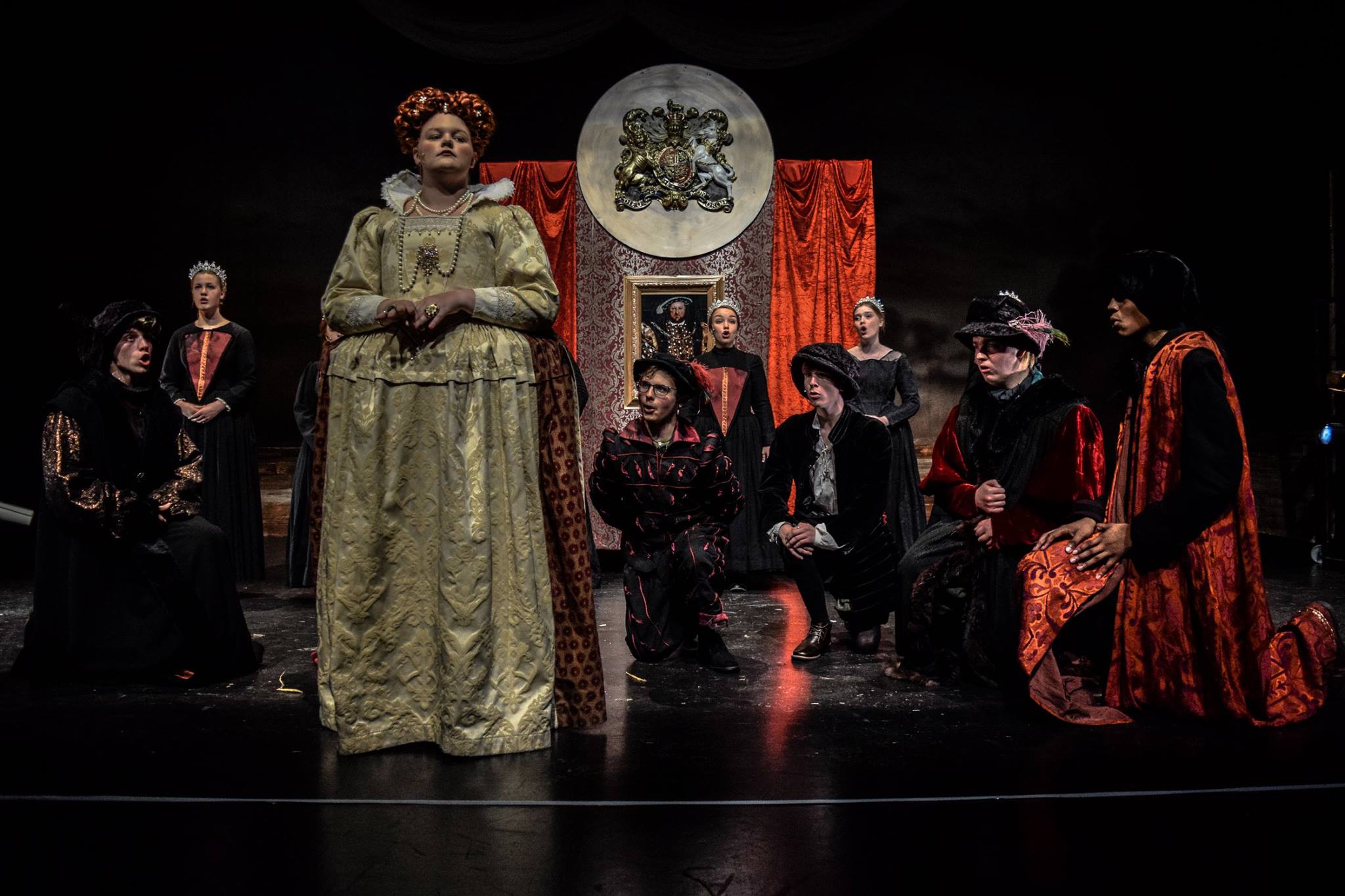 In an effort to unite against the English, the O'Malley and O'Flaherty clans decide they have to become one and in order to cement this partnership, Grace is told that she must marry Donal O'Flaherty (Joel Pendleton). The character of Donal is smug and arrogant and Joel captured this perfectly. He was really unlikeable! His sneering swagger was well executed and when he gets what's coming to him, you could feel the collective silent cheer from the audience.
Staying with villains, Chris Wagstaff plays the part of Lord Bingham: the Queen's right-hand man and would-be suitor. He, too, is very unpleasant and Chris really got this 100% right. His facial expressions and contemptuous looks were absolutely spot on and well measured. I also loved his scenes with the Queen because his obsequiousness knows no bounds but despite all his best efforts, he never gets the better of her. Girl power! (Ma'am!)
Turning now to the ensemble, I cannot praise them highly enough. They completely immersed me in their performance, they are so professional and produce such a glorious sound. This is a very large ensemble, yet they are controlled and everything is executed and performed with precision, passion and perfection.
There is some wonderful choreography which must have been a nightmare to direct because there are so many people on stage at any one time. It worked brilliantly and was great to watch - particularly because the cast looked as though they were having such a good time. There was only an occasional collision and accidental kick which was handled superbly and professionally and didn't phase the performers in the slightest.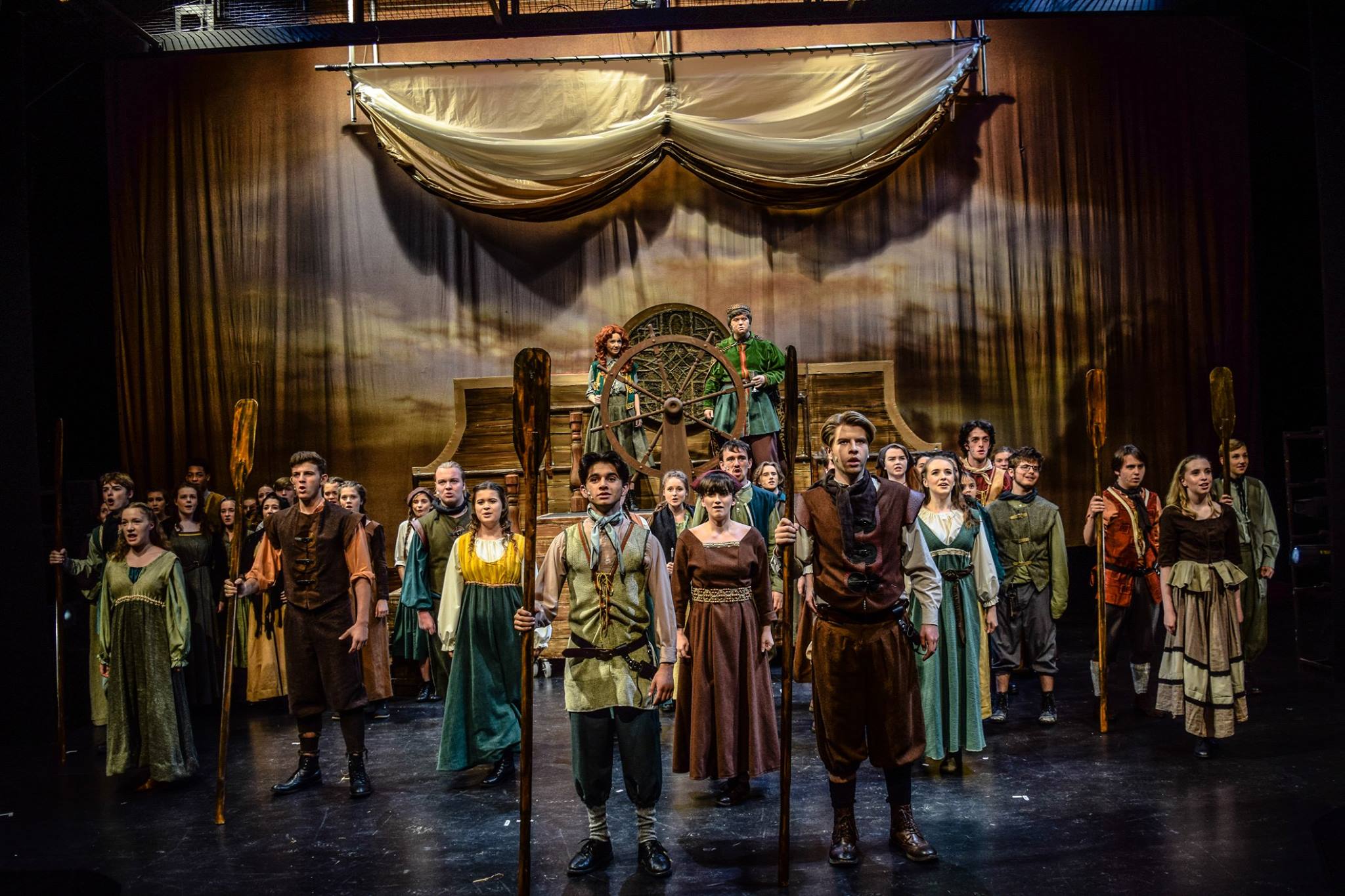 One of the stand out moments from tonight was when the Queen and Grace sang 'She Who Has All'. It is quite mind blowing when you consider that this is a youth production because this is a performance which would be the envy of older and 'professional' actors.
The casting for this production is inspired. I can't imagine anyone else being better suited for all the lead roles than those who are playing them. I would like to congratulate all the production team for their choices which have helped to make this another unmissable production.
My heartfelt congratulations go to every single person involved in this show. The production team, the backstage crew and all the performers have yet again produced something completely magical and awe-inspiring.
It would be very easy for a youth company to stick with the safer and more well known musicals which are instant crowd pleasers. It is really wonderful that MMY like to set themselves a challenge: not only tackling a musical that is relatively unknown but also one with such mature and difficult themes. I do find myself asking if there is anything they can't do without turning it into an overwhelming success. I think I know the answer to that one.
Reviewer: Nicky Lambert
Reviewed: 19th July 2017
North West End UK Rating: ★★★★★
Photos: Mark Russell