'Modern Myths' is a series of enchanting monologues by Sarah Lowes with songs from Alun Parry.
Sarah opens the evening with 'Girls Just Wanna Have Fun' as she gets into character as Chanelle, a footballer's girlfriend, who turns out to be so much more as the twist in the tail takes us from a savvy Essex girl to…well, that would be telling…
Alan's first interlude gives us 'One Last Try' about that boomerang relationship you keep coming back to with some great harmonies from his customary guitar embellished by some harmonica. The folksy 'Climb' was written for some friends going through a difficult time and is a testament to the human spirit and how we keep on trying despite the odds.
The second monologue 'Mirror, Mirror…' features Sarah as a young Bianca who, having lost her mother very young, lives with her father and her grandparents nearby. But when father Andy meets a new woman, Bianca's world looks like it's about to change forever unless….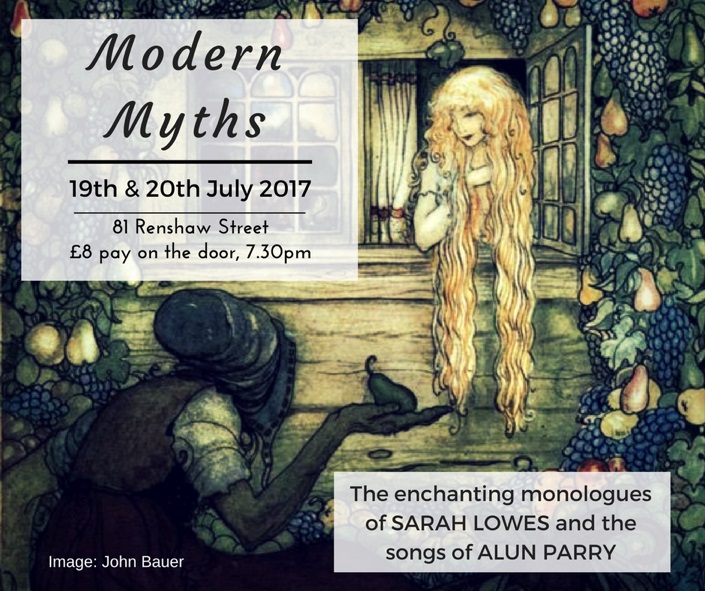 Alan takes us to the interval with the strong rhythms of 'Because You're Beautiful' recalling the Evelyn Waugh attributed remark that 'good manners are for the ugly, the beautiful can do what they like.' The country blues style of 'Bring Love' reminds us that we all need a bit of love.
The third monologue 'Johnny Depp – He's My Hero' sees Liverpool gal Kaylee coming to terms with the different airs and graces of London allowing for some strong social commentary as our belle goes to the ball and more…
The final musical set brings us the uplifting celebration that is 'Ulysses' - a reminder that each of us is epic. 'Too Scared' warns us not to let the things that matter pass us by, especially love.
The final monologue 'Little White Wedding Dress' cleverly explores our sadly innate aversion to change and anything different through bride-to-be Scarlett, and a clever ending reminding us that myths and tales were once lessons and warnings for us all.
Sarah Lowes is a former teacher and psychotherapist. In 2014, she wrote the award-winning play 'My Afternoon with Bruce Lee' which performed to sell-out audiences in Liverpool with subsequent work being regularly performed. Tonight's monologues captured social observation and humour with fine attention to detail. I loved the way she adopted the persona of each character with the use of different accents and a slight twist to her hair. I am somewhat surprised that this is her first foray onto the stage, her previous work having been performed by others – I'm already looking forward to her next production.
Alun Parry is a socially conscious storytelling songwriter whose hopeful, uplifting folk songs tell inspiring stories of social and personal change. Whilst it is unsurprising that he has been compared to the likes of Billy Bragg, Steve Earle, Woody Guthrie, and Christy Moore, there is that little bit more to him that has also seen him described as 'a Renaissance man with a questing, inquisitive spirit.' I found his poetic writing and performance entertaining but more importantly moving. He's now on his seventh record release, further details www.parrysongs.co.uk
81 Renshaw Street is a café serving up the freshest, heartiest homemade food, to eat in or take away. Their basement record store has thousands of new and second hand as well as collectibles and was enough to make me go and invest in a record player. They provide regular entertainment, such as tonight, with a purpose venue at the rear. Further details http://www.81renshaw.co.uk/
Reviewer: Mark Davoren
Reviewed: 19th July 2017