Tonight's programme promised a script in hand rendition of six 10-minute plays on the theme of Winners/Losers written by Liverpool's hottest up and coming talent. Whilst reduced-length plays do work, they more often provide a glimpse to the potential for fuller length elaboration and I approached the evening and review on this basis.
'My Sisters Body' by Patrick Maguire, is an intriguing and moving drama as Jade (Roxanne Male) comes to terms with elder sister Ali's (Jen Cartwright) illness contrasting a range of moods and emotions from both sides in a sensitive and well-written piece with much potential for development to a full-length play.
Robert Pritchard's 'Lost in Teal', is a comic effort with punchy performances from parents Helen Noble and Dominic Fellows looking for that elusive winning lottery ticket, last seen in the hands of 3-year old Thomas. A strong start gave way to some meandering, which can happen with a short-piece trying to cover many parts, but the sub-plots on offer suggest there is more to explore.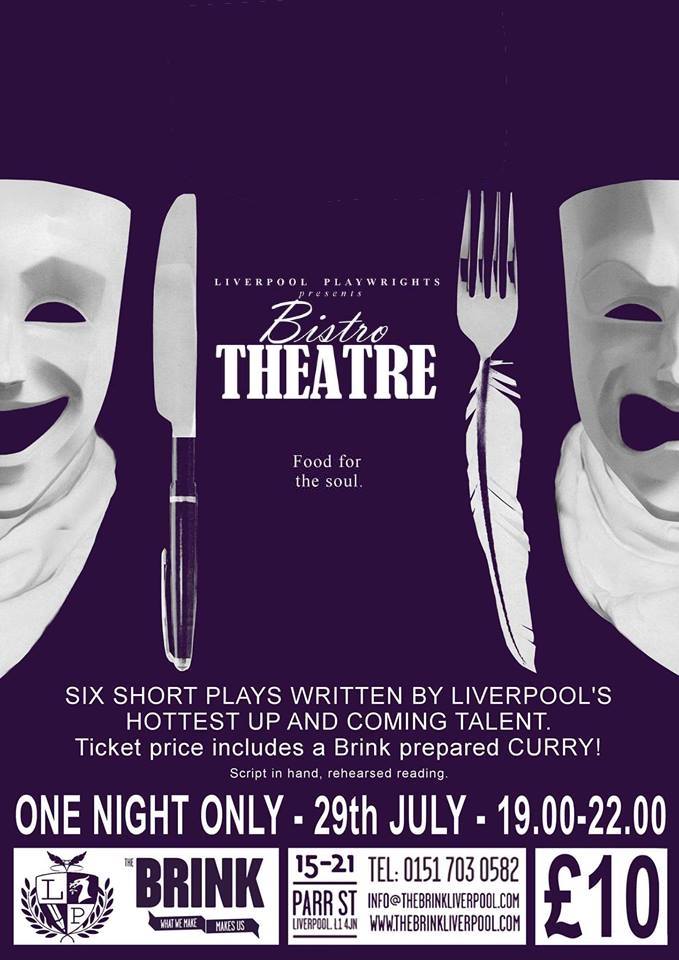 'Leaving Home' by Cameron Brown saw Mum (Rita Pike) and Dad (Adrian Rawsthorne) coming to terms with son Daniel's (Luke Hogan) imminent departure for University as it touched on the recognisable themes of leaving as well as letting go. Penned when Brown was 17 – and he's now only 18 – I'm curious to see this developed further: perhaps the experience of the first return home at Christmas and the challenges this brings? Over to you Brown.
Alan Anderson's 'Poor Boy' saw wideboys Josh (Fellows) and Nicky (Pritchard) take advantage of mentally-challenged Tonka (Barry Cooper-Finch), still grieving the loss of his mother and open to every persuasion, with off-stage voicings from Pike. It was a slow and sometimes laboured piece that has some interesting themes worthy of exploration. There might be more than one play in this.
The penultimate play, 'Ctrl-Alt-Delete' by Jill Partington, explored power politics in the office as competent Lucy (Noble) confides her frustrations at being over-looked for promotion by boss Max (Pritchard) with soon-to-retire colleague Magda (EJ Fisher). I found Partington's approach fresh and novel, delivering clever and memorable lines - I hope she develops it further.
The final piece was Cooper-Finch's 'Snapshot', a gritty kitchen-sink style drama as father Phil (Rawsthorne) and mother Jackie (Pike) confront their own issues whilst accommodating 35-year old daughter Sue (Male) who adds her own challenges to the fragility of their relationship. We occasionally got side-lined with political points being scored but I would be interested to see further development of each character's fears, particularly Jackie who tonight offered the voice of reason.
With the evening tunefully topped off with the gentle guitars and gritty lyrics of Cooper-Finch's band, Ontick, I must commend the quality of the acting which brought all the pieces to life and offered more than just script in hand. I hope this is the first of many such evenings, and with a curry included in the interval as part of the ticket price, it really offers great value for money and a showcase for the talent Liverpool has to offer.
Liverpool Playwrights is a non-profit organisation and one of the city's longest running writing groups meeting weekly to support writers with their scripts from feedback through to performance, further details www.facebook.com/groups/LiverpoolPlaywrights/
The Brink (15-21 Parr Street, Liverpool L1 4JN) is so much more than your usual café bar with alcohol taken out of the mix to provide a truly welcoming, creative and intelligent space where people from all backgrounds and walks of life can dine, hang out, socialise and relax. Further details www.thebrinkliverpool.com/index.php
Reviewer: Mark Davoren
Reviewed: 29th July 2017