If there's even a slight suggestion of a top hat and some sequins on stage, I'm happy. So I was absolutely ECSTATIC after watching the Meighan Youth Theatre (MYT) production of 'A Chorus Line' tonight. I think this is their best production to date, it is a complete showstopper and everyone's performance was totally outstanding.
The story surrounds an audition of 17 chorus line dancers for a Broadway show. They each get to tell their story of what made them become dancers and we see that behind the glamorous facade of being in a show lies self-doubt, insecurity and unhappiness.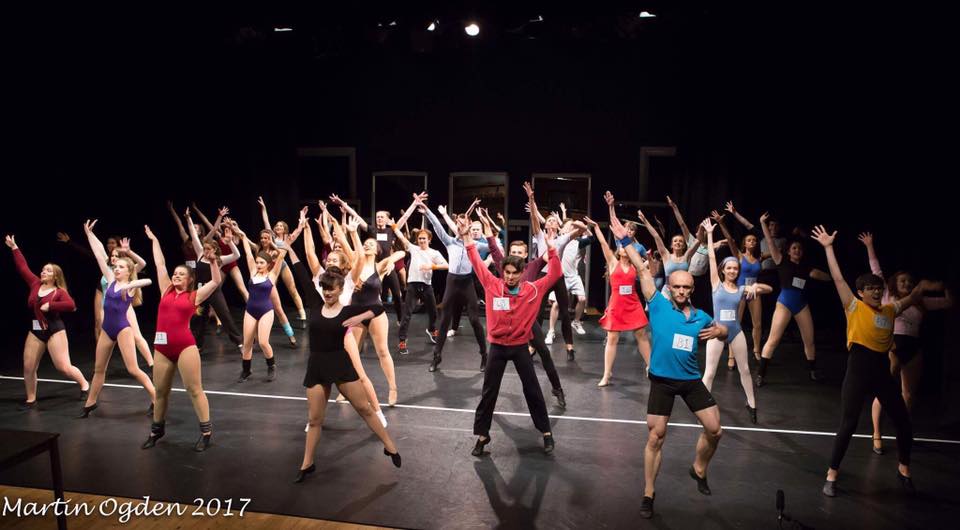 The person auditioning the dancers is Zach played by Chris Wagstaff and he is very convincing in the role, quite intense and with great presence.
There is a minimalistic set - well, it's an audition on a stage so what you see is what you get - with just five large mirrors being the only props.
Every single person in the audition line up acted their hearts out tonight. Each performance was convincing and credible with the characters being extremely well defined. Within a few moments of them each having their moment in the spotlight, I was able to get an idea of their personality.
I have to say that Amelia Atherton as Sheila Bryant almost stole the show. This is her MYT debut and wow! WHAT a debut. As Sheila, she is earthy and sassy with an almost overpowering sultryness. The audience waited expectantly for her to speak because nearly every line was a gem, delivered with well judged and expertly played comic timing. And sass!
Highlights of the evening (apart from anything that Sheila said) were Kristine (Olivia Newhouse) and Al (Joe Foster) singing 'Sing'. Fantastic teamwork during this number and I think they won everyone's hearts with this charming and very funny performance. Then 'Dance: Ten; Looks: Three' sung by Val (Niamh Mulvihill). Many professional actors would probably be daunted by this exposing number, not just some of the language in it but the way she has to flaunt herself. Niamh - you were excellent. Also Diana's (Eve Rowan) rendition of 'What I did for Love' in which the whole cast joined in, was really quite moving and she has a superb voice.

I would like to give a special mention to Caroline Featherstone as Judy - I could be wrong but I believe Caroline is one of the younger members of MYT and her performance just amazed me. Her character was a bit ditzy and also quite eccentric/insane and she played it brilliantly.
The group performances are simply stunning. There are so many people to watch, you can't see everything but every single performer is outstanding in their own right. 'Gimme The Ball' and 'One' are spectacular and as for the finale...well it is dazzling in more than one sense of the word.
What I particularly enjoyed was the fact that everyone remained in character from start to finish. A lot of the characters are on stage for most of the time and this takes stamina and talent - both of which were in abundance from everyone.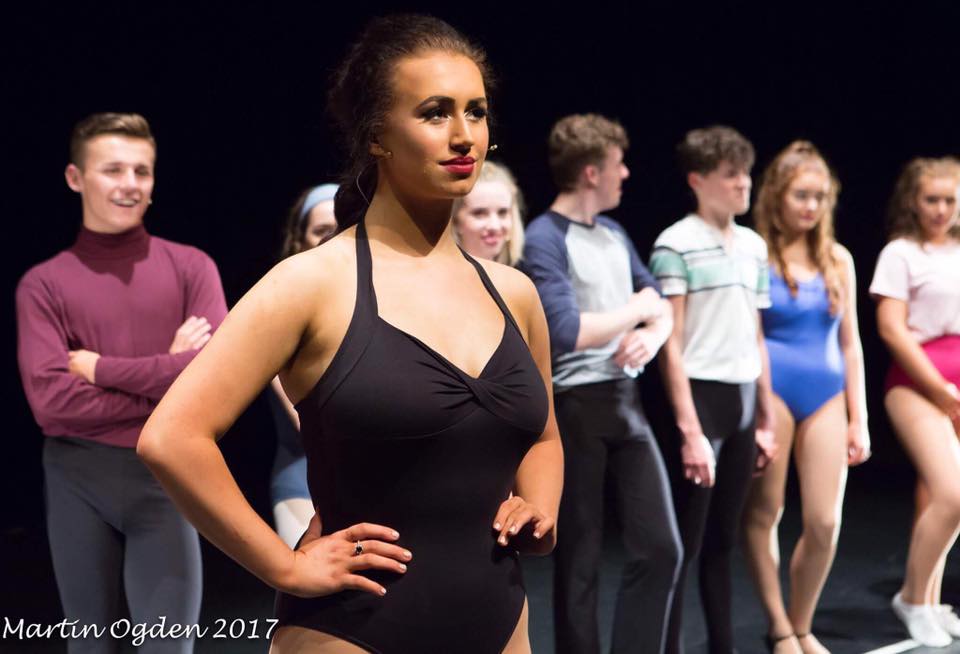 This was a great show for MYT to choose because it showcases the outstanding talent of every cast member perfectly. Everyone was exposed at some point because they each had to have their moment in the spotlight telling their story. This can't be easy, even for performers who have been acting for many years. Not only that, the costumes didn't leave a great deal to the imagination and that must also take huge courage - you all have my utmost admiration for that alone!
I loved the way the show ended - with the eight dancers being picked from the line and then Zach taking a bow in the spotlight.
Then...the glorious finale. Top hats, high kicking and beautiful sequinned costumes...oh I could have watched it all night.
Huge congratulations must go to Faye Etherington for the wonderful choreography and to the Director, Joseph Meighan. You have created a masterpiece. Be proud, be very proud!
Not forgetting the band, led by Musical Director Neil G Bennett and also the lighting crew who did a sterling job and created some wonderful effects.
The talent was off the scale tonight. I can't believe I have just witnessed a youth production. It came across as mature, highly professional and utterly compelling. What makes it even more remarkable is that the cast have only had eight, eight-hour rehearsals...! You simply won't believe your eyes and ears.
Go and see this and I guarantee you will come out high kicking and searching for the nearest item which resembles a top hat.
One singular sensation...I'll say!
A Chorus line continues at the Waterside Arts Centre until Saturday https://watersideartscentre.co.uk/whats-on/2056-a-chorus-line/
Reviewer: Nicky Lambert
Reviewed: 3rd August 2017
North West End Rating: ★★★★★