Set in the beautiful Manchester Z-Arts theatre space we were transported to the underwater world, of The Little Mermaid. Based on the Hans Christian-Andersen story and the Disney film, The Manchester Musical Youth (MMY) produced an exceptionally endearing piece of musical theatre.
MMY Apprentices have been together for just one year, and today's "The Little Mermaid Jr" was their first full show. Produced by Kimberly Holden, Directed and choreographed by Shannon Wild, stage managed by Ellie Whitfield with Musical Direction from Dave Holden.
Fans of Disney's "The Little Mermaid" and those who love musical theatre would not have been disappointed with MMY's Apprentice's live version of the beloved animated film that splashed into Z-Arts spotlights for two performances on the 14th October 2017.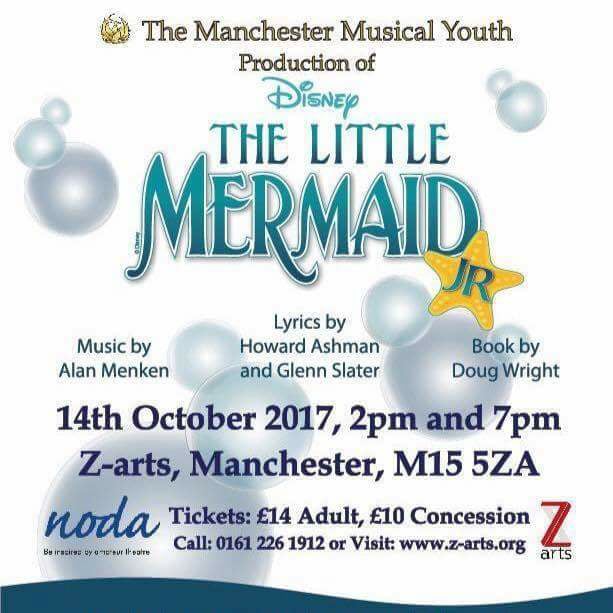 The story tells of the flame-haired Ariel (Amileigh), the lippy, troublesome youngest daughter of sea king Triton (Leela). After eels Flotsam (Evie) and Jetsam (Amelie) convince Ariel to visit their mistress Ursula, and desperate for a ticket to the mainland, Ariel eagerly trades her voice to Sea Witch Ursula (Mili) for a pair of legs. Then Ariel heads off to win the heart of the handsome Prince Eric (Hanna), whom she had fallen in love with after rescuing him from a vicious storm. With the help of her best friends: Scuttle (Laila), Flounder (Adali) and Sebastian (Jorja), the love sick Ariel sets off to win the heart and a kiss from her love interest Prince Eric.
All of the Disney film's memorable songs including "Kiss the Girl," "Under the Sea," "Part of Your World," and "Poor Unfortunate Souls" were performed and sang incredibly well from such a young cast. The sister of Ariel: Aquata (Ellie), Andrina (Jasmine), Allana (Malaya), Adella (Martha), Arista (Poppy) and Atina (Sophia) sang beautifully, in their stunning costumes, in the "Daughter of Tritan" and "She's in Love". The only male in the cast (Joseph) gave a hilarious interpretation of "Les Poissons".
It was hard to believe that this 26 strong cast were aged just 8-13years old as they gave such mature performances. Every time Ameleigh (Ariel) sang I got goose bumps and a lump in my throat, as for one so young she put her heart and soul into it and was not only an excellent vocalist but a charming little actress too. Laila (Scuttle) was hilarious and her comic timing was impeccable. Jorja (Sebastian) was outstanding in her performance and her accent of Sebastian was flawless! Adali (Flounder) had such a mesmerising stage presence and a magnificent voice. Each and every cast member (including: Iris, Abigail, Yesui, Zaya, Ruby, Holly, Ophelia, Nell, Edie and Codie) were absolutely spectacular and huge congratulations to MMY for yet again producing a great show and nurturing such young talent.
MMY's "The Little Mermaid" reconfirmed why I love watching youth theatre, as I laughed and cried in equal measures as I was blown away by the talent of children, who's passion for performing shines. My little companion aged 5 years old was mesmerised from start to finish and at the end of the show summed it up with "wow mummy that definitely 5 thumbs up from me" high praise from my hard to please co-reviewer. Well done to all those involved in producing and delivering this enchanting under the sea extravaganza.
Reviewer by: Victoria Wilmot
Reviewed: 14th October 2017