Lost Tribe of Everton & Scottie Road is a new play by Creator and Co-writer Ken Rogers and Co-writer and Director Mike Howl that captures the folklore of a 1960s slum clearance programme of almost biblical proportions that all but wiped out the tightly-packed terraced houses of Everton and its famous neighbour, the self-styled independent republic of Scotland Road, when over 125,000 people were dispatched to new towns and council estates.
Despite the promise of heavenly streets in the sky, those who remained suffered high-rise hell although thankfully in a true circle of life, Everton would ultimately re-emerge with a determined new focus that was very much down to its people.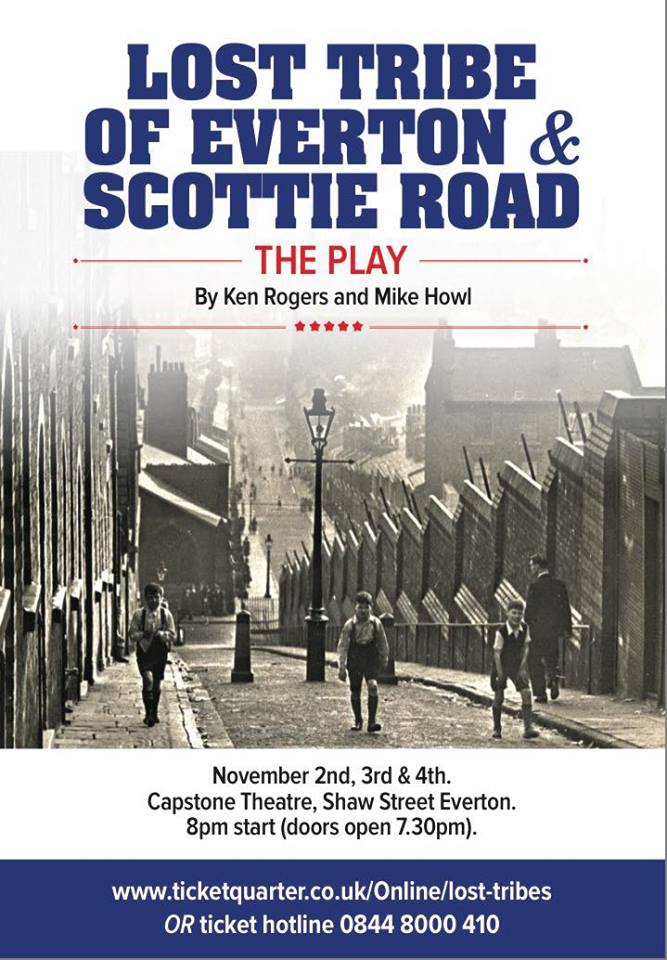 With narration from Rogers, we are introduced to a variety of scenes exploring different aspects of community life as the events unfold around our characters. The foibles of family life is brilliantly pictured through couples Mary (Ciara O'Neill) and Reg (Andrew Games), and Margaret (Geraldine Moloney Judge) and Billy (Frank Kennedy), as we see the travails of overcrowding and pawn shops, whilst the children just play, with their games and cinema trips beautifully captured through Jazz Jago, Daryl Blackburn, Faye Draper, and Emmett Meehan, in scenes which resonated strongly with the audience.
But the shadow of what was to come weighs heavily in the background as Alderman Norton (Michael Sanders) and Dr Davenport (Murphy Rhodes) set into play the plans that would devastate an area despite the protestations of local Councillor Jones (Adam Byrne) and local priest Father O'Leary (Howl).
There was good use of AV and photographic stills put together by APG Films which provided alternate links between scenes as well as reinforcing the reality of what we were being told. I particularly enjoyed the interviews with those who had been through it all and which allowed us to touch upon matters such as the religious bigotry that came to life maybe twice a year yet soon dissipated; the spirit of locals trying to fight the proposals with the support of two Bishops; the memories of Sunday afternoon strolls with the men and women in their finery; and the many pubs that littered the area: I now know why not to have a fight before Mass.
I think it's important to emphasise here that a community stretching back some 100-150 years was ripped apart overnight in the pursuit of planning progress, yet some 25 years later the progressive tower blocks had failed and were tumbling themselves. The original horror was echoed in the closing monologue and song from Peggy (Rosie O'Neill), one of the last to be forcibly moved, but cleverly contrasted by the drone footage of the area as it is today, kindly provided by Dennis Outten. It is much testament to the people of Everton that tonight was the perfect blend of memories amidst a future filled with hope wrapped in the warmth and spirit of its community - a story that resonated through the strong performances of the cast and demands an extended run.
Lost Tribe of Everton and Scottie Road – The Play performs at The Capstone Theatre on 3rd and 4th of November at 8pm. Tickets are £16.50 (£15.00 concessions) and are available via https://www.ticketquarter.co.uk/Online/lost-tribes
The Capstone Theatre, Liverpool's International Arts Venue, is a stunning concert venue for leading national and international musicians, with a vibrant multi-arts programme featuring concerts by some of the best local musicians, spoken word events, radio broadcasts, plays, dance performances and film screenings. The theatre established the annual Liverpool International Jazz Festival in 2013. http://www.thecapstonetheatre.com/
Reviewer: Mark Davoren
Reviewed: 2nd November 2017