Tonight, was a first for me, not only the first time seeing the musical 9 to 5, but the first time watching the Alderley and Wilmslow Musical Theatre Company and they gave me a warm welcome.
Based on the hit movie, 9 to 5 is a new musical comedy from Dolly Parton, who not only wrote the score featuring the hit song of the same name, but also made an appearance live on the back screen during tonight's performance!
As we enter the theatre the stage is already set, and the curtain remained open during the entire performance, the scenery is mainly wheeled around by cast members and we set the scene primarily with the projection screen.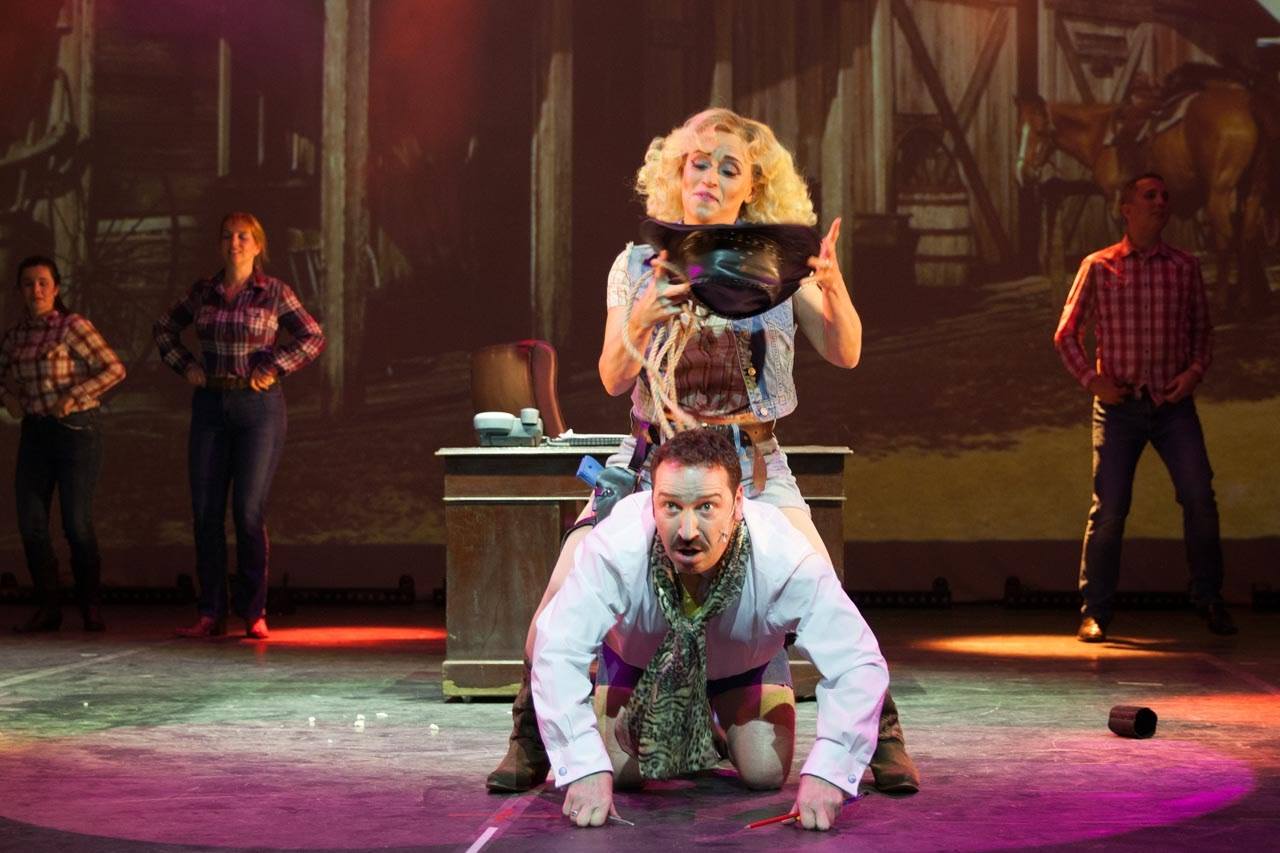 The Orchestra led by Ed Nurse, were hidden behind the back screen, and were not visible. There were a few technical mishaps throughout the evening, most of which got better as the show progressed and I must take in to account that it was opening night. I would however mention it would be beneficial to mute the mic's carefully and only turn them back on once the performer is on the stage.
A superb lighting design by Barry Jackson it was very creative. That being said, the cast were sadly lacking enough makeup to see some facial features with the lighting on their faces. Fantastic Direction from Heidi Cook, great use of space and staging. Choreography by Colette Desborough was minimalistic and effective. Costuming was basic but served its purpose and parts of Doralee's wardrobe were highly flamboyant and fitting to the role.
At certain moments when only the principles were on stage you could have forgotten for a moment that you were there to watch an amateur show, however if I had to give some minor negatives I would like to see a little more confidence and projection, from the ensemble, we didn't get a lot of facial expression and they needed to sing out proud and give us a smile. Half of the fun is in the performance, let the audience see that you're having a good time.
The three ladies leading the show did a great job, I notice that there's a lot of professional experience and training amongst the core of the cast and this shine's through.
Tina Spiers as violet gave us some lovely comic moments The feisty Doralee played with ease by Eileen Rawlinson had a strong grasp on the characterisation, looked great for the role and had a believable accent.
But it was Ruth Moore as Judy for me that stole the show in parts, a very strong moment towards the end with the song 'Get out and stay out'
Bradley Snelling played the womanising Franklin Hart and did a great job. Sophie Williams as a gawky Roz gave a lovely supporting role bringing the house down with some of the humorous scenes.
All in all, a good night watching Alderley and Wilmslow Musical Theatre Company, performances until Saturday 11th November. http://www.awmtc.co.uk
Reviewer: Rebecca Casey
Reviewed: 7th November 2017