'In The Heights' (the 'Heights' being the Washington Heights neighbourhood, New York) is a relatively new musical but it's had a big impact, been very well received and has won three Olivier awards. Written by Lin-Manuel Miranda, it tells the story of a neighbourhood struggling with gentrification, resulting in the locals and their businesses being forced to close up and move on as they can't afford to stay.
Right from the start, this production packs an absolute punch. The opening ensemble number doesn't give you any chance to take a breath. We are plunged into the colourful, vibrant world of 'The Heights' and there's hardly chance to come up for air!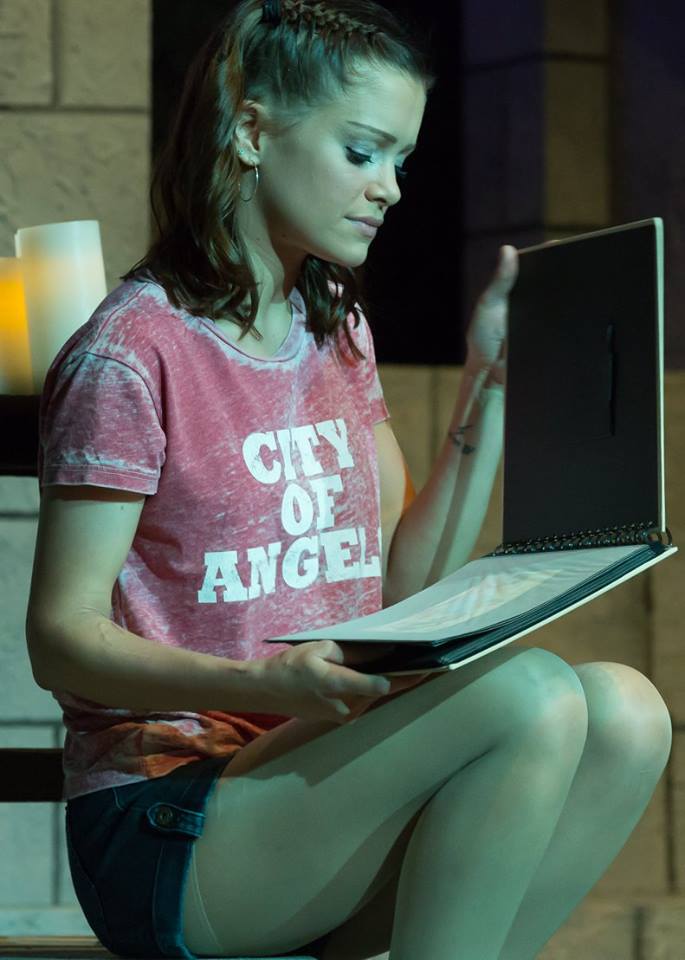 For me, the strength of the show lies in the ensemble numbers which are quite simply astounding in their vitality, energy and vibrancy. Everyone performs to the absolute max and there is so much going on that it's difficult not to miss something fantastic. The dancing, which is a mix of Latin and Hip Hop, is of an extremely high standard with some very well executed lifts and wonderful group choreography.
Usnavi (Rhys Nuttall) is an extremely likeable character who opens the show with a rap. Now - rapping isn't for everyone but Rhys certainly got this right, it was well measured and delivered slickly – every word could be distinguished and he seemed very comfortable with it. Rhys really suits this role, I found him very watchable indeed.
Rosie Plummer, who plays Nina, has a beautiful voice which I believe is worthy of the professional stage. Her rendition of 'Alabanza' was very touching and emotional. She certainly manages to convey the meaning and feeling of everything she sings.
Daniela, the salon owner (Jordanne Woodward) has bags of sass and then some more! She is fabulous! She put me in mind of Anita in West Side Story. Her delivery and presence is excellent.
I did enjoy Tom Kehoe's uber-camp portrayal of Piraguero. He camped it up beautifully with just the right amount of flourish where needed!
My favourite non-ensemble song was 'Enough' sung by Camila (Samantha Bates) because she was at her blazing matriarchal finest. I was totally convinced by her performance as a wife and mother on the edge, caught in the middle between her husband and her daughter. She was fiery and impassioned and had me totally transfixed. There is absolutely no doubt whatsoever that she is in charge!
'Carnaval del Barrio' really ramped up the energy in the second half – not that it was in any danger of flagging. This was so enjoyable to watch and the vitality was almost tangible!
The set is absolutely amazing - I especially loved the view of Brooklyn Bridge and the night sky behind it (complete with stars). A special mention must go to all those involved with the set construction and design, you have surpassed yourselves.
Credit must also go to the lighting crew who took us from sunrise to sunset and also managed to convey the feel of a firework display which was done simply but extremely effectively.
The cast have captured the spirited neighbourhood vibe very well indeed, it really does feel like a proper community on the stage and the atmosphere and ethos is very authentic.
I did find that some of the plot points were lost amongst the singing as there are so many songs and most of the story is told through the lyrics. This is not a criticism of this production but of the writing itself. The songs are fast and loud and sometimes it feels as though if you blink, you've missed something relevant.
A huge well done to all involved with this MAODS production. You are to be congratulated for your stamina, energy and exuberance which was magnificently conveyed to your audience.
Reviewer: Nicky Lambert
Reviewed: 4th December 2017
North West End Star Rating: ★★★★