This evening I got to witness a moment in history. The first amateur company to perform a full musical on the main stage at the Chester Storyhouse theatre. Chester Operatic Society presents Singin' in the Rain, the well known "Golden Age" musical, made even more famous by the 1952 film starring Gene Kelly, Donald O'Connor and Debbie Reynolds.
Singin' in the Rain tells the story of silent movie star Don Lockwood and Monumental Picture's biggest star, Lina Lamont, along with Lockwood's best friend Cosmo Brown chorus girl Kathy Seldon as Monumental try to move from silent movies to a talking movie.
One thing Singin' in the Rain is famous for is wonderful dance routines and tonight was no exception. Choreography by Rob Stevens and assistant Bethany D'Avincourt was fantastic. The group numbers were well presented but the tap dancing routines, in particular Good Morning were perfection. So much content and style, so slick and precise, delivered immaculately by the extremely talented cast.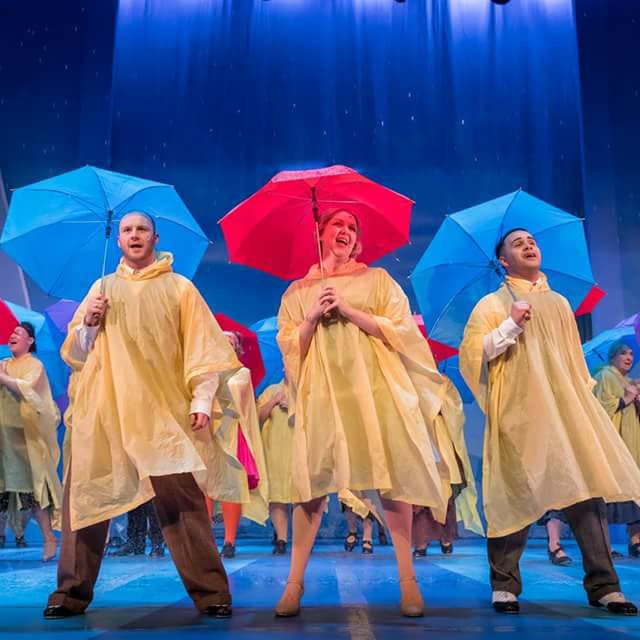 Don Lockwood, made famous in the movie by Gene Kelly, was played by Chris Wright and his characterisation was fantastic. Very confident in the role, Wright came across very relaxes in the part, with effortless vocals and phenomenal footwork.
Stacey Buckley as Kathy Seldon was wonderful. Quite quiet at first but has a beautiful singing voice and again a strong dancer, showing off her tap dancing during Good Morning
Lina Lamont is the diva star who has the worst voice for television you could imagine. Susie Lydiate was wonderful bringing Lina to life, full of confidence and a great shrieking high pitched voice. Keeping character all through, even in the finale where Lydiate took a tumble yet kept the character deserving the huge cheer from the audience.
The star of the show was Cosmo Brown, delivered phenomenally by Andrew Rawlinson-Heath. Heath had the audience laughing from the get go and kept them in the palm of his hand. With hilarious comedy lines, a fantastic voice and to top it all a perfect routine in Make 'Em Laugh, we got to witness brilliant dancing, physical comedy with utter joy and energy, Cosmo and Heath deserved every bit of the huge reception and cheer from the audience.
Sound by Daniel McAllister for the most was fantastic with a couple of hiccups and microphone issues. I put this down to opening night glitches which I'm sure will be perfected for the rest of the run.
Lighting by Nathan Storm was extremely effective and used very well. A great job well done for such a huge stage in such a short time. Costumes were perfect for the 20s era, a lot of research by costume coordinator Gillian Eyre has been carried out. A huge orchestra lead by musical director Richard Aaron Davies added to the wonderful feel of live theatre.
A joyful show and to top it off, it rained on stage therefore they really did 'Sing in the Rain' and it was magical.
Singin' in The Rain continues at The Storyhouse until Saturday and tickets can be found at https://www.storyhouse.com/event/cos-singin-in-the-rain
Reviewer Damian Riverol
Reviewed: 8th February 2018