'Sister Act' the musical comedy based on the 1992 smash hit movie starring Whoopi Goldberg and Maggie Smith featuring original music by Alan Menken, dazzling dance routines and music inspired by Motown, soul and disco was brought to the stage by the newly named Doncaster Stage Productions, formerly Doncaster Amateur Operatic Society.
'Sister Act' is the story of a nightclub singer Deloris Van Cartier who witnesses a murder at the hands of her married lover and is taken under protective custody to hide in a convent. Here she learns life lessons and helps her 'Sister's' to find their voice and save their convent whilst Deloris finds friendship, meaning and her true self.
This show is the perfect vehicle for a group who are predominantly female and consist of a wide range of ages. This production had only 8 males on stage and as always, it seems males are in short supply in amateur theatre, unfortunately. In contrast, some of the more 'mature' ladies, rather than be hidden and underused in the background, were highlighted beautifully and with great comedic effect. What a pleasure to see - all those years of dramatic experience - showcased in such large ensemble numbers, a diamond of a show for ladies of a 'certain age'. And as one of these 'experienced' ladies myself I must say 'Yes! there is a God!'.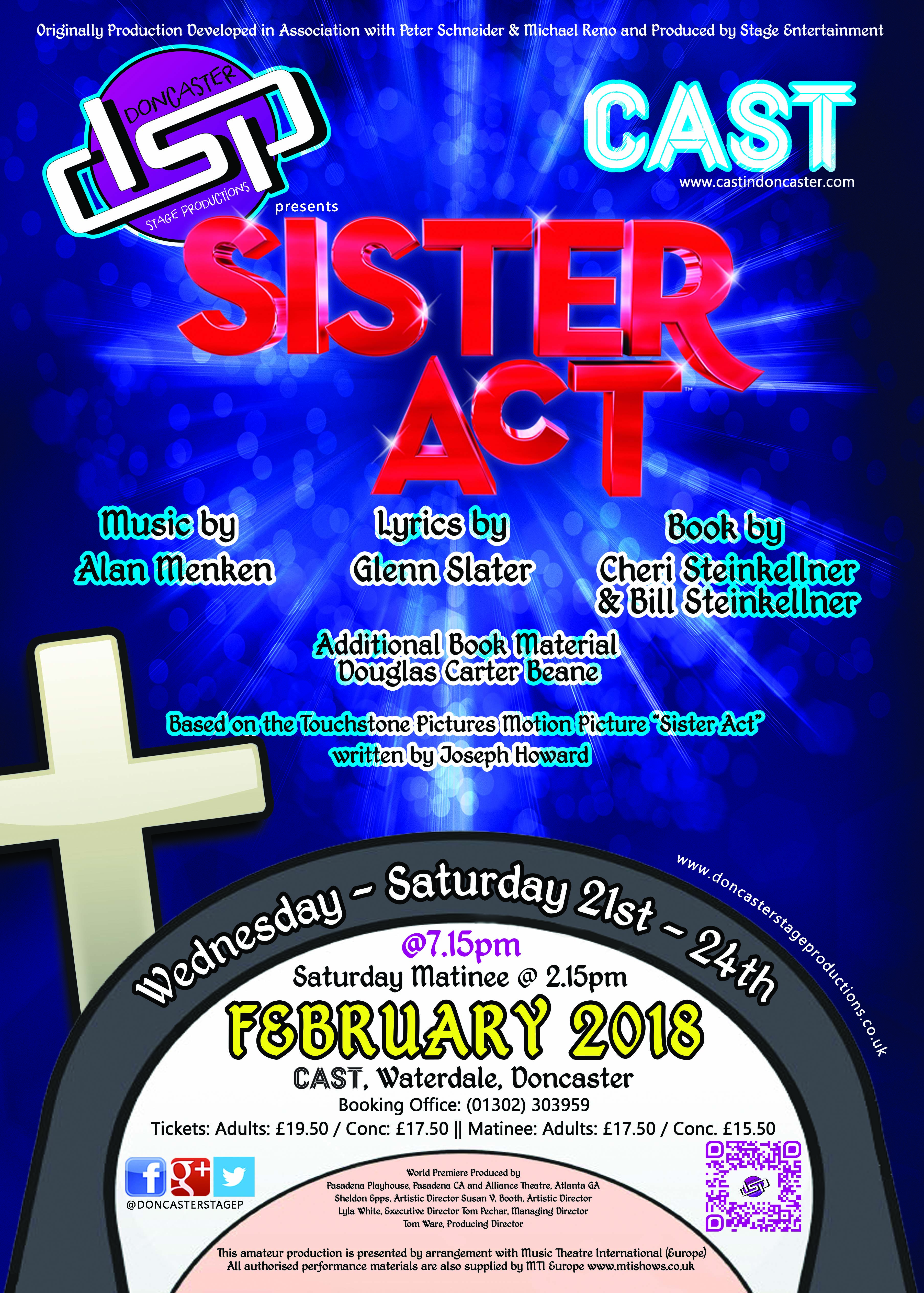 I attended the opening night of the show and thoroughly enjoyed it, amateur theatre at its best. However, nerves did appear to surface on the first musical numbers at the Disco Nightclub, I personally felt these numbers were a little subdued and lacked the pizzazz the lead character, Deloris, is known for. This can be forgiven, as from this point on April Sprott (Deloris Van Cartier) quickly gained her composure and delivered a sterling and totally believable performance in the role. Vocally, Miss Sprott is very capable and her beautiful soulful tones were perfect, I particularly enjoyed her rendition of 'Sister Act' as the real Deloris was awakened. Her characterisation was strong and maintained throughout and she was very aesthetically pleasing to watch with just the right amount of sass and comedy combined. April Sprott is a name to watch for in future.
The female ensemble was vast and heavily used in the show to great effect and the choreography was very entertaining. 'Raise Your Voice', was a very well staged number and the cast made a difficult vocal number appear easy and spontaneous, impressive! I have to make a special mention of Sister Mary Lazarus (Trish Lampard) and Sister Mary Martin of Tours (Frances Lister), these talented ladies made me laugh so much, they were the very essence of the show and I was drawn to watch them every time they entered stage. These two ladies epitomised why this show is so good for many amateur societies with fabulous character actress roles.
However, my absolute stand out performer of the show has to be Andrea Sutton in the role of Mother Superior, this lady is a class act and needs to grace the stage far more often than she has done in the past! Her acting through song is riveting to experience and her diction, articulation and subtlety in performance is simply stunning. 'I Haven't Got a Prayer' left me in awe and was my favourite song of the show. Miss Sutton I applaud you.
The band under the direction of Ian Gude sounded great, if a little too loud at times. Unfortunately, there were several 'mishaps' with lighting, sound and set on the opening night which were a little distracting, particularly in the second act. Characters opening dialogue was missed due to late Mic. cues and sound levels from the band and ensemble singers occasionally drowned out the principal's vocals, this was a great shame but, I am sure these teething problems will be ironed out for the next performance. The production was strong enough to shoulder these hiccups.
I have seen 'Sister Act' several times both amateur and professional and I can unequivocally say that I enjoyed tonight's performance of 'Sister Act' more than any other I have seen. DSP embodied the fun and the joy of the production with great gusto. A massive well done to all concerned for a great, feel good show. If you haven't already bought a ticket, I urge you to go buy one and I can assure you 'Sister Act' will have you laughing and stood on your feet at the end in rapturous applause.
Can I add that this was my first visit to the Cast Theatre in Doncaster and what a fabulous venue it is. It will certainly not be my last visit either to this gem of a theatre or to see DSP on stage again! https://www.castindoncaster.com/Event/sister-act
Reviewer: Tracey Bell
Reviewed: 21st February 2018