It's merry and bright in Wolverhampton this week!
The forecast for December sees festive productions storming into theatres across the UK. One such is Irving Berlin's classic musical White Christmas that is showing in an amateur production by South Staffs Musical Theatre Company at Wolverhampton Grand Theatre this week.
Based on the Paramount Pictures film starring Bing Crosby and Danny Kaye; White Christmas tells the story of two World War II U.S. Army soldiers - Bob Wallace and Phil Davies - who become Broadway stars after starting out as troop entertainers only to find themselves in a barn in Vermont rehearsing for an audience of none where they try everything to attract the attention of two attractive young women; resulting in a disorienting mixture of love, misunderstanding and theatrics by the score.
Speaking of the score, I believe that orchestras often do not get enough praise for their work on musicals – perhaps because they are hidden away beneath the stage – and it was sad to see a significant amount of the audience talking throughout the overture; Berlin's music is so timeless that it really worth a listen and the 15 piece Midland Concert Orchestra added so much grandeur to the evening.
One of my personal favourite musical moments in the show is the ballad Count Your Blessings; particularly profound at Christmas when we can become so worked up over trivial things such as ruining Christmas dinner and buying enough presents. Simon McGee and Lexie Bennett sang the song with total conviction and had such great chemistry together that it tugged at the heartstrings; a delightful contrast to the razzmatazz of the fast-paced act two opening number I Love A Piano where Luke Renwick and Rebecca Haydon (an equally delightful pairing) led the company in a tap-dancing frenzy.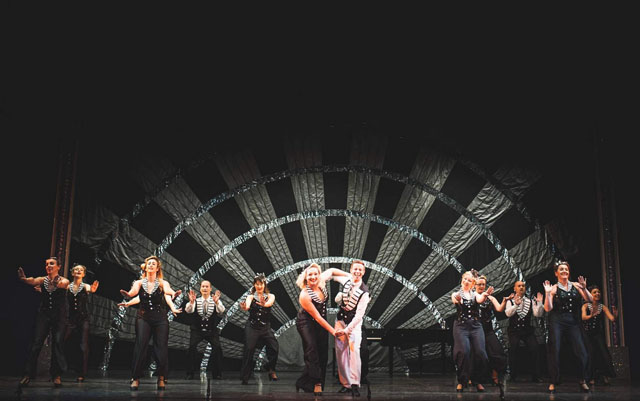 I take my hat off to Maria Shee - who herself sported a top hat and cane in the role of Martha Watson - for bringing such show-stopping choreography, which the cast delivered with perfect finishes that would surely please even Craig Revel Horwood on Strictly Come Dancing. Dance references were made to Fosse, Fred Astaire and Marilyn Monroe's iconic Diamonds Are a Girl's Best Friend routine in act two's Love You Didn't Do Me Right; a moment that also allowed Bennett to showcase her incredible singing voice.
However, this is an ensemble show and relies on the whole cast working together to bring the big song and dance numbers to life. The cast worked so well supporting each other throughout the evening; it was heart-warming to see such community spirit and local talent onstage. The audience got to sing too... In the finale, we were encouraged to join in with the title song (which the cast seemed to really enjoy hearing) and, after they took their well-earned bows, snow started to fall onto the stage during the encore to top off a thoroughly enjoyable evening.
White Christmas is showing at Wolverhampton Grand Theatre until Saturday 5th December 2015. For tickets, please call 01902 429 212 or visit www.grandtheatre.co.uk
Reviewer: Rob Brown
Reviewed: 1st December 2015
Photo: Natasha Bennett of New Era Photography.