There can be an element of prejudice surrounding amateur theatre, and I will admit to feeling slight trepidation at the prospect of an amateur production of Guys and Dolls - a musical which, if it is not to go wrong, requires considerable singing and dancing skill. Happily, however, I was to be proved wrong, and left the York Light production with a smile on my face and song in my heart.
Like all good musicals, the plot of Guys and Dolls (directed by Martyn Knight) is straightforward. Nathan Detroit (Andy Roberts), a New York-based hustler, is looking for a venue for his illegal craps game, whilst desperately postponing his 14-year-long engagement with his fiancée, cabaret singer Miss Adelaide (Rachael Wilkinson). During his search, he bets fellow hustler Sky Masterson (George Morgan) that Sky won't be able to take Sergeant Sarah Brown (Annabel van Griethuysen), a beautiful but po-faced missionary in the local chapter of the Salvation Army, to dinner in Havana, Cuba. Sky then sets about using his charm to win the bet, and in the process falls in love with Sarah.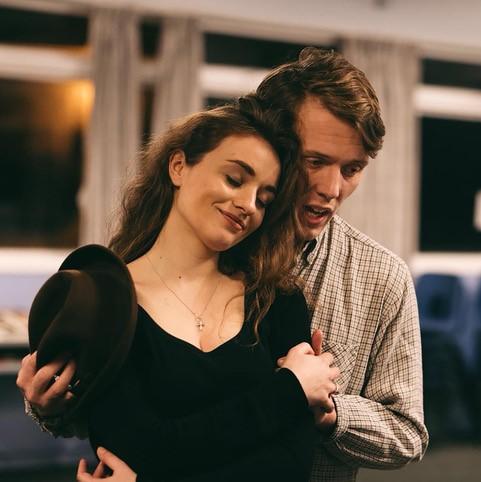 There is much to praise in this production. The music is excellent, and the costumes and set design are impressively elaborate. The lead actors all execute their roles flawlessly, with the supporting cast full-heartedly performing the musical routines and executing minor roles. George Morgan is especially charismatic as Sky Masterson, and Annabel van Griethuysen delivers a sympathetic but engaging performance as Sarah Brown, walking the line admirably between romantic comedy and drama. The warmth and commitment shown by all the cast is infectious, and you cannot help but be swept along with their self-evident joy at being on stage. To their credit, there are many professional productions which are far less enjoyable and well-performed.
The only drawback of the production is that it perhaps lacks that final level of polish and cleanness in its execution. However, I found this 'get up and go' approach to musical theatre to be quite charming, with the cast members displaying such obvious enthusiasm for the material that any frayed edges simply added to the fun; the ensemble working beautifully as a collective to pick up dropped props and flying hats! Similarly, several of the accents seem to hop around the world, from New York to Yorkshire and back. But again, this simply adds to a feeling of community warmth, and is not to the detriment of any individual performance or to the overall production.
Simply put, then, this production of Guys and Dolls can be summed up in one word: infectious, in both its excellent performances and the company's self-evident love of the theatre. Highly recommended.
Reviewer: Amanda Hodgson
Reviewed: 7th March 2018