Laugh-Out Loud Comedy Farce
It is 1948. The war is over, and things are slowly returning to normal, but some difficulties remain. What do you do with 50 pupils and their teachers when their school buildings have been flattened by enemy bombers? Simple: you find a school with its buildings still intact and force them to share. But what if, thanks to a civil service mix-up, a highly exclusive girls' school is forced to share with an equally exclusive boys' school? Cue furious teachers, disruptive pupils, and outraged parents.
If you're thinking St Trinian's, well, yes and no. The play precedes the St Trinian's films and it's suggested this play was the inspiration for them. The film version of The Happiest Days of your Life was a hit in 1950 starring Alastair Sim, Margaret Rutherford, and Joyce Grenfell amongst others, and certainly Sim and Grenfell went on to star in the St Trinian's films.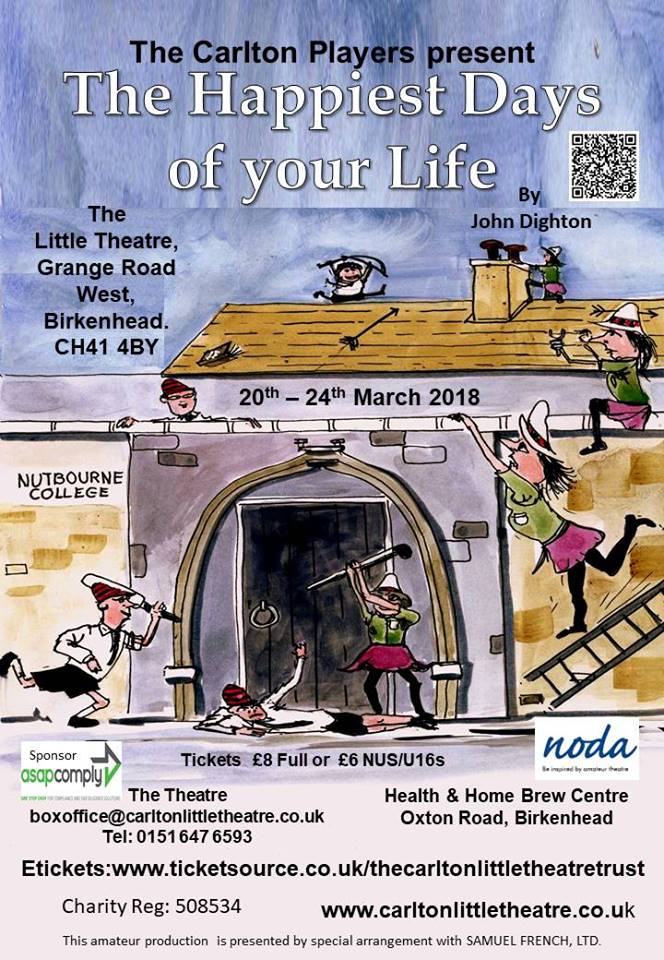 We open to the staff of Hilary Hall School for Boys returning after the war when the school had been evacuated with teachers Dick Tassell (Graham Breckon) and Rupert Billings (Robert Thunder) soon joined by head teacher Godfrey Pond (Steve Youster). With caretaker come groundsman Rainbow (Mark Prescott) lurking in the background, what could possibly go wrong? Only the arrival of St Swithin's Principal Miss Whitchurch (Susan Reeve) and teachers Miss Gossage (Vicky Lodge) and Joyce Harper (Stacey King), which results in some petty arguments and one-upmanship between the sexes. Throw in the worst boy, Hopcroft Minor (Daniel Lynch), and an obsessed girl, Barbara Cahoun (Emily Swaine), and there's even more trickery to follow. A slight pause for romantic attachments to blossom amidst some good old-fashioned comic farce before one set of boys' parents (David Swift and Liz Youster) and one set of girls' parents (Michael Hunter and Linda O'Brien) turn up and with both sides endeavouring to keep them in the dark, you just know it's going to go horribly wrong. It does. And it's laugh out loud funny.
I noted before the show that on the cast list alone this was going to be excellent and we were not disappointed. Everyone excelled so much so that I can't single one out they were all that good. It's great to sit in an audience when people just can't contain their laughter and so much credit to director Brian Dickson for getting the casting and delivery so right.
The writing is great and has certainly stood the test of time – this play was first performed in 1948. I don't want to reveal too much as there are so many clever one-liners and play on words going on that I'm sure I missed a few and I wouldn't want you to miss out on the delight of hearing them first time, but I will say one thing: you'll never lick an envelope the same again after this!
The Little Theatre in Birkenhead is a delightful venue complete with bar and seating almost 300 including full disabled access. There is free parking to the rear of the theatre from 6.30pm.
The Carlton Players are the resident company and produce several plays throughout the year including a pantomime. They are always looking for new members so why not get involved?
The Happiest Days of your Life runs through to Saturday 24th March 2017, doors open at 7.00pm with performances commencing at 7.30pm. Tickets £8 (£6 concessions) and available at the Box Office on 0151 647 6593 (email: This email address is being protected from spambots. You need JavaScript enabled to view it.) or via www.ticketsource.co.uk/thecarltonlittletheatretrust
Further details of upcoming productions for the season can be found at www.carltonlittletheatre.co.uk/
Reviewer: Mark Davoren
Reviewed: 20th March 2018