Rent is a rock musical that first made an appearance over 20 years ago and written by Jonathan Larson although the original concept is credited to Billy Aronson and is loosely based on Giacomo Puccini's opera 'La Bohème'. Tonight's performance is a school's edition and despite the shows longevity and multi-awards I have to admit to knowing very little about it having never seen a performance.
Upon arriving, firstly I must say I am very impressed by the smartly dressed and cordial front of house students not performing but checking tickets, assisting people to seats and selling programmes. Setting the standard high I am filled with expectation, even more so after taking my seat in the hall and noting the 'wall of fame' and a list of drama productions that have been performed annually since 1977 by Wirral Boys Grammar School under the direction of Mr Geoff Hinde, M.B.E. which include tonight's offering.
Rent covers themes of sexuality, promiscuity, HIV/Aids and drug addiction and is based in the East Village of New York City. The stage set is simple and consists mainly of scaffolding, which with a few adjustments transforms from apartment, to street corners, to restaurants and coupled with the effective lighting gives a grungy effect and helps to depict the lifestyle of the impoverished artists struggling to make ends meet. We meet filmmaker Mark (David Noble) and roommate, HIV positive, singer/songwriter and rock musician Roger, (Daniel Carter) desperate to write a meaningful song before he dies and we are treated to a brilliant rendition of 'One Song Glory'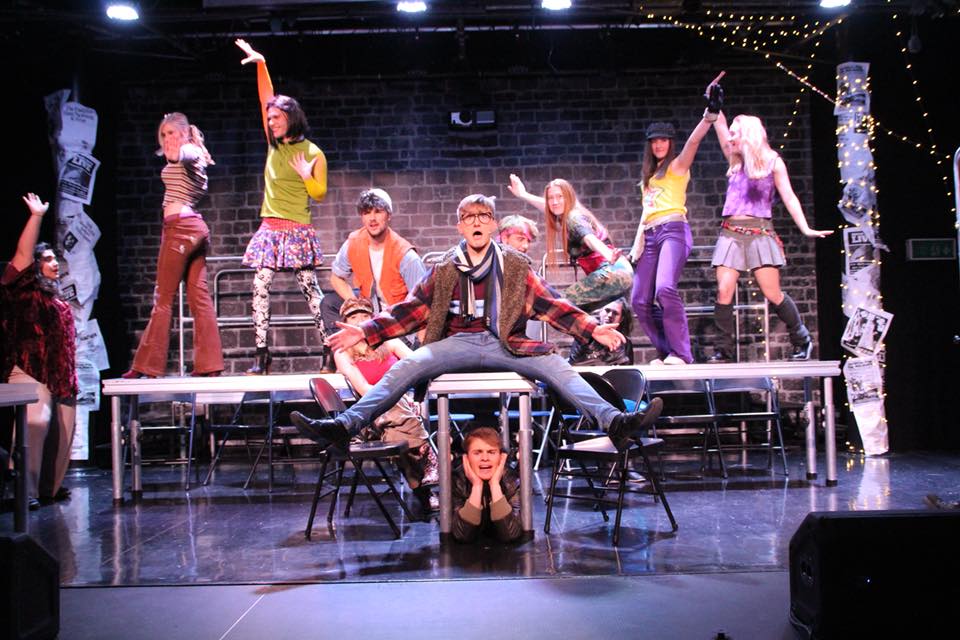 Throughout the evening Noble is perfectly cast for his role, acting also as narrator, which he does with confidence and perfect timing and in a mastered American accent, as do all the cast. Roger has a turbulent relationship with Mimi (Caitlin Davis) who individually give outstanding performances but together their onstage chemistry works well with both displaying impressive vocals during their numerous songs. Davis in particular shows raw emotion and is totally convincing.
Tom Collins (Cameron Wedd) is making an unexpected visit to his former roommates when he is mugged in the street and transgender Angel (Connor Johnson) comes to his aid. The attraction is mutual and they embark upon a relationship. Now these could be difficult roles to play, but Wedd and Johnson demonstrate their ability to embrace their roles with humour, sensitivity and give powerful, at times emotional performances guaranteed to leave you weeping, especially during 'I'll Cover You'. Stand out for me this evening is Johnson who gives an exceptional portrayal, although it must be said there is not a weak link amongst any of the eight principal actors.
Bisexual Maureen (Libby Crombie) is a former girlfriend of Mark but after dumping him, is now in a relationship with lesbian, Joanne (Kyla Thomas). Their relationship is up and down with fierce arguments but their relationship survives. Once again vocals are strong with songs from both individually and together as in 'We're Okay, 'Over the Moon' and 'Take Me or Leave Me'. Both give confident and expressive performances. There is an amusing 'Tango Maureen' dance routine with Joanne and Mark and although not essentially a song and dance musical, movement around the stage and making use of the scaffolding has been well choreographed (Claire Cooper-Shone).
Benny (Sam Spencer) landlord, former partner of Mimi and friend/ex-roommate of Mark and Roger is out of favour after reneging on a rent deal he had with them. Although Spencer does not perform any solo songs he too is a convincing actor.
Supporting the show is a talented band under the musical direction of Jonas Tattersall.
The ensemble, each and every one but too many to mention, worked exceedingly well together all contributing 100% to ensure that Rent is a musical that will certainly leave an impression on you.
I am totally blown away by the professionalism of these students and this production, my only regret is missing out on previous year's productions from Wirral Boys Grammar School. Well done, you should be proud of yourselves. Highly commended.
I wish you all success for the future.
Reviewer: Lorna Weekes
Reviewed: 20th March 2018