The Sorcerer is a two-act comic opera with a libretto by WS Gilbert and music by Arthur Sullivan. Unbeknown to Gemini MTC, I grew up with comic opera as my school had its very own Gilbert & Sullivan Society, so I had high expectations of what I wanted out of the evening's performance. Well, I wasn't to be disappointed: in life we occasionally stumble upon little treasures to be marvelled at and enjoyed and this production, directed by Danny Shaw, is most definitely one of them.
Alexis (Shaw) the son of an elderly baronet, Sir Marmaduke Pointdextre (Ken Mountfield), is betrothed to Aline (Louise Rayner) whose mother Lady Sangazure (Chris Hill) is of Ancient Lineage and may offer the solution to his family's financial woes, a good example of the confusion reigning in the village of Ploverleigh as social rank and position interfere with love's true course, as is further evidenced with Mrs Partlett (Carole Smith), her daughter Constance (Heather Rayner), Vicar Dr Daly (John Alvey), and the Notary (Howard Platt).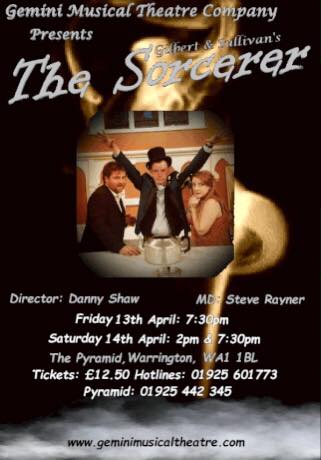 Alexis decides that everyone should have the chance to fall in love and marry whomever they want and he invites John Wellington Wells (Simon Parris), the somewhat sinister and vampirish sorcerer to brew a love potion to be administered at a garden party via seemingly innocent cups of tea causing everyone in the village to fall in love with the first (and generally unsuitable) person they see, with inevitably comical albeit disastrous consequences. But how do you break the spell?
Under the direction of Steve Rayner, Manchester Opera Orchestra (Violin: Kay Thomas; Jim Beeson; Karen Stanhope; Viola: Ian Ward; Cello: Hilary Brice; Double Bass: Andrew Fielding; Flute: Marc Vannerem; Oboe: Debbie Rogers; Clarinet: Melanie Waddington; Kim Jameson; Bassoon: Ros Comer; Horn: Sarah Birchall; Trumpet: Chris Kay; Trombone: Carol Williams; Percussion: Irene George) ably provide the musical support which was perfectly balanced with the chorus of villagers, split into Ladies (Noreen Batt; Ros Clarke; Philippa Corbishley; Flo Griffiths; Hannah Wilcock; Glynis Jealous, Janet Mason; Josie Moran; Linda Parkinson; Liz Priest; Jane Richardson; Caroline Saxon; Sylvia Shelley; Vanessa Smith; Pauline Whitlow) and Gentlemen (Simon Cooper; Bill Dutton; Phil Gaskell; Stephen Hill; John Green; Dave Priest; Norman Shelley; Barbara Wood), providing the ensemble.
The staging was simple with clever use of special effects, particularly during the Incantation, and the costumes beautifully captured the 1960's Summer of Love which resonates perfectly with the second act despite being written some ninety years earlier.
All the cast excel and unsurprisingly there are standout performances from the main trio of Shaw, Parris, and L Rayner, in solo, duet, trio, and more. I must add that L Rayner's voice is exquisite. Alvey's vicar provided much merriment showcasing the skills of a seasoned performer. The piece was played out too much comic effect – cleverly including some local and topical references – and laughter abounded from the audience. I must make special mention of H Rayner whose comic acting was much to the fore throughout.
Credits are also noted for Shade Black, Alison Farshi, Joyce Noon, and Richard McHale as rehearsal accompanists.
Gemini Musical Theatre Company put on a full show each year along with a few concerts, and also present a Christmas show with full orchestra. Further details www.geminimusicaltheatre.com
The Pyramid is part of Culture Warrington, a charitable trust delivering arts, heritage, and events throughout the local area. Further details www.culturewarrington.org
The Sorcerer has two further performances on Saturday 14th April at 2pm and 7.30pm. Ticket price is £12.50 (£14.25 if booked online) and available via Gemini MTC on 01925 601 733 or The Pyramid 01925 442 345.
Reviewer: Mark Davoren
Reviewed: 13th April 2018