The Zodiac open their latest musical tonight with a bang when we hear the exciting, shrieky, American twang of the Delta Nu girls bouncing around the stage and setting the audience up for a night of big energy and fun that completely fulfils the ethos of 'Legally Blonde The Musical'.
Based on the 2001 film, 'Legally Blonde The Musical' follows fashion graduate Elle Woods (Ciera Evans) on her quest to become 'serious' for the love of her life Warner Huntingdon III (Blair Smith). Elle proves that anything is possible by getting into Harvard Law School where she meets and forms a friendship with class assistant Emmet Forrest (Chris Doyle) but is distraught to discover that her beloved Warner has found a new girlfriend, Vivienne Kensington (Mary Carpenter). A musical with a "stay true to yourself" meaning surrounded in over the top, pink fluffy entertainment– The Zodiac have completely endorsed the light-hearted pleasure that is 'Legally Blonde' and made it difficult not to enjoy!
This is a show so well-rehearsed that you forgot it was opening night, mainly due to the high class talent on display. Evan's voice is undeniable and stunning as she sang beautifully through nearly every scene and most of the musical numbers.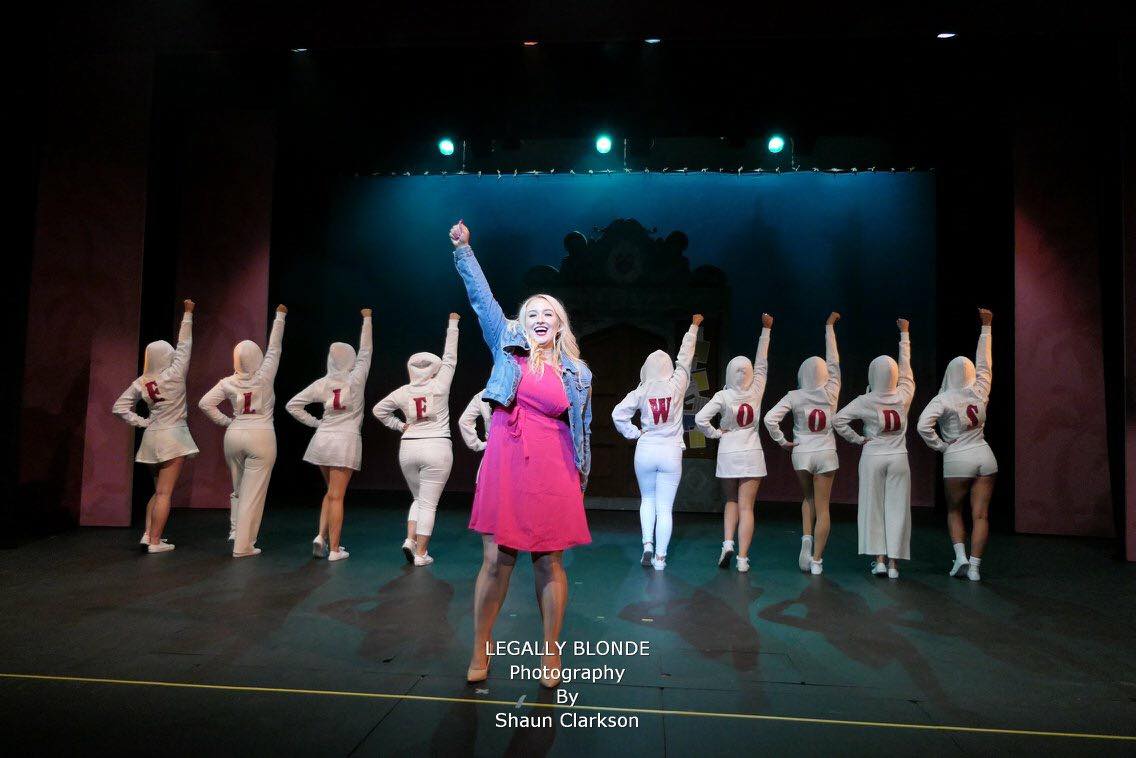 The magnitude of this role shouldn't be underestimated but Evans undertook it with style as she owned the role and gave Elle the lively, ditzy characterisation that everyone loves. And what a debut for Doyle in his first lead role! Completely believable and altogether brilliant, the audience completely fell for Doyle as the perfect "nice guy". Duets such as "Take it Like a Man" and "Legally Blonde" showed real chemistry between these two, as well as spectacular vocal quality.
There were no weak links within this cast with strong performances from Blair Smith, Jennifer Deakin, Neil Silcock, Lydia Draycott and Mary Carpenter. The ladies chorus deserve a mention for being suitably loud, hyperactive and completely fierce throughout. These girls were highly skilled as they sang and danced impressively through complicated choreography with more sass and energy than I've ever seen! Stand out scenes were "What You Want" and "Whipped into Shape" (how did they sing and skip at the same time?!) with high credit to Jessica Martin for memorable choreography and for putting real authentic Irish dance steps in there- the icing on the cake for me!
I much preferred the second act to the first as we got to grips with a little more drama. There were a number of smaller roles that certainly made impacts and added wonderful comedy to the show with Phil Murray as Kyle B O'Boyle, Gabrielle Stanfield as Enid Hoopes, K Lopez as Nikos and Tayler Spruce as Carlos leaving the audience in stitches at any opportunity. Not forgetting the two dogs, who melted our hearts and added extra puppy sparkle!
The production team have outdone themselves providing a gorgeous set, faultless sound, ideal lighting and costumes that brought the glitter and glamour. The small things like the Greek chorus wearing white versions of the Delta Nu costumes did not go unnoticed (Aaron Cawley and team- production Manager) (Kate Jones, Ali Wheeler, Lesley Silcock – Wardrobe). The Zodiac also proved that the challenging score and huge amount of musical numbers was more than achievable under the direction of Craig Price (Musical Director) and came together superbly tonight with the live band.
The final note must go to Valarie Ball who must be applauded for her meticulous and clever directing of 'Legally Blonde'. She has managed to create the dazzling vibrancy required in this fast-paced musical that leaves you feeling uplifted. 'Legally Blonde' may not be for everyone with its cheesy, sickly sweet storyline and squealing, candy pink sound however if you are willing to take in the feel-good vibes and want to embrace some delightfully camp fun –The Zodiac have got it! 'Legally Blonde' continues at The Brindley Theatre, Runcorn until Saturday the 28th of April 2018. https://tickets.thebrindley.org.uk/en-GB/shows/legally%20blonde/events
Reviewer: Bláthíne Maguire
Reviewed: 24th April 2018