Preston Musical Comedy Society have been successfully performing plays since an impressive1954, I discover this evening along with a dizzyingly long line of musicals listed in the programme of the night's performance. Their latest offering is their take on the award winning Broadway Musical Spamalot, based (or lovingly ripped off) on the film Monty Python and the Holy Grail.
Having only a vague memory of the film I was unsure as what to expect. I was pleasantly surprised to see a full live orchestra and an accompanying opening scene entitled 'Finland,' complete with lederhosen clad dancers (the men) and smiles and Tyrolean plaits (the ladies). A lot of slapping of thighs and full-on energetic madness was the direction the rest of the night would go.
The scenery was very imaginative and Pythonesque with a drawbridge of a castle that added character to the performance. For any concerned diehard Python fans we were soon treated to some of the classic lines with 'Bring Out your Dead,' and comedy acting and leaping around to match. Great humour is perfectly timed with fabulous songs and absurd knights we meet on the way especially Dennis.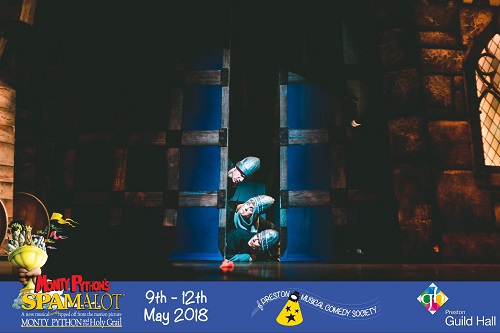 The Lady of the Lake played wonderfully by Delphine Walton looked eye catching at the centre of a fabulous tableaux, costumes were well thought out and crafted. Derek Winward was a very exuberant swashbuckling King Arthur captivating the audience with his 'straight man' antics. Walton's voice was vastly powerful and carried through the theatre particularly in the 'Song that Goes along too Long and 'Diva's Lament,' when we were treated to its full capacity. I was reminded of Barbara Streisand.
Female cast members as the Laker Girls were resplendent and you couldn't help but smile to see them jumping with their lime green pom poms and shell brasserie; expertly choreographed by Zak Phillips-Yates.
The dance interludes were so much fun a jazz dance, a Manilow Copacabana, with multi-coloured umbrellas and lots of frills showed such attention to detail even down to make-up.
In Act 2 we were treated to one of my personal favourites the knights that go 'Ni,' had the audience in stitches with sublime to the ridiculous japes and orders to find a schwubbery (shrubbery). Actors took on a lot of different parts and accents varied from French to cockney to northern in an impressive way. Timing from dance routines to comedy were spot on and to an extremely high standard.
Nat Ingham made his Musical Society Debut as Sir Robin. He had a great stage presence and you could tell he enjoyed every moment of his performance.
Of course the finale was a flamboyant, over the top wedding scene, with a liberal topping of cheese, and a rousing rendition of 'Always Look on the Bright Side of Life,' absorbing and you couldn't help but feel uplifted.
I'm sure I'm not alone in looking forward to see what the Preston Musical Theatre will come up with for 2019.
Spamalot continues at the Charter Theatre, Preston until Saturday, https://prestonguildhall.co.uk/shows/spamalot/
Reviewer: Rachel Foster
Reviewed: 9th May 2018