This comedy production of The Hound of The Baskervilles is far removed from the serious and intense Rathbone/Cumberbatch versions that most people will be familiar with. For example: in the first few seconds we see the terrifying beast revealed – as a cardboard wolf on a stick...and the scene is set for two hours of slapstick and slightly surreal comedy which really hits the spot.
This Peepolykus Theatre company production is three handed and to be honest, you won't really stop laughing for most of the show. It's silly and hilarious – a very entertaining night out and the perfect antidote if you've had a bit of a day.
The three stars of this production are Ian Wilkinson, Chris Billington and David Burns. They each play more than one part, with Ian and Chris playing multiple parts which showcases their versatility excellently.
The script sticks loosely to the original story but there is a laugh in almost every line. The fourth wall is well and truly broken right at the beginning with the actors addressing the audience as themselves. I suspect there were a couple of ad libs which were thrown in which went down very well.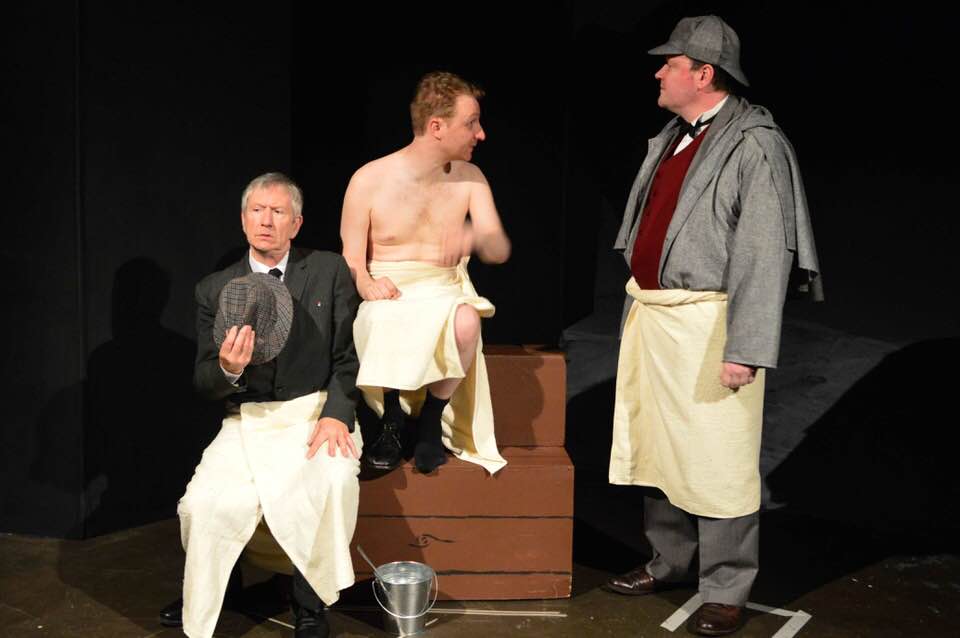 All three actors work very well together, they are clearly at ease and loving what they're doing as this comes through loud and clear. Everyone plays the comedy perfectly, with excellent comedy timing and quite often the audience were laughing at the marvellous facial expressions when no words were being spoken.
There's some surreal comedy thrown in for good measure (on the train) which I loved and which appealed to my silly sense of humour. A lot of the humour is quite silly but it works and it certainly got the laughs – I think the audience laughed continuously from the moment the curtain went up.
Ian had the most physical comedy and he played this perfectly, leaping across the stage on a very short crutch and then in the next minute appearing as an exotic (slightly uber-camp) woman dancing a Tango with Sir Henry Baskerville. He has such an understanding of how to get every single drop of humour from every line and he has one of those faces which makes me laugh before he even says anything (no offence, Ian, that's actually a compliment!)
The beginning of part 2 is a speeded up recap of part 1 – for reasons which are explained via the fourth wall. This was comedy genius and all three actors are to be congratulated for their stamina and ability to maintain the frenetic pace – the audience certainly loved it.
It is attention to the little details which enhances this production and keep an eye out for the self-locating fireplace which gets a little bit faster every time it whizzes onto the stage! My other favourite moments are the picture frame and the window – you'll know what I mean if you go and see it.
This is an example of perfect casting, with the actors interacting brilliantly with each other to give a smooth and fabulous performance of what must be quite a difficult show to perform as the pace is frenetic and zany right from the start and there is no let up. I spotted some minor corpsing which just added to the enjoyment and I can't believe there wasn't more as I don't know how they managed to keep a straight face for two hours.
Congratulations to David Ward (Director) as this worked seamlessly and was fun from beginning to end. A mention also needs to go the crew responsible for the set and props which are minimalist but effective. Thank you to Ian, Chris and David who were so entertaining and hilarious and gave professional standard performances.
There were some empty seats in the theatre tonight which is a shame because this show deserves to be seen – and you'd be barking mad not to book tickets so get dowwwwwwwwwwwwwn to The Players Theatre in Cheadle Hulme without further ado!
Reviewer: Nicky Lambert
Reviewed: 14th May 2018