Ghost The Musical opened in Manchester nearly 5 years ago to huge critical acclaim starring Broadway star Caissie Levy as Molly Jensen and local boy Richard Fleeshman as Sam Wheat. After a sell-out run at the Opera House it transferred to the Piccadilly Theatre in London and a run on Broadway soon followed. After a successful UK tour in 2013/14 the show has now been seen in South Korea, Italy, Hungary, Manila, Mexico, Buenos Aires, China, Taiwan, San Paulo and is now on tour in Australia.
Tonight the amateur version of the show arrived at the Grand Opera House in York presented by York Stage Musicals and it is a stunning interpretation of the show. Ghost was one of the most technically advance shows when it first opened in Manchester with the theatre's electrics having to be upgraded to cope with the demands of the set and special effects. York has spared no expense in its quest to compete with the professionals and if you didn't know better you'd swear it was a professional production. A huge video wall dominates the back of the stage and is used to great effect throughout displaying backgrounds to the action on stage as well as providing a window into the travel woes of those travelling on the New York Subway.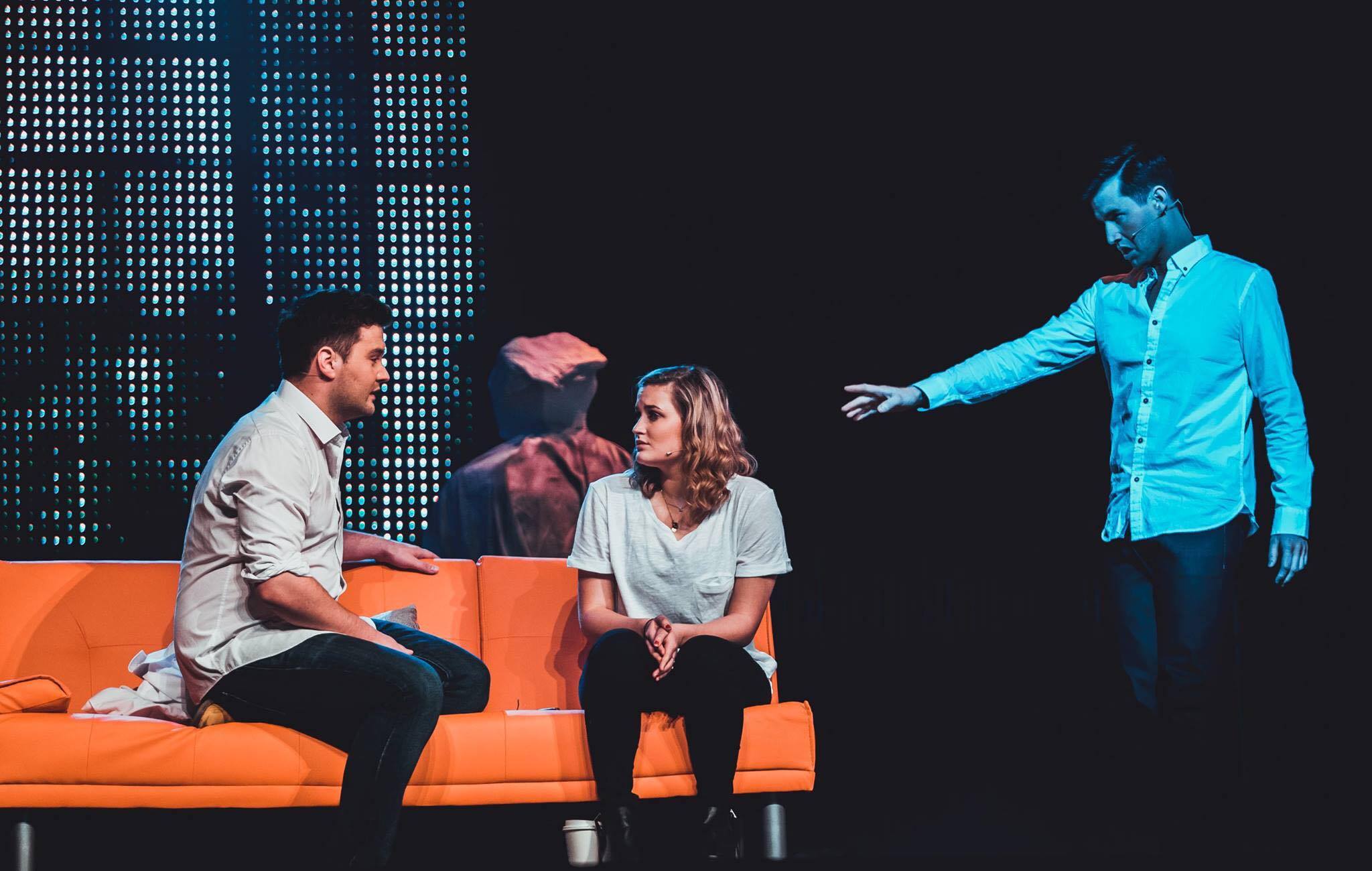 Sam Wheat and Molly Jensen have just bought a new studio apartment in a trendy district of New York as they begin to plan their lives together. Both deeply in love Sam finds it difficult to express his feelings towards Molly which she begrudgingly accepts. Following a night at a gallery opening where Molly had a piece showing, Sam is murdered in a botched robbery.
Sam's soul does not pass over to the other side as he is left stood looking over his own body lying in the street and seeing Molly's grief at what has happened. Sam's journey to find out why he was killed that night provides numerous moments of high drama, huge emotion and even some merriment.
The chemistry on stage between Sam (Daniel Conway) and Molly (Lauren Sheriston) is electric from the beginning of this production which makes it even more tragic when Sam meets his fate. Both act the roles superbly and have amazing voices. The combination of confusion, anger and his own grief is portrayed perfectly by Conway as he goes on his lonely journey of discovery. Sheriston is a star of the future! I have been fortunate to see many productions of this show around the country and her performance of 'With You' left me with shivers down my spine. The final scene where Molly gets to say a brief but final farewell to Sam is heart breaking in the extreme, something not lost on Molly as the tears rolled down her cheeks, no acting required here!
The architect of Sam's downfall and ultimate death, Carl Bruner is played with ease by Joe Wawrzyniak as he transitions from nice guy next door to troubled alcoholic, whose drug influenced actions lead to an untimely but not surprising fate. Wawrzyniak also possess a great singing voice which shines during 'More' and the act 1 finale where the sound balance was exceptional, something not always achieved in productions of this show.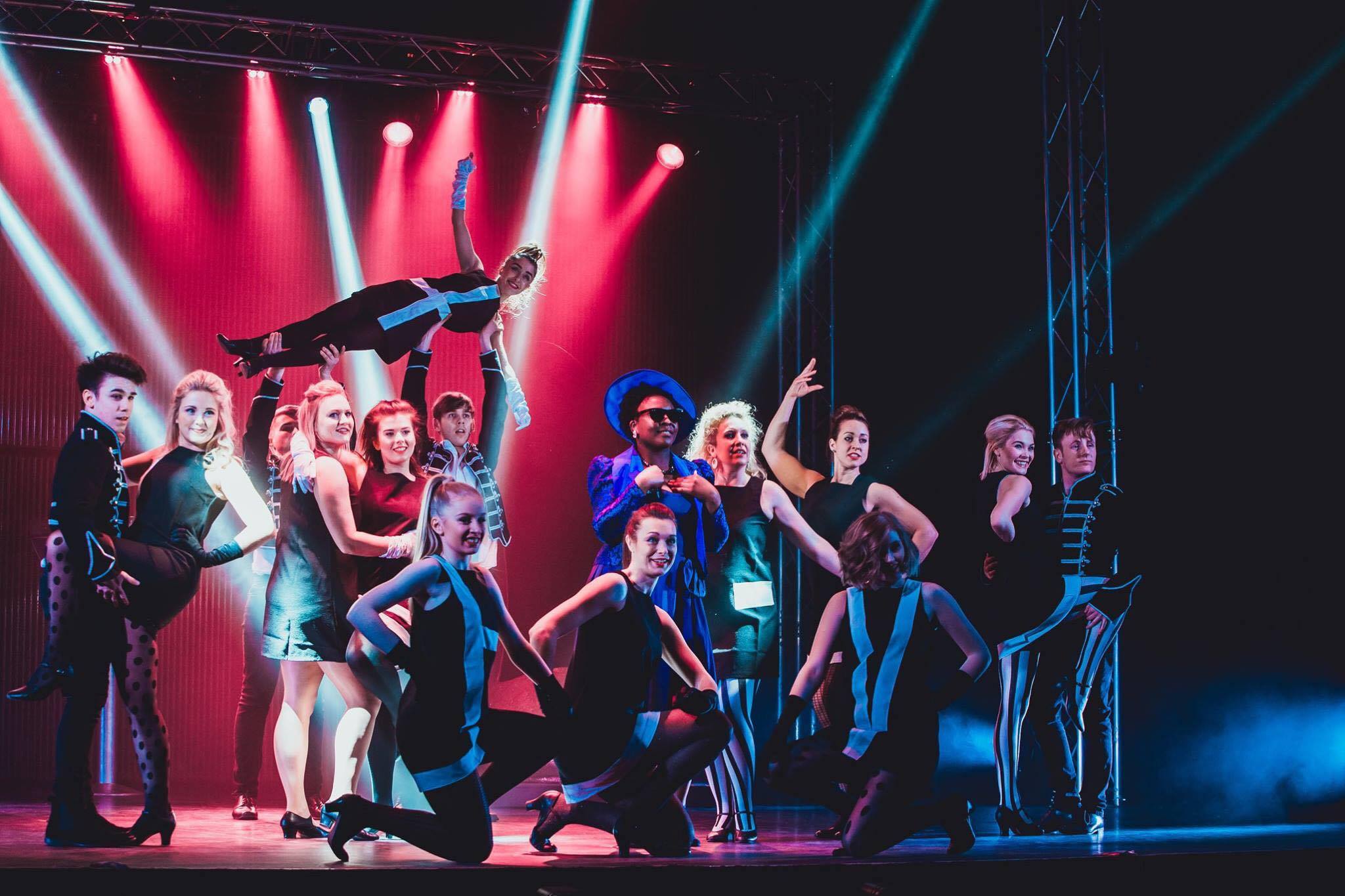 The key to Sam's journey and communication with Molly is a phoney psychic called Oda Mae who Sam stumbles upon whilst she is giving fake séances. His discovery that her previously thought made up gift of hearing those passed over was actually true leads to the show's most hilarious moments. Jessica Gardham as Oda Mae nails this role, there is no better way of putting it. Her comedic timing and mannerisms re spot on eclipsing the role played on the silver screen by Whoopi Goldberg in my view. This is partly due to the way the role has been developed for the stage but none the less a tribute to Garnham's stage craft.
Ghost is known for its illusions and York Stage Musicals did not shy away from. From walking through a solid door to objects floating unaided on the New York Subway, all were achieved. It is the death scenes that really shine in this production however. With the spirits of the dead rising from their own bodies there is a real "how did that happen" moment on more than one occasion with the death of Willie Lopez being particularly mind blowing.
This production of Ghost directed by Nik Briggs is the penultimate amateur version of the show to be seen in the UK for a while and as a result I urge you to grab your tickets now before they all go. You will laugh with Oda Mae Brown but you will also cry at the heartache as the story unfolds in stage. Be they tears of laughter or sorrow tissues are most certainly required!
Reviewer: Paul Downham
Reviewed: 16th February 2016