The international award winning musical "Les Misérables" has embarked upon York's Joseph Rowntree Theatre, by local theatre group PICK ME UP, who once again delivered a high quality performance leaving the audience literally moved to tears by the groups take on the Victor Hugo classic.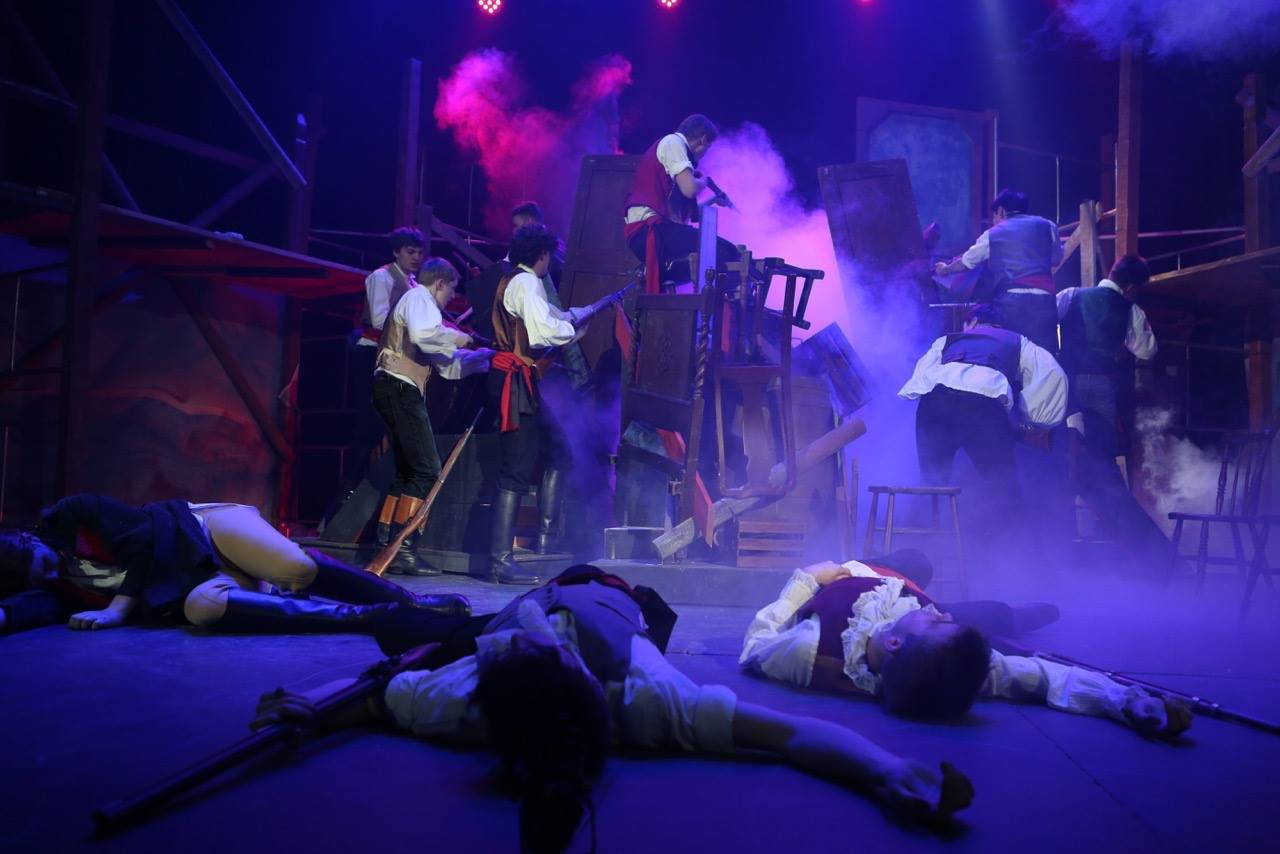 Having only very recently finished their run of BETTY BLUE EYES, at Friargate Theatre, it is now the Youth sections (aged up to nineteen) turn to perform and to bring this musical masterpiece to Yorkshire. Before I even added this particular event to my diary, I knew it was going to be a spectacular, as PICK ME UPs' previous shows have blown me away with the outstanding professionalism and talent of the performers from leading roles to members of the ensemble. Tonight's performance completely exceeded my expectations.
It is no secret that I am somewhat obsessed with this particular musical, having seen it twenty-eight times in the West End (at one point it was my weekly treat!), with a twenty-ninth visit planned for next month, and four amateur performances - (two in the South, and two up North, even travelling over 150 miles from the South to the North to see one of the amateur performances), of which two amateur performances have been on par with the West End production, and two being major let downs (I will leave you to guess whether it was North or South that came tops!).
Having first premiered in London's Barbican Theatre in October 1985, the show has run continuously since then, making it the longest-running musical in the West End and the second longest-running musical in the world.
Despite a few technical glitches, mainly being sound related due to microphone minor issues, and one more obvious one with a costume/wig change, a forgotten prop (at the Thénardiers' Inn) which was cleverly and subtly covered up; the show was stunning to watch from start to finish. Some of this fabulous cast of young adults were instantly recognisable from the company's production of the Addams Family at York's' Grand Opera House in October last year, including the fabulously talented Holly Surtees-Smith as Cosette (who previously portrayed the role of Wednesday Addams), Sam Hird as leading man Jean Val Jean (who played the Wednesday's love interest in The Addams Family), and Frankie Bounds as street urchin Gavroche (previously playing Pugsley Addams), along with some newer talent in the form of Hannah Richardson as waif Eponine and Sam Lightfoot-Loftus as Enjolras. Conor Mellor gave a spine tingling performance as Javert, and his rendition of "Stars", which other than Hadley Fraser at the Queens, his version (Sam's) was the most heartfelt emotion hitting version I have ever heard.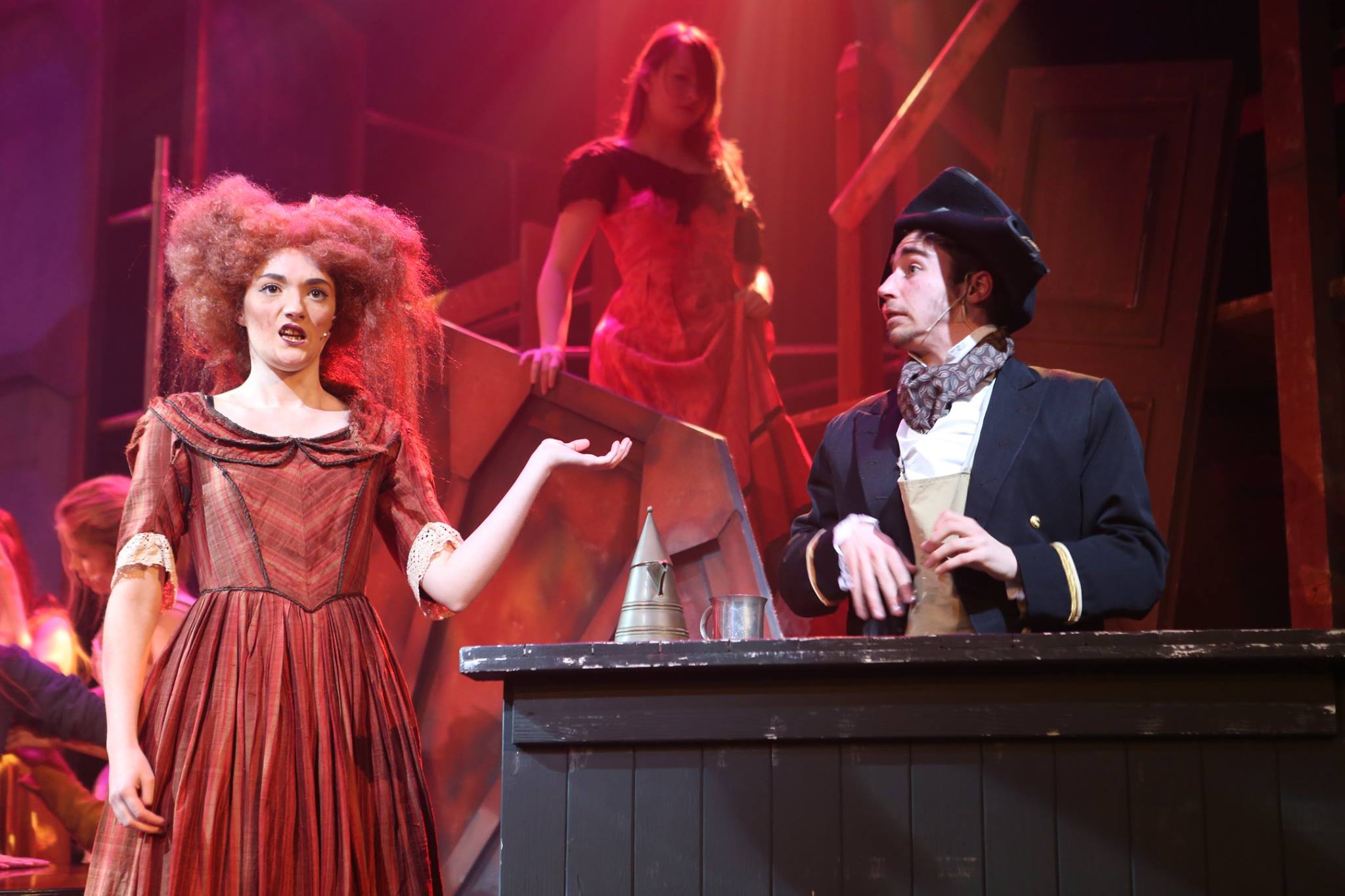 Although his opening number was of a high standard, it took a couple of songs before Hird really pulled at my heart strings, and it was his rendition of BRING HIM HOME, where he hit every high note with great ease, that I felt completely blown away and was moved to tears. Surtees-Smith proved that once again she is made for starring roles and has the most amazing voice I ever ever heard in an amateur youth production. Hannah Richardson was perfectly cast as Eponine, albeit the cleanest looking Eponine I have ever seen! Eponine is portrayed in both the book, stage show and movie as a doted on child but unloved and unkempt young adult. There was no mud on her and her hair looked as neat and perfectly groomed as if she had just walked out of a Toni and Guys salon, not like an unloved homeless person she is meant to be (as the story indicates that by this time her parents no longer own the Inn and have reverted back to a life of crime). However her voice on each solo was phenomenal and she hit every word and note with ease. There were a few other minor discrepancies including young Cossette having light hair and older Cosette having very dark hair, usually it is presented as having the same colour hair in order to make it more believable as being the older version of the orphan. Another minor discrepancy I noted was after the wedding scene, a ring was clearly visible on Cosettes' left hand, however it was on her middle finger as opposed to the ring finger.
I have been left disappointed by several West End performers in this role which then ruined the rest of the show for me as Eponine is my favourite character, therefore if an actress does not quite live up to my high expectations I am unhappy, but Hannah's portrayal of the character ticked every box within seconds of her entering the stage. She gave a believable performance in her unrequited love towards Marius and a moving death scene. This is normally the part where I mentally chant my mantra "I will not cry, I will not cry" but having seen this musical so many times I am past crying at this stage of the show, but had to bite my lip really hard not to well up at this point. Hannah did a splendid job!
Although the show is known for its 360 degree rotating stage during the battle scenes as part of the barricade, I wasn't disappointed to see that they had not constructed such an elaborate piece of stage set. However, the barricade used was sympathetic to the West End production and worked fantastically. I must add at this point that this whole production was not directed by the company's usual director, but by a young man within the age criteria for this production, in other words someone no older than nineteen years of age. The sheer amount of effort gone into this production will have taken months of planning and not an easy task to achieve, but for a youth to do so and at this level of professionalism is amazing! Well done George Stagnell! You interpreted this classic musical in such a fantastic way.
Yes these are young semi-professionals in this cast, and no, it does not have the same stage set-up as West End or touring productions, but I can honestly say for someone who has seen the West End production as many times as I have; the acting, singing and costumes are equally as stunning, the emotions are there in each individual's performance and the story is interpreted in the same way. Having seen what outstanding talented cast members are in the adult sector of Pick Me Up's previous productions, it was an honour to witness what talent is within their youth section. I think it will be wonderful to see some of these equally talented youths progress into the adult shows and witness their confidence and performances to develop over the years. The company have a fantastic line up of forthcoming shows including Sweeney Todd in August and She Stoops To Conquer for three nights only later this week. Each time I leave one of their performances I feel a sudden sadness and wish the months would fly by so I can return to see what magic they put into another musical or play. Luckily this production of Les Misérables runs until 20th February, with just a few days off for She Stoops To Conquer in-between, then resumes again on the 24th-27th February, so I might try figuring out how I can make it to another performance before the flag is waved for the final time.
If you have seen any previous productions of this fantastic musical I urge you to drop everything and book tickets for this particular performance, it really is not to be missed! If you have never seen a production of Les Misérables, where have you been since 1986?! If that is the case, before you embark upon the Queens Theatre, pop along to Joseph Rowntree Theatre instead and see this performance. It will ease you in gently to this wonderful musical, written by Alan Boubil and Claude-Michael Schonburg, just don't forget to bring the Kleenex!
Despite my mantra ("I will not cry...I will not cry..") the amount of energy and emotion the cast put into their performance, the usual line which usually gets me every time ("and remember, the truth that once was spoken, to love another person is to see the face of God") once again cut deep into my heart like a sharp knife and I found myself once again blubbering like a baby which then continued into the car ride journey home....and then again after the hours' drive!
Overall the performance was an absolute joy to watch, despite the many tear jerking moments. Once again I came away feeling in awe of this fantastic theatre company. Many thanks Pick Me Up, the next instalment from your wonderfully cast members cannot come soon enough!
And in case you were wondering....it was the two amateur productions of Les Mis that were outstanding and the two Northern productions a major let down. That was until this evening when Pick Me Up put the Northerners in the lead for best Am Dram performance of my all-time favourite musical.
For further details of this production and forthcoming shows, head over to http://www.pickmeuptheatre.com
Reviewer: Lottie Davis-Browne
Reviewed: 17th February 2016