Until I saw the Manchester Musical Youth production of "Hot Mikado" in Summer 2015, I had never previously been a fan of youth or amateur theatre.

That production converted me totally and I am now a devoted follower of Manchester Musical Youth. I was very much looking forward to tonight's performance of 'Little Shop of Horrors'...and I wasn't disappointed.
I have only seen Little Shop of Horrors once and that was the 1986 film version. I wasn't overly impressed. However, the MMY production is absolutely outstanding and vibrant and leaves the film limping along far behind.
The story is a send up of B-movies from the 50s and 60s and centres around Mushnik's Florist in Skid Row, New York. The business is on its knees until nerdy shop assistant, Seymour, discovers a strange looking plant which starts to attract new customers because it is so strange and interesting. What Seymour knows that everyone else doesn't, however, is that the plant thrives on...blood.
Before the show begins, the Usherettes (in beautiful vintage Usherette uniforms) tell us to turn our phones off and for goodness sake, "don't rustle!" I loved this. What a novel and great way to get the message across.
The song "Little Shop of Horrors" opens the show with the full cast and ensemble on stage. There are a lot of them but it works extremely well. The quality of the singing and performance from each and every cast member is faultless. I made a point of watching as many of them individually as I could and without exception, they were all acting their socks off. Dan Jarvis, the Director, states in the programme that it was a challenge to use such a large cast as the traditional performance of the show only has eight performers – the large ensemble is meant to signify 'an ever watchful chorus who grow along with the plant'. I think this worked extremely well and I also really liked the fact that inspiration was drawn from Invasion of the Body Snatchers and Dawn of the Dead (if you look carefully, you will see some very well executed zombie movements).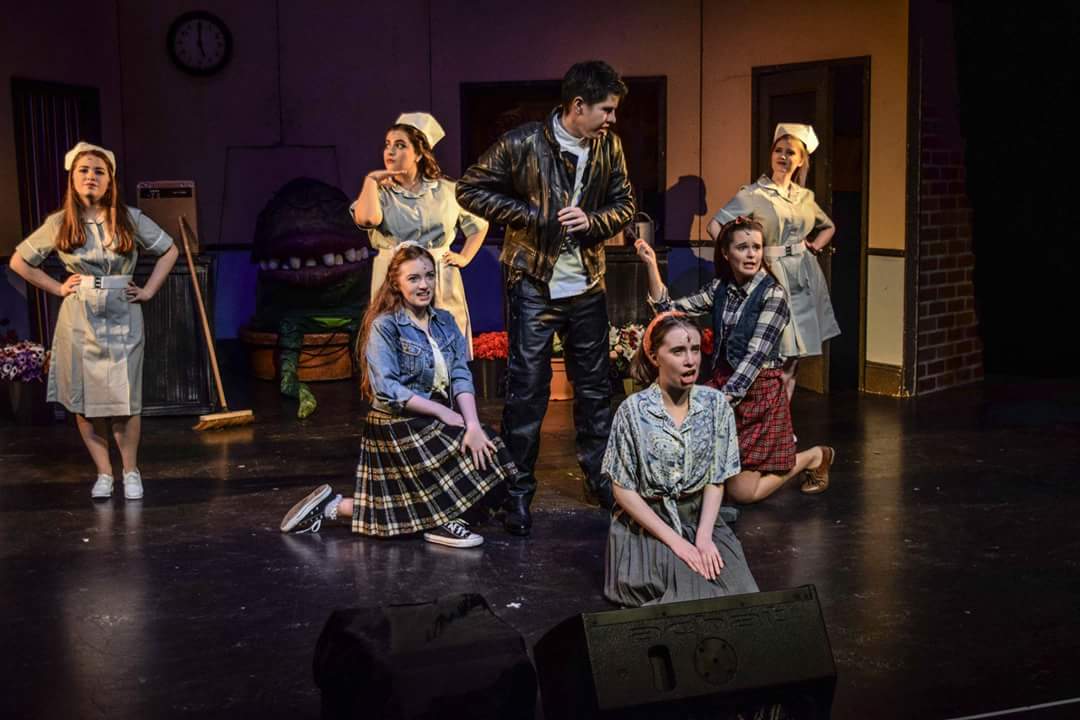 Sam Bate as Seymour is a very convincing nerd (sorry Sam – it is meant as a compliment) and he completely captures Seymour's character as the clumsy and lovesick hero who we all feel for.
Special mention should go to Kathryn Stephenson who plays Audrey with a maturity and ease which I haven't seen in many professional actors. She knows just how to deliver lines with the perfect facial expression and her delivery and intonation is quite simply amazing. She really brings the role to life with humour and she also brought pathos and heartfelt emotion to the songs, particularly "Suddenly Seymour" in which both she and Sam Bate really shone.
Aidan Burgess as Mr Mushnik was utterly convincing as a grumpy, older shopkeeper. I absolutely loved his performance of "Mushnik and Son" which included some hilarious moves. Again, another youth performer with the ability to know exactly how to play the role and how to deliver time and time again.
Baddie of the night (apart from Audrey II of course) was the crazed Motorcycle Dentist played by Joel Pendleton. From the moment he arrives on stage (clad in leather and making me think of some sort of genetic hybrid of The Fonz and Hannibal Lecter) he really owns the stage with his sinister, slightly manic and ever so scary performance. Bad luck if anyone seeing the show has a dental appointment this week...!
Mention must be made of the two girls who are the first to notice Audrey II in the window and who go into the shop and speak in unison about the "strange and interesting plant". They are hilarious! Like a bizarre version of the twins in 'The Shining', I could have watched them all night!
Last but not least is Chris Wagstaff who is the voice of Audrey II and what a perfect voice for that role he has. The encore in which we finally see him (you can't miss him, he's the one in lime green!) is a real treat.
This was opening night and there were a couple of minor sound glitches plus there was a slight delay between some of the scenes but nothing which can't be ironed out I'm sure. Also, the door seemed to have a mind of its own but the cast coped well with this!
Is this really a youth theatre company?! It certainly doesn't come across that way. The quality of the acting is superb, the singing is outstanding and the overall performance of everyone involved is of the highest quality. They just get it right every time. There is no self-consciousness but neither is there any showing off. It is very clear that everyone involved is absolutely loving what they're doing and credit for that must surely go to the creative team. You're doing a fabulous job. Long may it continue!
Reviewed: 24th February 2016
Reviewer: Nicky Lambert