I've often thought that Into The Woods must be one of the hardest musicals to stage. Tricky characters such as a cow and a giant, a huge cast, and a ridiculously complex musical arrangement by Sondheim are not the easiest hurdles to overcome. I'm pleased to say that under the musical direction of Simon Pickup, Hyde Musical Society absolutely nailed it!
The musical tells the story of several fairy-tale characters, their respective plot lines interwoven with a new challenge. The baker and his wife are desperate for a child, and to do so must break the curse placed upon them by the witch by collecting four items; the cow as white as milk, the cape as red as blood, the slipper as pure as gold, and the hair as yellow as corn. Even after everyone's wishes come true there is still more peril before their happy ever after.
With so many main characters it is vital to have a strong ensemble, and there are no weak links in this chain. Standout performance of the evening comes from Alison Foy-Thackwell as the witch - transitioning from the terrifying old hag (with a wonderful costume) to the glamorous new woman with ease. She has a powerful voice and really commands the stage.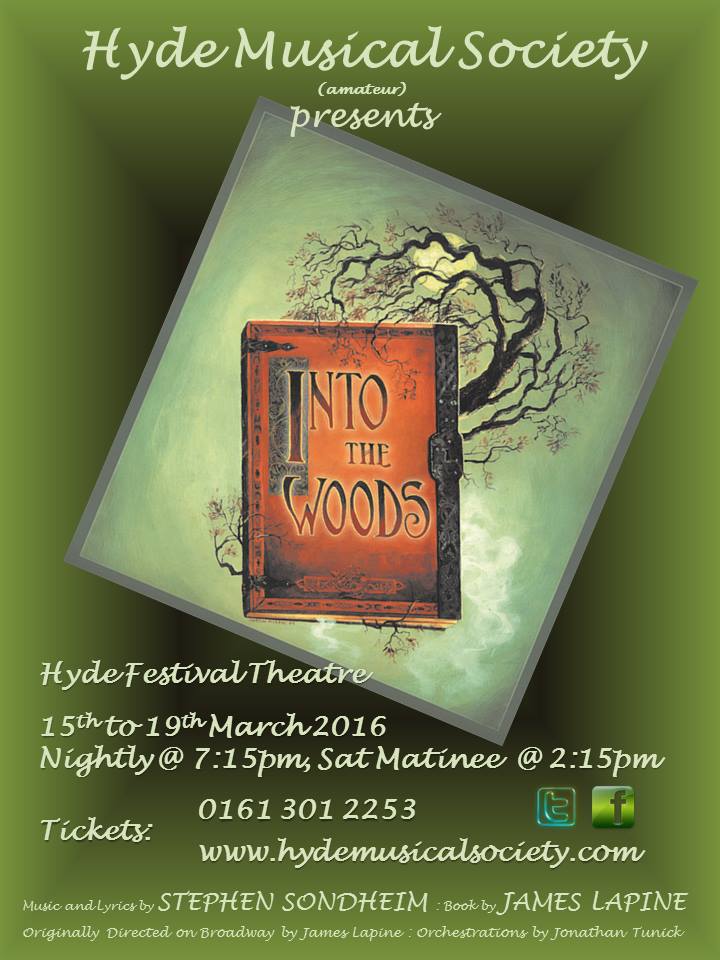 I also enjoyed the incredibly Northern Ellie Reynolds, who gave us a cheeky and almost chavvy Little Red Riding Hood. Such fantastic energy and definitely a hit with the audience. Cinderella, played by Hannah Davenport had the voice of an angel, and had me in tears by 'No One Is Alone'. Helena Frances showed off her tremendous vocal control as Rapunzel, and played the naive princess perfectly. I also have to give credit to Helena Stanway, who had a smaller part as Cinderella's Ghost Mother, but had an absolutely flawless singing voice, just outstanding for such a young girl.
Director James Schofield has certainly not shied away from the comedy in this piece, and it really pays off. It's certainly the first time I have heard it performed in Mancunian accents, and I loved how the baker and his wife (played by Billy Pretsell and Dawn Flint) came across as such a normal, working-class couple being thrown into this world. We were also given tremendously funny moments by Jack's mum, played by Lisa Kay and Red Riding Hood's Granny, Christine Hamer.
The one scene which didn't quite work for me was the exchange between the two princes, and the performance of 'Agony'. For me this is usually the funniest song by far, and a real highlight of the show. However I felt they didn't take the suaveness and melodrama quite far enough, although they were frustratingly close! I'm sure with a bit more confidence and a few shows under their belt they will nail it by the end of the run.
I'm not going to lie and say the show was perfect; there were a few issues with sound, the beginning of act two which lacked a bit of pace and felt under-rehearsed, and some musical numbers would have really benefitted from a bit more choreography. However I am just nit-picking, overall the show was of astoundingly high quality for an amateur production, the whole ensemble had wonderful voices, and the show had me laughing, crying, and giving a standing ovation. Now if only I could get those darn songs out of my head!
Reviewed on: 15th March 2016
Reviewed by: Poppy Stewart