Over fifty years has passed since the first stage version of Lionel Bart's 'Oliver!' was performed, and it is unsurprising that this musical is still extremely popular with audiences today.
This particular production, performed by the Port Sunlight Players, delivered on many levels. The essence of the tale was certainly captured by all, and the opening scene performed by the Workhouse children certainly drew you in to what would be a very enjoyable show. The children had great enthusiasm and you couldn't help but watch them with a smile on your face, but not just out of pity for them (which can sometimes be the case when watching children perform) but because they were genuinely very good.
It has to be said, that there were most definitely some stand out performances in this show, and the person who instantly springs to mind is Oliver Bennet who played Artful Dodger. His sheer stage presence and energy was just the starting point for Bennett. He is perfectly cast in this role, and knew exactly when to bring out the boldness of his character, but also knew how to keep it subtle when needed. His singing voice was so easy on the ear, and even when he was not centre stage you couldn't help but watch him, and this is when you know you are watching a truly talented performer. He was even commented on in the interval by some audience members who were sat behind me, they talked about how they could see a bright future for him and how excellent he was, and I wouldn't be surprised if similar conversations were going on throughout the theatre.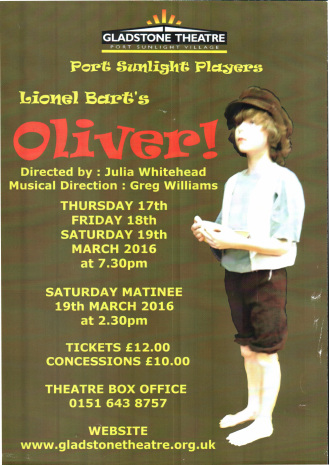 There were other stand out performances which included Fagin (played by Jim Mclaughlin) who you instantly felt drawn to, and it was with ease that you watched him, and Mrs Sowerberry (played by Adelle Riley-Bell), who you could easily imagine performing this role on the West End with the best of them.
Not forgetting Oliver himself (played by Harry Collinson). He was very believable as the young orphan boy, and there were moments when he performed alone on stage that made the hairs on the back of your neck stand up. His gentle singing voice portraying such emotion was a pleasure to watch.
On the subject of singing, the two songs which really stood out were 'That's your funeral' and 'Who will buy?' The first, performed by Craig Manning (whose singing voice was much stronger than his speaking voice) and Riley-Bell, actually felt like you were watching a production on a larger scale, as if fit for the Empire Theatre or the like. The latter was performed beautifully by the four singers whose voices complimented one and others perfectly. Unfortunately however, there was some sort of technical difficulty which interrupted the song at various times, and this was disappointing as it just took away the edge somewhat. However, I was delighted to see when they brought the song back a few minutes later, including having the ensemble singing it in the auditorium, which I thought was a nice touch.
I must state that is was the work of musical director Greg Williams and his team of musicians that gave the show its fluidity and pace. The music was very atmospheric at times, and yet so upbeat and enthralling at others. It never failed to set the scene, and was very much needed for the scene changes which would have felt painfully slow without it. The only negative on the music front, is that perhaps they could have assisted in sound effects at times, for instance when Bill Sykes was shot it would have been particularly useful. I actually didn't know he had been shot at the time, it was only when I saw him fall that I realised what had happened, but the absence of sound to support this made the moment lose its impact quite significantly.
It wasn't just this dramatic moment which failed to peak, there were other times when the cast just didn't fully deliver and so impact was lost. It was as if there just wasn't enough oomph at times, and you just wanted them to give that little bit more.
Overall, this was not the best production of 'Oliver!' you will ever see, but if you fancy an enjoyable evening, seeing some local theatre with standout performances, then you won't be disappointed. If you're anything like me you will find yourself singing the songs on your way home.
Reviewed on: 17th March 2016
Reviewed by: Sara Woodruff